Bucked Up Miami - 30 Servings
Item #: BU191
UPC: 81137436027
-25% Off Special - Discount in cart
Flagship Formula Pre-Workout. Energy. Endurance. Focus. Pump.
BUCKED UP® was developed with two purposes in mind. To take your workouts to the next level -- check. And be the best possible pre workout on the market -- also check.
We don't use proprietary blends. We have nothing to hide. You won't find ineffective doses of any ingredients in BUCKED UP® because we know that you don't want to pay for a supplement that isn't going to work. Effective for serious athletes, bodybuilders, and anyone else looking for pump, focus, energy, and growth, BUCKED UP® is the pre-workout everyone can agree on. Approximately 200mg caffeine per serving.
CREATINE FREE ZERO SUGAR - KETO / PALEO FRIENDLY - ZERO CALORIE - GMP CERTIFIED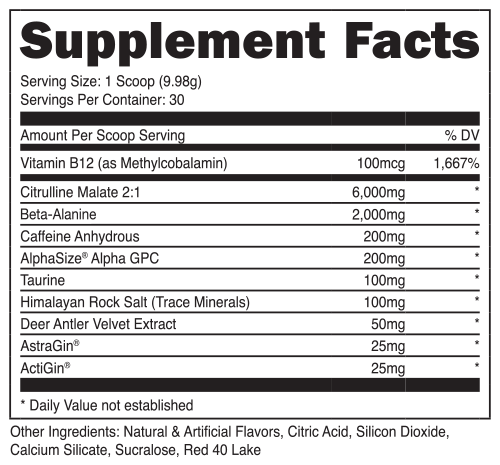 Do not combine with alcohol. Do not exceed 2 scoops within 24 hours, consumed at least 4 hours apart. Consume as part of a healthy diet and exercise program, and drink at least 100 fl oz of water per day. Exercise may increase your need for additional fluid intake. Keep out of reach of children. Store in a cool, dry place away from direct sunlight.
DIRECTIONS: Mix 1 scoop with 4-6 fl oz of cold water and consume 20-30 minutes before training.
Approximately 200 mg of caffeine per serving.
WARNING: CONSULT YOUR PHYSICIAN BEFORE USING THIS PRODUCT IF YOU ARE TAKING ANY MEDICATIONS OR ARE UNDER A PHYSICIAN'S CARE FOR A MEDICAL CONDITION. NOT FOR USE BY THOSE UNDER THE AGE OF 18, WOMEN THAT ARE PREGNANT, TRYING TO GET PREGNANT, OR NURSING, OR THOSE THAT ARE SENSITIVE TO BETA-ALANINE, OR CAFFEINE. DO NOT CONSUME CAFFEINE FROM OTHER SOURCES WHILE TAKING THIS PRODUCT AS TOO MUCH CAFFEINE MAY CAUSE NERVOUSNESS, IRRITABILITY, SLEEPLESSNESS, AND OCCASIONALLY RAPID HEARTBEAT.
More items you might like
Loading...