Animal TNT+ - 30 Packs
Item #: UV458
UPC: 039442039712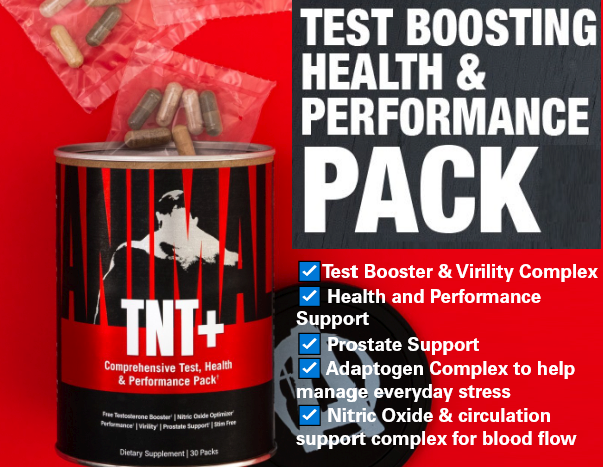 Support lean muscle and optimize health and performance with this Testosterone and Nitric Oxide
wellness formula†.
It's here—TNT+, the one male-focused product to help support free testosterone, vasodilation, health,
virility and build lean muscle.
• Test Booster & Virility Complex†
• Health and Performance Support†
• Prostate Support†
• Adaptogen Complex to help manage everyday stress†
• Nitric Oxide and Circulation support complex for blood flow †
This scientifically designed formula combines trademarked and researched ingredients like Testofen® and
Nitrosigine®, with the powerhouse adaptogen Ashwagandha, along with super herbs like Saw Palmetto,
Maca, Tribulus, Horny Goat Weed and more.
Our support complexes are designed for performance and wellness. Starting with the Test Booster &
Virility complex featuring Testofen® a standardized fenugreek extract that helps address testosterone
needs†. This is combined with traditional herbs Tribulus Terrestris, Horny Goat Weed, and Eurycoma
Longifolia, building the man's go-to performance support stack. But, beyond that, TNT+ contains a blend
of Saw Palmetto and Green Tea in our Prostate support complex†. A healthy prostate is key to a man's health and is something we need to stay on top of as we age.
TNT+ contains Ashwagandha, an ayurvedic herb that may help reduce cortisol levels (your body's stress hormone,) and may help to manage everyday stress†. Ashwagandha may also help increase VO2max—or the amount of oxygen the body can use during exercise†.
TNT+ also provides Nitrosigine®, an ingredient used to boost nitric oxide, which supports more blood flow leading to better pumps and more vascularit†y. As a result, Nitrosigine® is able to support the cardiovascular system by increasing vasodilation†. It has also been shown to reduce markers of muscle damage from exercise, helping to improve muscle recovery†.
Look no further than TNT+ for comprehensive test boosting, performance and health support for the male who wants to keep it going, in and out of the gym. Animal TNT+. Play to win.
FAQS
What stacks best with Animal Primal Preworkout?
Animal Primal Preworkout can be stacked with certain other Animal products. We recommend you avoid consuming Primal alongside products that contain stimulants, unless the product is in pill form and you can remove the pill containing all of the stimulants.
How much caffeine is in Animal Primal Preworkout?
Animal Primal Preworkout contains 300mg caffeine per serving.
Are there any banned substances in Animal Primal Preworkout? Is it WADA compliant?
Considering the vast number of competitions that are held, many with different substance lists, it would be difficult to narrow down which ingredients in our products comply with your competition. Our product ingredients are legal under U.S. law. To keep things simple, we ask that you cross-reference our products' ingredients listed on our website, Animalpak.com, to the list of your competition. The safest way to ensure your compliance is to contact your sanctioning authority (whoever is hosting the event and conducting the drug testing) and provide them with the label ingredients. Unfortunately, with lists constantly changing, we cannot answer this question definitively, but we can guarantee that the contents of our products stay consistent. If you bought a product from us that you cannot use because of your competition, we will back it up with our IronClad Guarantee.
What's the difference between Animal Fury and your new Animal Primal?
Great question. When it's comes to pre-workouts, Animal Fury is simplicity defined. There's something to be said for a simple, streamlined pre-workout formula like Fury. BCAAs, Beta Alanine, Tyrosine, Citrulline and Caffeine. All in solid dosages. Straight and to the point. If you like your pre-workout to be simple but efficacious, Fury does the job. But at Animal, we realize when it comes to pre-workouts, each one of us has a different preference, and it's important to have options. So if you're looking for Animal's most comprehensive pre-workout, enter Animal Primal. Scientifically designed for the advanced hard-trainer, Primal is our most well-rounded pre-workout formula that allows you to crush any training session. Our comprehensive, 20+ ingredient formula is jam-packed with efficacious dosages of key ingredients to give you endurance & performance, focus & intensity, pumps, quick & sustained energy and hydration, all rounded out by absorption and nutrient enhancers. No matter your pre-workout preference, with Animal, we've got you covered with our options.
When and how should I take Animal Primal Preworkout?
Mix 2 rounded scoop of Animal Primal Preworkout in 10-12 oz of your beverage of choice 30 min before the workout. Due to the extreme potency of Animal Primal Preworkout, it would be advised to start with 1 rounded scoop and work up to 2 rounded scoops. Do not consume more than one serving within 24-hour period or within 6-8 hours of bedtime.
Can I take more than the recommended dosage?
No. Due to the extreme potency of Animal Primal Preworkout, we do not recommend consuming more than one serving within 24-hour period or within 6-8 hours of bedtime.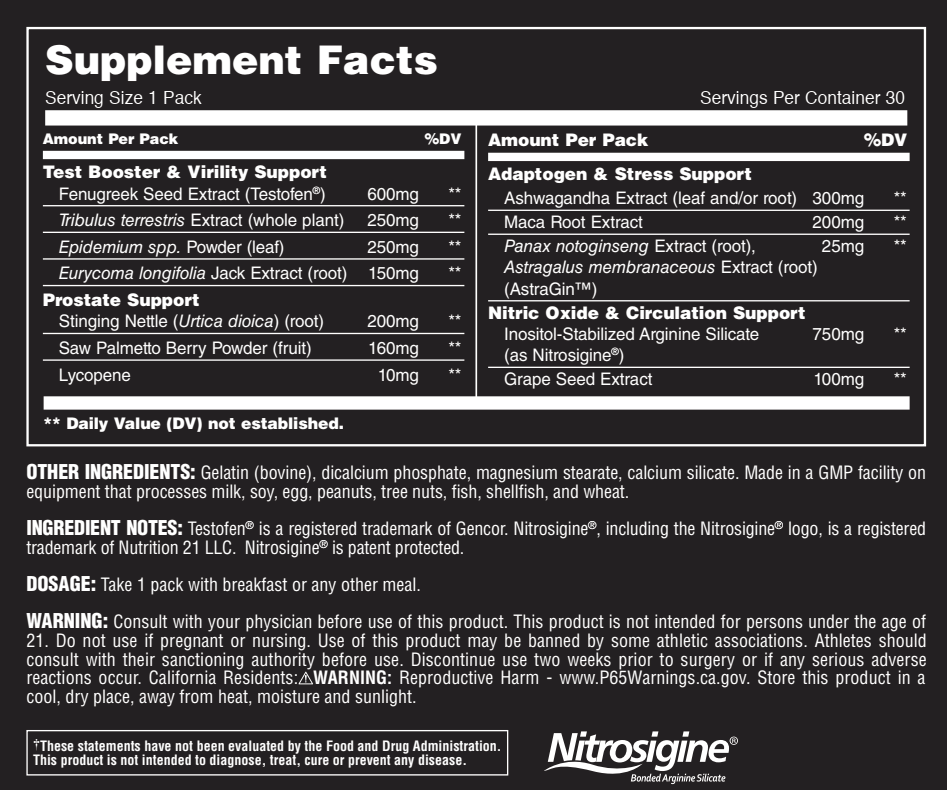 †These statements have not been evaluated by the Food and Drug Administration. This product is not intended to diagnose, treat, cure, or prevent any disease.