Cellucor Alpha Amino Icy Blue Razz - 30 Servings
Item #: CE326
UPC: 810390028313
KEEP YOUR BODY HYDRATED AND READY TO TACKLE ANY CHALLENGE

Amino acids may sound like something out of your 4th-grade science book, but they are at the very core of athletic performance.
When you're knee deep in sweat and the dreaded feeling of fatigue sweeps over your entire body to threaten your training, you can reach for a towel, or you can choose to push further with Alpha Amino BCAA.
UPGRADE YOUR AMINOS, IMPROVE YOUR PERFORMANCE.*
Just as you're working diligently every single day to improve your health and fitness, we work alongside you, improving our products so that you can keep raising the bar.
We've tailored this new version of Alpha Amino to include a well-studied 2:1:1 BCAA ratio for optimal performance in addition to 11 essential amino acids. An integral part of the Alpha Amino BCAA formula is electrolytes, which help keep your body hydrated and ready to tackle any challenge.
WHY ARE THERE ELECTROLYTES IN A BCAA SUPPLEMENT?
You can't perform your best if you're dehydrated and depleted of important minerals. Hydration is an underrated but key component of optimal performance, which is why we've upgraded the Alpha Amino BCAA formula to include electrolytes AND BetaPower®.
It is a natural and scientifically studied ingredient that improves hydration, protects against cell stress during intense activity, and even boosts physical performance – especially strength, power, and muscle endurance.*
BE THE ALPHA ON POST-TRAINING/NON-TRAINING DAYS
After a grueling workout, only two things matter: replenishment and recovery. Replenishing lost minerals and electrolytes while fueling your muscles with aminos can help fight muscle breakdown during recovery.*
When you're not training or recovering, you can still reap the benefits from Alpha Amino. When water just won't cut it, don't reach for a sugary sports drink, grab some Alpha Amino for a flavorful, sugar-free way to hydrate.
BetaPower® Betaine – Maintains your cells electrolyte concentration and supports hydration.
Coconut Water Powder – Aide in rehydration, primarily through fluid retention.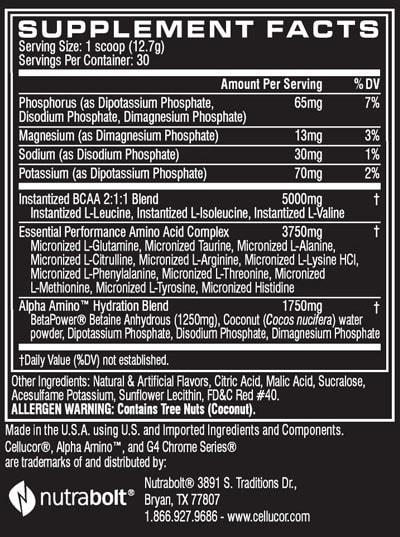 More items you might like
Loading...