Train Naked Labs Plasma Drive FX Stimulant Free Pre Workout 12oz Big Melons - 12 Btls
Item #: TNL05
UPC: 1085667500218
NO FAIRY DUST
Our FULL DISCLOSURE NUTRITION FACTS

A few words about our "FULL DISCLOSURE NUTRITION FACTS"… Train Naked Labs spells out EXACTLY what our active ingredient formulas are in detail – with the exact amount of each of those ingredients in our drinks.
If your current drink uses "Proprietary Blend" – meaning there is one total number for the ingredients followed by a list of ingredients and no number (milligrams) next to each ingredient – THEY SIMPLY AREN'T TELLING YOU WHAT'S IN THE PRODUCT. It could be – and often is – micro-dosing to the point of total ineffectiveness; just to be able to add for label fluff.
‍We – in the industry – have a highly technical term for this practice: FAIRY DUST! Whether, or not, they use efficacious amounts of each material – you just don't know…do you???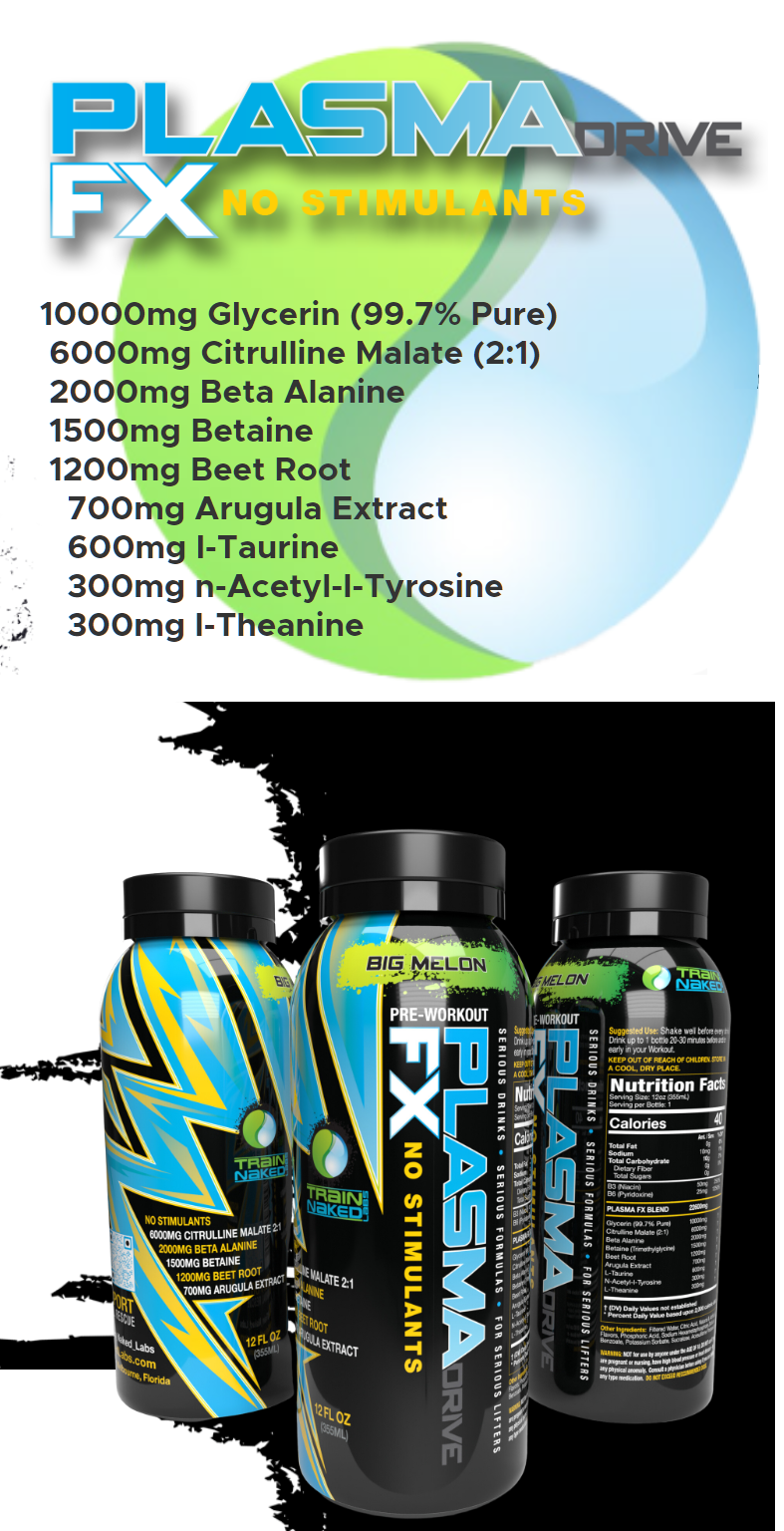 Plasma Drive FX
Plasma Drive FX is the only "NOS/Pump" RTD with ZERO STIMULENTS added. Stims are counter-productive to a muscle-pump. Strong & Efficacious formula will carry the muscle-fullness into the next day. Plasma Drive includes the Botanicals – Beet Root and Arugula Extract - to hit your receptors from totally different pathways than just Citrulline Malate – keeping your body off-balance and receptive to the raw materials.

MASSIVE PUMP * ZERO STIMULENTS * NO FOOD COLORS

Pump - 10000mg Glycerin (99.7% pure) * 6000mg Citrulline Malate (2:1) * 2000mg Beta Alanine * 1500mg
Betaine * 1200mg Beet Root * 700mg Arugula Extract
Mood Enhancers – * l-Taurine 600mg * n-Acetyl-l-Tyrosine 300mg * l-Theanine 150mg
Formula
22,450mg per bottle – FULL DISCLOSURE SUPP FACTS PANEL
Strong and effective RTD for a big muscle-pump – and, the only "Pump" RTD on the market with NO STIMS. Stimulants constrict blood-flow and are counterproductive to the pump – and there is a growing customer base for effective, non-stim, products. Ingredient blend based with Glycerin and Citrulline Malate (CM) – with added Beta Alanine for between-set Muscle Recovery. Plasma Drive FX includes high dosages of BETAINE, BEET ROOT, and ARUGULA EXTRACT in the formula. Betaine is proven to enhance strength while Beet Root and Arugula Extract add Botanicals to the pump effect and uses a different pathway than CM for delivery (no Agmatine in formula since it competes with CM for delivery pathway). Mood enhancers and Nootropics included to feel really good about whatever you're doing at the time.
FULL DISCLOSURE
Nutrition Facts
Serving Size 12oz (335ML) Servings per Bottle 1
Amount per % Daily Serving Value
Calories 50 Carbohydrates 10 gr 3% Sugar 0 gr 0% B3 (Niacin) 50 mg 250% B6 (Pyridoxine) 25 mg 1250% Sodium 10 mg 1% Plasma Drive FX Blend 22450 mg Glycerin (99.7% Pure) 10000 mg ** Citrulline Malate (2:1) 6000 mg ** Beta Alanine 2000 mg ** Betaine (Trimethylglycine) 1500 mg ** Beet Root 1200 mg ** Arugula Extract 700 mg l-Taurine 600 mg ** n-Acetyl-l-Tyrosine 300mg ** l-Theanine 150mg ** * Percent of Daily Values based on 2000 calorie diet ** Daily Values not established
Plasma Drive FX Ingredients
Glycerin – 10000mg Glycerin serves as a transporter of the active raw ingredient blend, speeding delivery to the body for fast absorption. Glycerin is one of the first energy sources used by the body, and is also a fantastic hydrating agent for the muscle-fiber. A sugar alcohol that does not spike your blood sugar or insulin – Glycerin has a very low GI Rating of 4. *
Citrulline Malate (2:1) - 6000mg Citrulline Malate enhances the ease at which one can obtain the "pump" due to it being a precursor to arginine. Physical strength benefits are common when taking Citrulline Malate allowing for increased reps, delayed fatigue, and decreased muscle soreness. *
Beta Alanine – 2000mg Possibly the most effective ingredient for sports performance and bodybuilding since Creatine. Beta Alanine boosts explosive muscular strength and power output, increases muscle mass, boosts muscular anaerobic endurance, increases aerobic endurance, and increases exercise capacity so you can train harder and longer. Truly a great raw material. *
Betaine (Trimethylglycine) – 1500mg Betaine is an amino acid that has been shown to have potential benefits for fighting heart disease, improving body composition, and helping promote muscle gain and fat loss because of its abilities to promote protein synthesis in the body. *
Beet Root (Beetroot) – 1200mg It has been shown that consuming beetroot juice was able to significantly increase plasma nitrate levels, maximum exercise intensity, as well as duration - due to increased nitric oxide being able to essentially provide more energy and spare oxygen usage.*
Arugula Extract – 700mg Provides increased blood flow, muscle oxygenation and cognitive function during exercise to reduction of inflammation and free radical damage post-exercise.
L-Taurine – 600mg Increases secretion of nitric oxide, which dilates your blood vessels and improves blood flow and delivery of oxygen to your muscles. Taurine will also enhance mental alertness and mood *
n-Acetyl-l-Tyrosine – 300mg 20 times more soluble in the body as L-Tyrosine. Is a precursor to neurotransmitters of dopamine and norepinephrine and has shown to elevate mood, reduce stress, and increase cognitive and physical performance. *
L-Theanine – 150mg Able to cross the blood-brain barrier, L-Theanine is known to have psychoactive properties. L-Theanine has been shown to reduce mental and physical stress, and to improve cognitive response and mood in a synergistic manner with caffeine. *
*These statements have not been evaluated by the Food and Drug Administration. Not intended to diagnose, treat, mitigate, prevent, or cure disease.