Hi Tech Pharmaceuticals NAC 600 Mg - 200 Caps (2 x 100 Cap Btls) TWINPACK
Item #: HT2173
UPC: 811836025002
NAC - N-Acetyl Cysteine
Essential for the Production of the Powerful Antioxidant Glutathione
Improves Detoxification of the Liver and Kidneys
Powerful Antioxidant that May Improve Respiratory Function
May Reduce Heart Disease Risk by Preventing Oxidative Damage
N-acetyl Cysteine (or NAC) is a more stable form of the amino acid L-Cysteine. As a precursor to L-Cysteine, NAC helps the body synthesize Glutathione. NAC possesses powerful antioxidant properties that may help fight cell-damaging free radicals. Studies have shown that oxidative stress caused by free radicals may contribute to premature aging of cells. NAC supports healthy liver function and lung function. NAC supports bronchial and respiratory health. In addition, it encourages a healthy immune cell response. All Hi-Tech Pharmaceuticals products are manufactured in accordance with Good Manufacturing Practices (GMP) which are among the highest standards in the world producing guaranteed purity and potency.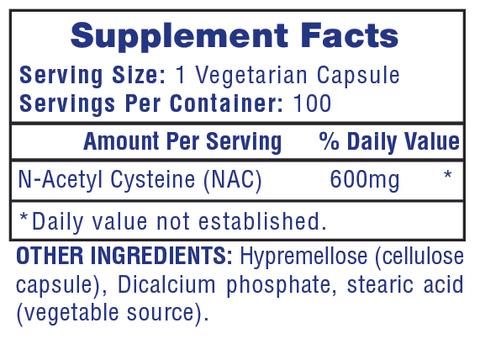 Cyclosome™ Delivery:
As our understanding and discovery of new ingredients expands in our industry, the need for new and novel ways to deliver the highest and safest bioavailable ingredients also increases. In the past many companies created simple coatings that provided a brief comfort to the user's gut and only a small amount of usable ingredients making its way into the bloodstream. With the proprietary oral delivery system in Cyclosome™ Technology, Hi-Tech Pharmaceuticals is changing how well your body will be able to utilize compounds with terrific promise.
Researchers at Hi-Tech recently developed this Cyclosome™ proprietary process. This one-of-a-kind technology involves the entrapment of hydrophobic compounds in the form of water-soluble cyclodextrin (CD) complex in liposomes. This breakthrough technology has been investigated as a new strategy to combine the advantages of our Cyclosome™ Technology. This novel process changes all of that in Hi-Tech Pharmaceuticals complete Wellness Line of daily use products.
This new technology allows the delivery of a wide array of ingredients to the systemic circulation by the intestinal lymphatic route, circumventing first-pass inactivation in the liver for the very first time. Long gone are the days of overdosing products in an attempt to improve our bodies ability to utilize as much of the ingredient as possible without being destroyed by our digestive track or liver.
SUGGESTED USE
As a dietary supplement, take one or two veggie capsules per day with water.
WARNING
For adults only. Consult physician if pregnant/nursing, taking medication, or have a medical condition. Keep out of reach of children.
These statements have not been evaluated by the Food and Drug Administration. This product is not intended to treat, cure, diagnose, or prevent any disease. This product should not be used in place of or as a substitute for recommendations by your healthcare professional.