Project AD Vitamin+ - 60 Cap
Item #: PAD13
UPC: 684031493606
-20% Off + Free Ship w/$50 ProjectAD order
VITAMIN+ - DAILY HEALTH SUPPORT
Natural whole food multivitamin free-from synthetics containing 78 naturally-occurring minerals
Fortified with plant-derived EPA/DHA
Contains an Adaptogenic Mushroom Complex
60 CAPSULES PER BOTTLE
The multivitamin market was long overdue a dressing down. With Vitamin +, it got the makeover athletes truly needed.
Completely natural & free-from synthetics, Vitamin+ infuses your body with 78 naturally-occurring vitamins & minerals to supercharge health. These are all derived from vegetables, fruit and whole foods, without any added caffeine or fillers.
Vitamin+ also empowers its users with an Adaptogenic Mushroom Complex to strengthen immunity and boost overall wellness.
In a first for the multivitamin sector, Vitamin+ is also a completely vegan-friendly formula. Considering it contains 100% of the RDA of B12 & a plant-derived source of EPA/DHA, you start to get a handle on the innovation involved in this revolutionary product.
Health-conscious athletes deserve a multivitamin that amplifies their wellness and doesn't diminish it. With Vitamin+, they've got what they deserve.
Another formula from Project AD that well & truly is the #AthletesChoice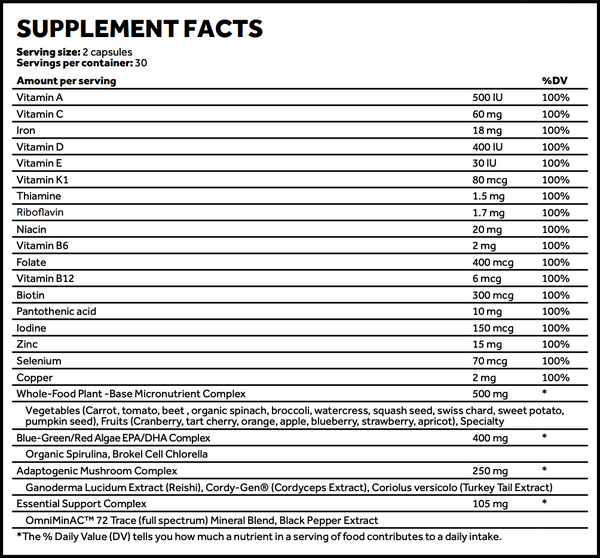 SUGGESTED USE: Take 2 capsules daily. May be taken one capsule with breakfast and one capsule with dinner. Capsules my be opened and powder added to your favorite beverage. AD Vitamin+ is a premium formula with naturally sourced vitamins and minerals from a whole food base of nutrients of fruit and vegetable blends. It does not contain caffeine. Fortified with quality Blue, Green and Red Algae, Adaptogenic mushrooms and essential trace minerals to optimize health and wellness. Contains ZERO Synthetic Vitamins and 78 naturally occurring minerals. Natural, Vegan, and Non-GMO.
WARNING: Not intended for those under 18 years of age. Dietary supplements are not intended to replace a healthy diet. Always consult your physician before use and before starting any diet or exercise regime
WHAT OUR PRO SAYS
"Vitamin+ is not your average multivitamin. In another saturated marketplace, we wanted to provide a premium solution. Making it completely vegan-friendly and free-from synthetic vitamins is a powerful starting point, but the inclusion of plant-derived EPA/DHA is a genuine game-changer. We've also fortified the product with an adaptogenic mushroom complex to boost immunity and overall wellness. We genuinely believe we've got the balance right of the perfect whole food blend of fruits and vegetables to optimise the serious athlete's wellness."