Project AD Citrus Bergamot - 60 Cap
Item #: PAD03
UPC: 684031493583
-20% Off & Free Shipping w/$50 ProjectAD order
CITRUS BERGAMOT - HEALTHY CHOLESTEROL SUPPORT
Improves arterial health
Reduces stress & anxiety
Effective treatment for metabolic syndrome
60 Servings
Cardiovascular disease hits over 610,000 people in the US every year.
THE NUMBER CONTINUES TO GROW YEAR-ON-YEAR.
It's clear when facing this stark reality, pre-emptive measures need to be taken to ensure good cardiovascular health. Bergamot is one of the compounds that has shown immense promise in being able to protect us.
A key regulator of cholesterol, research has shown Bergamot has the exciting properties of being able to work similarly to statin drugs but in a natural capacity: activating AMP-activated protein kinase (AMPK), that regulates blood sugars and fats. This has the knock-on effect of helping to preserve coronary arteries by maintaining inflammatory balance.
Bergamot also shows exciting capabilities in gradually helping to reduce anxiety and stress levels, another powerful benefit given the increase in mental health struggles in our society.
Improves arterial health
Reduces stress & anxiety
Effective treatment for metabolic syndrome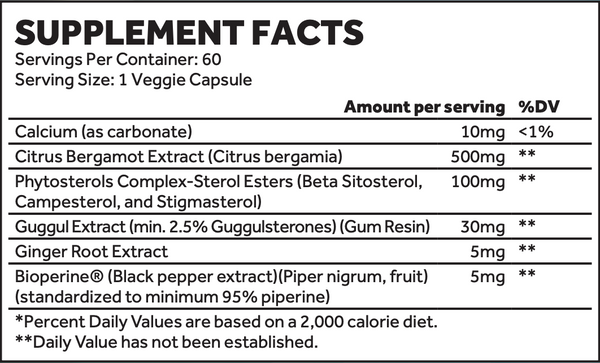 SUGGESTED USE: As an adult dietary supplement. Take 1 capsule daily with a meal. Optimizing cardiovascular health is a leading concern for many adults, and maintaining balanced cholesterol levels are an important part of that process. Though cholesterol can be consumed through food, circulating cholesterol levels are primarily produced and controlled by the liver using the rate control enzyme, HMG-CoA reductase (HMGCR). Because of its pronounced role in cholesterol synthesis, inhibiting HMGCR has become a primary target of many traditional therapies. Numerous clinical trials have shown the specific BPF found in Bergamot BPF works at the level of the liver to help maintain and support healthy cholesterol levels and preserve coronary arteries by maintaining normal inflammatory balance.
WHAT OUR PRO SAYS
Bergamot is a compound that came to my attention just over a year ago, and I've maintained a watchful eye on the research ever since. Given the impact cardiovascular disease has not only on Americans but also the general world population, supporting cardiovascular health is of paramount importance for all human beings. An effective way to achieve this is by moderating cholesterol intake; Bergamot has exciting properties which show it's able to achieve that. If you're somebody with a history of poor heart health in the family or just looking to take pre-emptive measures to support your cardiovascular health, then Bergamot is a logical inclusion into your daily supplement regime.