5% Nutrition CORE ZMA w/Boron - 90 Cap
Item #: 5P094
UPC: 850029555773
30% Off +5-10% Off Special Offer
Contains 90 Capsules
5% Core ZMA® is designed to promote recovery in athletes by restoring depleted Zinc and Magnesium levels while adding Boron to help increase free testosterone.
ZMA® is made up of zinc, magnesium & vitamin B-6, this combination was designed to promote recovery in athletes.
Zinc plays a major role in maintaining healthy testosterone levels as well as regulating immune functions. Magnesium is essential in supporting muscle and nerve functions, electrolyte balance, energy metabolism and protein synthesis. Vitamin B6 aids in the production of melatonin which helps in getting restful sleep while the production of serotonin and norepinephrine boost mood. Research has shown that strenuous exercise will lead to loss of zinc and magnesium through sweat and why it is essential to restore these minerals to the body.
Additionally, we added 5mg of Boron to help increase the natural conversion of total testosterone into free testosterone which contributes to healthy sexual function.
What are the suggested directions for using Core – ZMA?
Suggested Use: Men take 3, or women take 2 capsules daily, preferably on an empty stomach 30-60 minutes before bedtime. For best results, avoid taking with dairy or other calcium-containing foods or supplement.
Who can take Core – ZMA?
Anyone, but the dosage is different. It is recommended for men to take 3 caps, while women should take 2 caps per serving.
Why is Core – ZMA the best product within its category on the market?
We use genuine ingredients from SNAC the trademark owners of ZMA.
What is the optimal training style for people taking Core – ZMA?
Resistance training would be the optimal training style for Core – ZMA.
Do I need to cycle Core – ZMA?
No, Core – ZMA does not need to be cycled.
What are the Core – ZMA capsules made from?
We use bovine gelatin in those capsules.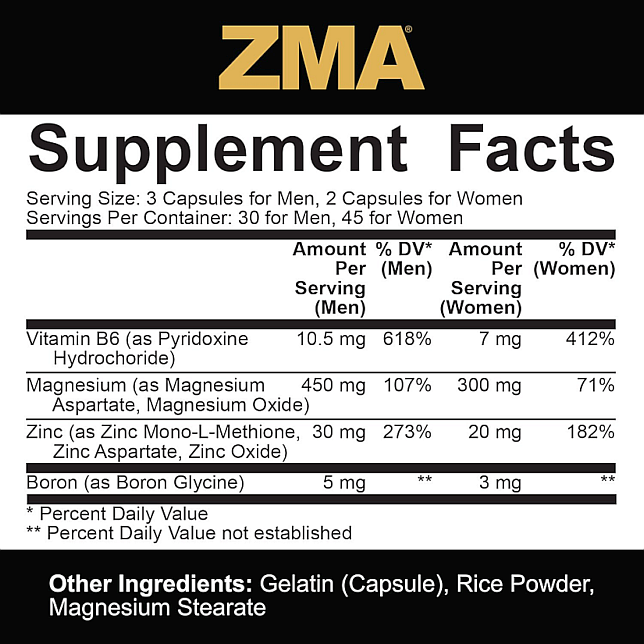 PRODUCT WARNINGS
† These statements have not been evaluated by the Food and Drug Administration. This product is not intended to diagnose, treat, cure, or prevent any disease.
WARNING: Consuming this product can expose you to chemicals including lead, which is known to the State of California to cause cancer, birth defects or other reproductive harm. For more information go to www.P65Warnings.ca.gov/food.