SNS Serious Nutrition Solutions Optimize-T - 120 Cap
Item #: SN273
UPC: 850008039683
SNS Optimize-T – 120 Veg Caps
Clinical Strength Natural Testosterone Booster
Supports Increases in Free & Total Testosterone Levels
Natural Male Hormone Support
Sexual Health & Libido
Promotes Sexual Desire
Longevity, Vitality, & Energy
Strength & Stamina
Improved Sense of Well-Being
Lean Muscle & Strength
Fat Loss & Improved Body-Composition
Optimal Athletic Performance
Anti-Aging Properties
Clinically Researched Key Ingredients
No Deceptive Proprietary Blends
Contains Ingredients Shown to Increase Free Testosterone Levels in Just 7 Days!
Natural Testosterone Booster & Libido Enhancer
Optimize Free & Total Testosterone Levels
Clinically Researched Key Ingredients
8 High End Active Ingredients
…. Backed by Clinically Researched Key Ingredients
500 mg. FuroSap®
500 Mg. Spilanthes (SA3X™)
300 mg. Bionutricia® Tongkat Ali
250 mg. PrimaVie®
50 mg. S7™
6 mg. Boron (Albion® bororganic glycine)
25 mg. AstraGin®
10 mg. Bioperine®
A True Anti-Aging Natural Testosterone Booster.
Optimize-T is a clinical strength natural testosterone booster backed by scientifically validated key ingredients that have been shown to improve libido and increase both free and total testosterone levels.
Low testosterone levels can have a variety of negative effects on many areas of daily life. Some of these negative effects include low libido, loss of strength & muscle, increased fat storage, increased sadness, lack of confidence, mood swings, anxiety, and more.
Ask Yourself a Few Questions:
Do you feel like you've lost your mojo?
Is your libido on the decline or non-existent?
Do you lack the umph that you once had?
Are you sick and tired of feeling down and tired?
Do you feel like you're stuck in a rut and just aren't yourself anymore?
-- If you answered yes to any of the above questions, Optimize-T may be right for you.
Optimize-T – A True Anti-Aging Testosterone Booster
Perform Better Everywhere – In the Gym, the Bedroom, & In Day-to-Day Life
---
Let's Examine the Ingredients:
FuroSap®:
Furosap® is a specialized patented clinically researched fenugreek extract standardized to contain a minimum of 20% Protodioscin that has been shown in clinical studies to support increases in both free and total testosterone levels.
Furosap® is the premier gold standard fenugreek extract and is commonly used to support sexual health and libido, overall energy and vitality, optimal athletic performance, lean muscle and strength, improved sense of well-being, and much more.
SA3X™ Spilanthes Acmella:
Spilanthes Acmella is an herb that has a long history of use in Ayurvedic medicine as a natural testosterone booster and for its aphrodisiac (libido enhancing) and pain-relieving properties.
Spilanthes Acmella (specially the N-Alkylamides) has been shown in preliminary studies on mice to have a positive effect on testosterone, luteinizing hormone (LH), and follicle stimulating hormone (FSH) after 28 days of use. In addition, it has also been shown to increase sexual frequency, ejaculation, sexual consistency, and harder erections.
There are several constituents in Spilanthes that are thought to be beneficial, but it is the N-Alkylamides extract that was used in the studies on Spilanthes and that are thought to be the most responsible for its effects.
Optimize-T uses SA3X™, a high potency branded extract that contains a minimum 3.5% Alkylamides extract and whose plants are non-GMO and grown free of pesticides.
Bionutricia® Tongkat Ali:
Tongkat Ali (also known as Eurycoma Longifolia and Long Jack) is a popular herb that typically grows in countries within Southeast Asia and has been used for centuries for a wide range of benefits including increased libido & vitality, improved sense of well-being, increased testosterone levels, and much more.
Eurycomanone is the active compound found in the roots of Tongkat Ali/Eurycoma Longifolia that has been shown to increase the amount of total and free testosterone available in the bloodstream. Eurycomanone content ranges for high-quality extracts start at .5% with the upper attainable limits being around 2.7%. At higher concentrations, Eurycomanone may also act as a phosphodiesterase type 5 (PDE5) inhibitor and support improved erection quality.
Bionutricia® Tongkat Ali extract contains a minimum of 2% Eurycomanone and as high as 3% Eurycomanone and each batch of raw materials is tested by the Forest Research Institute of Malaysia (FRIM) to ensure the levels of several key active ingredients, primarily the Eurycomanone content of the extract.
Optimize-T contains 300 mg. per serving of this ultra-potent extract which makes it equivalent to over 3,000 mg. of many of the common Tongkat Ali extracts on the market.
PrimaVie® Shilajit Extract (50% Fulvic Acid):
PrimaVie® is a clinically proven high quality purified Shilajit extract from the Himalayas that contains 50% Fulvic Acid and over 40 other trace minerals and has been shown in studies to significantly increase free and total testosterone levels, as well as improve physical performance and reduce fatigue. In one human trial, Shilajit was able to markedly enhance the extracellular matrix gene expression responsible for skeletal muscle adaptation, making it one of the only ingredients to augment the effect of exercise in this manner.
In another study involving 60 infertile men, Shilajit supplementation was able to improve sperm count by over 60%, improve sperm motility by nearly 40%, and increase levels of testosterone by 23.5% through a reduction in circulating free radicals. To further back this up, another study involving 75 males demonstrated a 20% increase in total testosterone and a 19% increase in free testosterone.
Shilajit has been used for centuries in Ayurvedic medicine to support male sexual health, energy, vitality, cognitive health, rejuvenation and more.
S7™:
S7™ is not a natural testosterone booster but works to complement the effects of the other potent natural testosterone boosters in Optimize-T though increasing nitric oxide levels in the body.
S7® is a blend of 7 plant-based ingredients that has been clinically shown to increase nitric oxide (NO) levels by 230%.
S7® is very unique in that it works differently than other nitric oxide boosters on the market because it works by triggering an increase in the body's own nitric oxide production.
The human body already produces nitric oxide as a vasodilator but the body's natural production of nitric oxide can decrease with age and due to a variety of other factors. Nitric Oxide is important as a vasodilator, signaling the blood vessels to relax, and thus increasing blood flow and delivering more oxygen, fuel, and other key nutrients to the muscles, especially during workouts &/or sexual activity.
Optimize-T contains 50 mg. of S7™, the full clinically researched dosage!
Boron
Boron is a trace mineral that has scientific evidence supporting its use for increasing testosterone and free testosterone levels. It also has scientific evidence supporting its ability to decrease estrogen levels.
A scientific study on eight healthy male volunteers showed that subjects supplementing with boron significantly increased their free (active) testosterone levels and decreased estrogenic activity as measured by a significant decrease in estradiol after only seven days. These results showed a 28% increase in free testosterone and a 39% decrease in free estrogen levels.
Another study that was conducted to look at how boron supplementation impact serum vitamin D levels also measured free testosterone levels. After 2 months of giving 13 male subjects 6 mg. of boron daily, researchers observed that free testosterone levels had increased by an average of 29.5%. This number is consistent with the results of the study mentioned above.
In addition to its testosterone boosting benefits, boron has also been researched &/or commonly used for inflammation, bone maintenance, cognition and learning benefits, and osteoporosis.
Optimize-T utilizes Albion® Bororganic Glycine, a form of Boron that is significantly more bioavailable than many other forms of Born.
AstraGin®:
AstraGin® is a natural patented ingredient complex comprised of highly fractionated Astragalus membranaceus and Panax notoginseng and created using pharmaceutical grade extraction and processing technology and designed to help enhance nutrient absorption.
In short, AstraGin® is designed to help make sure you properly absorb the other great nutrients in Optimize-T for maximum results.
Bioperine®:
Bioperine® is a standardized extract from the fruit of Piper nigrum L (Black Pepper) containing 95% piperine. Piperine has been shown to enhance the oral bioavailability of many supplements.
Bioperine® is included in Optimize-T to be the perfect one-two punch with AstraGin® to help ensure that you properly absorb and get the maximum benefits out of all of the high-end active ingredients in the comprehensive Optimize-T formulation.
Optimize-T
Get Back to Being the Man You Once Were or Be the Main You Want to Be
---
Frequently Asked Questions (FAQ):
How Long Does It Take to Feel Results from Optimize-T?
The high-end premium ingredients in Optimize-T start working from the very first dose.
Optimize-T is designed to work fast! Most people will be able to start to tell a difference within the first week of use with the results getting better and more pronounced with continuous use.
What are Some of the Differences Between Optimize-T and Other Testosterone Boosters?
The natural testosterone boosting category of supplements is a very hot category and unfortunately one that is filled with a lot of underhanded sales and money saving tactics that are used by brands to increase margins, pay their celebrity endorsers, &/or to be able to give the presentation that they include certain ingredients but do so at such a low dosage that the ingredients wouldn't be effective.
Examples of these tactics include proprietary blends and label dressing.
Proprietary blends are where the dosage is given for an entire list of ingredients, but the dosage is not broken down for each individual ingredient. By using a proprietary blend, brands can deceive consumers into believing there is an effective dose of the ingredient in the product when there may be as little as less than 1 mg. in the formula depending on the label placement of the ingredient within the proprietary blend.
The term 'label dressing' is similar to 'window dressing', the term where stores would rope you in by trying to make you think one then when they were really selling another or by tricking you into thinking you're getting a value when you're really getting ripped off or taken advantage of. Label dressing is used as part of proprietary blends where an ingredient may be listed for show but the dosage may not be enough to be effective, but it can also happen on products aren't proprietary blends. Many consumers don't know what the effective dosages of ingredients are and they rely on the brands and believe that they are using the correct dosages in formulas, when sadly, that isn't the case a lot of times. An example of 'label dressing' on a non-proprietary blended product would be when the brand uses an ingredient and lists the dosage in the product but the dosage is not at a efficacious dosage. This allows the brands to trick consumers and give the presentation of delivering certain ingredients while keeping their costs low and their margins high.
Here are some of the significant differences between Optimize-T and many other testosterone boosters on the market:
Premium Ingredients
Clinically Researched Key Ingredients
8 Licensed, Branded Ingredients
Efficacious Dosages of Ingredients (no 'label dressing')
No Deceptive Proprietary Blends
This all leads into the next part below.
We've talked about what Optimize-T is, but now its time to talk about what Optimize-T isn't:
Optimize-T is not some low-end product that has been put together as cheaply as possible in order to keep costs low to provide for a high margin so that the company can afford millions of dollars in marketing and to be able to pay its celebrity influencers and endorsers to promote the product for them.
Optimize-T is not some 'little bit of everything, not enough of anything' product that is put together as cheaply as possible using proprietary blends &/or label dressing in order to hit a super cheap price point and deceive customers and make them think they are getting something that they aren't because of the dosages being too low to be effective.
Optimize-T is not some run of the mill formula in fancy packaging being promote by paid celebrities on advertisements and infomercials. Think about it – someone has to pay these people and they don't work cheap; so that unfortunately normally leads to costs being cut on the formulas as much as possible to be able to afford the marketing and maximize profits.
Optimize-T is not a formula that relies on supposed magical ingredients and super-secret extracts that no one else can get. It's 2021 – be smarter than that. If a company makes a super special extract, they are in business to make money, so they are going to want to sell that ingredient to either a huge company or as many companies as possible to make money themselves. The real reason that some companies promote that they have magical ingredients or super-secret extracts is because they don't want to meet the requirements for or spend the money to use clinically researched, licensed, branded ingredients.
The Optimize-T Difference – What Optimize-T Is:
Optimize-T is a clinical strength natural testosterone booster that is backed by clinically researched key ingredients and contains 8 licensed, branded ingredients and provides each ingredient at or above their full clinically efficacious dosage in order to help you look better, feel better, and perform better – from the gym to the bedroom to the boardroom & in day to day life.
Can Optimize-T Be Used in Post Cycle Therapy (PCT)?
Yes, Optimize-T is powerful enough that it can be used in PCT to help increase natural testosterone levels and libido, improve positive mood and sense of well-being, and to help get you out of that cycle ending slump commonly associated with PCT.
Optimize-T
Get Back to Being the Man You Once Were or Be the Main You Want to Be
A True Anti-Aging Testosterone Booster
---
Stacking & Synergy:
SNS Optimize-T can be taken with Anabolic XT, Focus XT, VasoForce XT, VasoForce Rush, Stress & Anxiety Support, Lean Edge, Thermagize XT, Inhibit-E, Inhibit-P, Recomp20, Anacyclus XT, Energized Aminos, KSM-66, or a wide variety of other SNS products for improved synergistic results.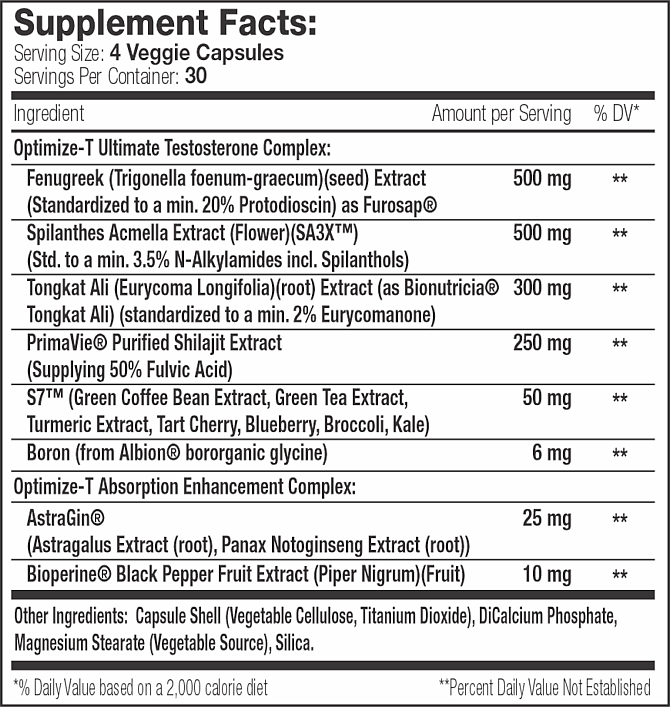 * These statements have not been evaluated by the Food and Drug Administration. This product is not intended to diagnose, treat, cure, or prevent any disease.