SNS Serious Nutrition Solutions Amentoflavone XT - 60 Cap
Item #: SN272
UPC: 850008039515
Pumps, Vascularity, Strength, Endurance, & More
Ultra-Potent 40 Mg. of Amentoflavone Per Capsule
Amentoflavone is a popular ingredient that has antioxidant and anti-inflammatory properties and is commonly used to help enhance muscle pumps and vascularity, aid in fat loss during dieting, increase muscular strength and endurance, and improve erection quality.
SNS Amentoflavone XT provides an ultra-potent 40 mg. Amentoflavone per capsule from 200 mg. Selaginella Tamariscina (standardized to a minimum 20% amentoflavone).
Amentoflavone XT Highlights/Supports:
Increased Muscle Pumps & Vascularity
Muscular Strength & Endurance
Fat Loss During Dieting
Antioxidant & Anti-Inflammatory Properties
Neuroprotective Properties
Improved Erection Quality
Ultra-Potent 40 Mg. Per Capsule
Ask yourself a Few Questions:
Do you want improved muscle pumps and vascularity?
Would you like to improve strength and endurance?
If dieting, would you like to support improved fat loss?
Would you like to improve erection quality?
If you answered yes to any of the above questions, Amentoflavone XT may be right for you.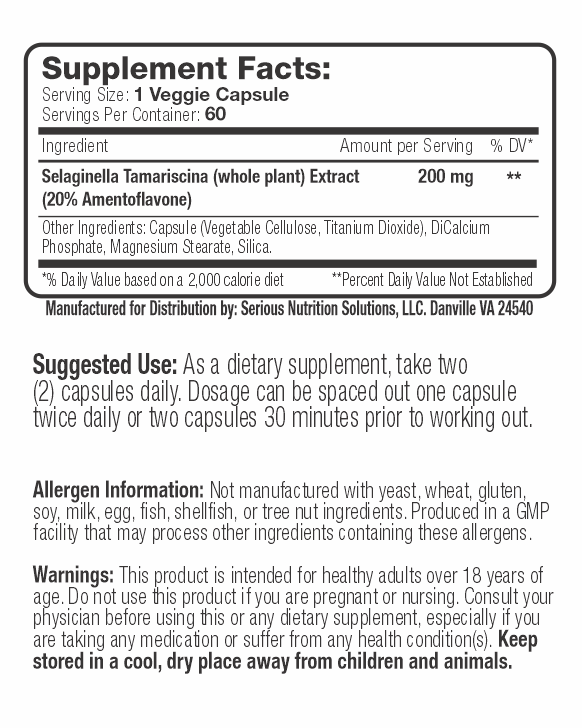 Stacking & Synergy:
Amentoflavone XT can be stacked with SNS Agmatine XT, VASO6™, VasoForce XT, VasoForce Rush, Inflammation Assist XT, or other select SNS products for improved synergistic results.