Hank's Protein Plus Peanut Spread Banana Vanilla Crumble - 15.5 oz
Item #: HPP13
UPC: 804551765490
16oz BANANA VANILLA CRUMBLE
What would a nut butter product be without something with a banana flare? Hank's just would not be complete!! So about a year ago I thought to reintroduce something banana. Some time ago we did have a banana high protein nut spread, however at the time, it always lagged behind the others.
There is no lack of interest this time around however. Our NEW banana spread is topped with about one ounce of vanilla crumbles….as with Snickerdoodle's vanilla and cinnamon, our banana vanilla crumble offers the perfect fusion of two distinct flavors, banana and vanilla. And as with Coconut, you don't need to be a lover of Banana to appreciate what this high protein spread has to offer.
If you haven't tried this one yet because you aren't crazy about banana, you really need to try our version of what a banana nut spread should taste like. If the flavor doesn't get you our unique texture and consistency will.
This is not a Gluten Free product.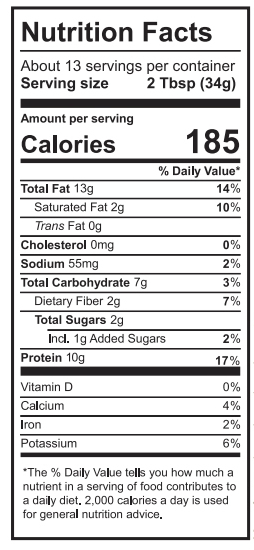 Peanuts, whey protein isolate 90%, dextrose base natural flavoring (Banana), peanut and canola oil blend, MONK FRUIT, ground golden flax, salt. (Nabisco Vanilla Wafers): unbleached enriched wheat flour, wheat flour, niacin, reduced iron, vitamin B1, Vitamin B2, folic acid, sugar, soybean oil, high fructose corn syrup, partially hydrogenated cottonseed oil, whey (milk), egg, n/a flavorings, salt, leavening (baking soda, calcium phosphate),emulsifiers (mono and diglycerides), soy lecithin.
Allergens: peanuts, milk, soy lecithin, egg, wheat

Prior label printings may reflect our stevia/maltodextrin blend, current ingredients with Monk fruit will have an addendum sticker affixed
*Manufactured on shared equipment