Hank's Protein Plus Almond Spread Original - 15.5 oz.
Item #: HPP12
UPC: 868145000336
20% Off Special Offer
Out of Stock
16oz ORIGINAL ALMOND
In 2015 "Almond" became one of our available selections, in fact, it was our only almond selection at the time. Our company was very small and almonds were on the precipice of increasing in cost. For a while the cost of almonds stayed the same and "Almond" was actually our #2 seller right behind Chocolate Chip.
Pretty amazing for a product with a higher price point. And at that time "Almond" was one of only 6 selections (Today we have 11). In the latter months of 2015 almonds skyrocketed in price per pound. So we had to make a decision. Sadly we needed to cut our Almond and concentrate on the nut butter spreads. As we began adding to our list of stores we began adding selections.
Almond is back and is now called Original Almond! Our thoughts are that our original Almond butter fans will recognize the name. It is now our 3rd high protein almond spread and it has already begun to fly off our shelves and store shelves. Original Almond presents a much different taste in comparison to our Chocolate Almond Crunch and our Almond Coconut Chip. We use a vanilla base of Isolate and concentrate whey protein added to our flavoring system and this allows Original Almond to offer lighter taste.

As everyone knows, almonds can be overpowering. Many people are hesitant in trying almond butter for that reason. With just the right amount of ingredients we have managed to slightly decrease the "power of the almond" and make this a selection worth waiting for. Original Almond Is Back!!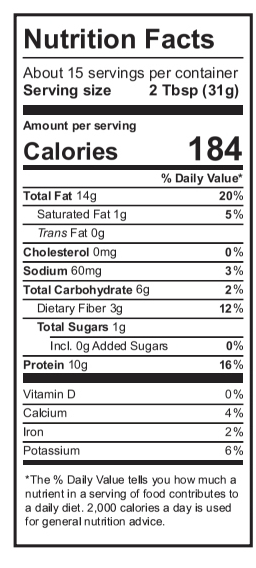 Almonds, whey protein isolate 90%, dextrose base natural flavoring (vanilla), peanut and canola oil blend, MONK FRUIT, ground golden flax, salt
Allergens: almonds roasted in peanut oil, milk