SNS Serious Nutrition Solutions Paradoxine - 2 x 120 Cap Btls TWINPACK
Item #: SN2151
UPC: 850008039287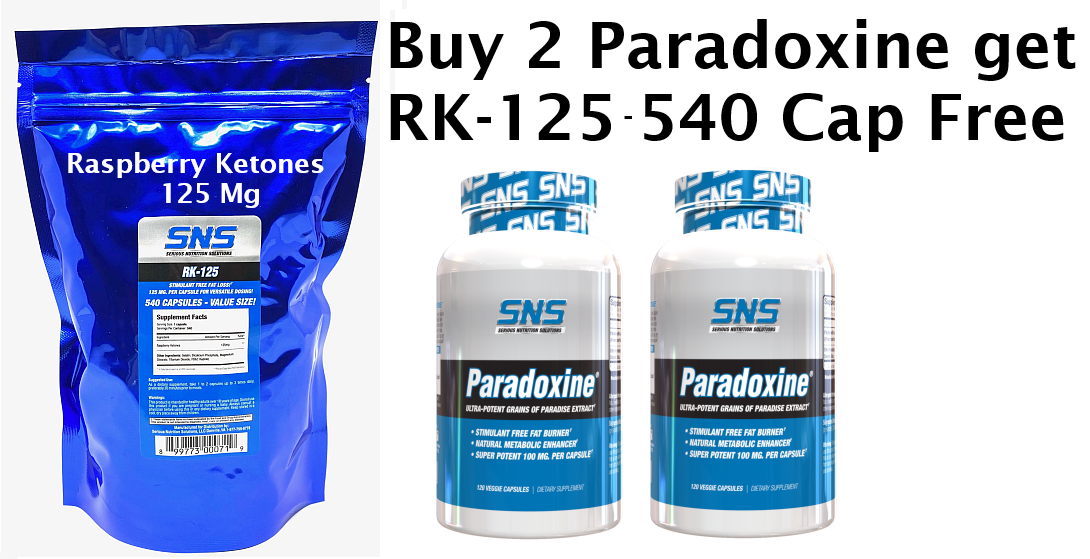 Stimulant Free Fat Burner & Natural Metabolic Enhancer
Ultra-Potent Aframomum/Grains of Paradise Extract
Super Potent 100 mg. Per Capsule
(Std. to minimum 12.5% 6-Paradol)
Paradoxine® is a standardized extract of the Grains of Paradise seed, also known as Aframomum Melegueta, which is a spice native to West Africa that belongs to the same family as ginger. This potent ingredient has been shown in studies to support visceral (abdominal cavity) fat loss while increasing resting metabolic rate with a dosage as low as 30 mg. per day.
SNS Paradoxine® caps have over 3x that dosage per capsule!
SNS Paradoxine® capsules contain an ultra-potent 100 mg. per capsule of highly concentrated Aframomum Melegueta (Grains of Paradise) Seed Extract.
SNS Paradoxine® Highlights/Supports:
Stimulant Free Fat Burner
Natural Metabolic Enhancer
Burn Stubborn Body-Fat
Supports Visceral (Abdominal Cavity) Fat Loss
Highly Concentrated Extract
Super Potent 100 mg. Per Capsule!
Ask Yourself a Couple of Questions:
Do you want to lose fat?
Have you hit a sticking point with your fat loss?
Do you want something to jump start fat loss?
Is your abdominal fat a problem area?
Does your belly fat/abdominal fat always seem like the last to go?
If you answered yes to any of the above questions, Paradoxine® capsules may be right for you.
SNS Paradoxine® Capsules
Stimulant Free Fat Burner & Natural Metabolic Enhancer
Super-Potent 100 mg. Per Capsule
A little more in-depth information on how Paradoxine (Aframomum Melegueta) works:
Aframomum Melegueta seed extract supports the stimulation of fat burning through the activation of brown adipose tissue (BAT) and through increasing whole-body energy expenditure. It has also been shown to decrease visceral fat in humans. Visceral fat is the type of fat that is stored predominantly in the abdominal cavity and can give people the bulging stomach type look; so in addition to it being a very unhealthy type of fat, it can look really awful as well.
To better understand how Paradoxine® works, it's important to understand the different types of adipose tissue (fat) in the body:
White Adipose Tissue (WAT)/White Fat Cells – are your body's energy storage cells; basically, they are fat that your body stores as stored energy (leftover unburned calories from the food that you eat). Large amounts of white fat around the abdominal area is associated with a higher risk of metabolic disease.
Brown Adipose Tissue (BAT)/Brown Fat Cells – are used for diet and cold induced thermogenesis (maintaining your body's normal temperature when exposed to cold). Brown fat generates heat by burning calories.
Paradoxine has the unique ability to help convert White Fat to Brown Fat, thereby converting the energy storing fat tissue into the type of fat tissue than helps increase thermogenesis and total calorie expenditure.
Unlike many fat loss ingredients, Paradoxine is backed by human studies. One study on Paradoxine in humans showed that subjects who consumed Paradoxine® had a significantly greater increase in energy expenditure, seemingly due to the increase in brown fat activity versus the placebo group.
Another study showed that subjects (non-obese women) that consumed Paradoxine had greater decreases in body-fat around the lower abdominals as well as lower levels of visceral fat in the same area as compared to those who consumed a placebo; and very significantly this was with both groups NOT making any changes in diet or exercise.
SNS Paradoxine® Capsules
Stimulant Free Fat Burner & Natural Metabolic Enhancer
Super-Potent 100 mg. Per Capsule
Stacking & Synergy:
SNS Paradoxine® capsules can be stacked with Lean Edge, Thermagize XT, Metabolic Xtreme, Focus XT, Reduce XT, or select other SNS products for improved synergistic results.