Hank's Protein Plus Peanut Spread Snickerdoodle - 15.5 oz
Item #: HPP04
UPC: 863509000083
20% Off Special Offer
Out of Stock
SNICKERDOODLE

If you are familiar with our number one high protein product, Chocolate Chip, then you may also be familiar with our second most popular flavor, Snickerdoodle. Solely based on popularity, Chocolate Chip and Snickerdoodle have been one and two respectively in popularity since the very beginning.
Snickerdoodle is a specific blend of vanilla and cinnamon flavors and not pieces of snickers bars like some people would hope!!! As the mixing process begins, cinnamon is added first to ensure a proper coating onto the entire 50 pounds of nut stock. Once that is complete, our protein is added in along with Stevia, flax, salt. In order to avoid clumping and settling of the heavier ingredients, our mixing and blending process for all flavors takes approximately 5 minutes. This may seem like a long time but it guarantees an even blend of every ingredient.
So you may be surprised that there are no snicker bar pieces in this nut butter. However you won't be disappointed in what you are taste……a perfectly blended fusion of cinnamon and vanilla!!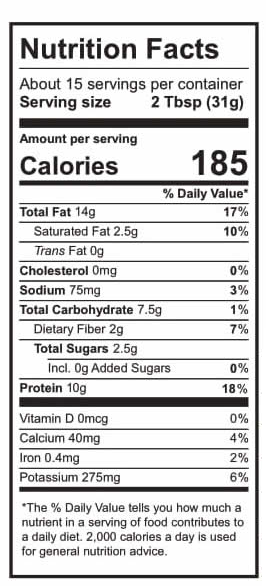 INGREDIENTS: PEANUTS, PROTEIN POWDER (WHEY PROTEIN CONCENTRATE, WHEY PROTEIN ISOLATE, NATURAL AND ARTIFICAL FLAVOR, XANTHAN GUM, SUCRACLOSE), STEVIA (REBAUDIOSIDE A, MALTODEXTRIN), CINNAMON, SALT, FLAX SEEDS.
CONTAINS: PEANUTS, MILK.
*Manufactured on shared equipment.