Hank's Protein Plus Peanut Spread White Chocolate Pretzel - 15.5 oz
Item #: HPP01
UPC: 868145000305
WHITE CHOCOLATE PRETZEL
What would a nut butter company be without a flavor that included pretzels? It would be an incomplete nut butter company is the answer! Hank's White Chocolate Pretzel was created and released six months ago and has been a top 5 seller ever since.
White chocolate is a very difficult flavor to reproduce in a nut butter simply because the flavor of nuts usually overpowers a white chocolate flavor. The only way to remedy that is by adding a ton of sugar, sometimes up to 7-10 grams per serving like some companies do. This is a practice common to many companies. But not at Hank's. So instead we worked until the flavoring system of white chocolate protein was as potent as possible, without adding sugar!
We use a yogurt covered pretzel that seems to add just enough sweetness to the nut butter without being overwhelming and without losing the white chocolate taste. In fact they enhance the white chocolate flavor. As with all of our toppings and additions to our nut butters, we use approximately an ounce of pretzels as the topping. It renders a slight crunch and a mild sweetness to a white chocolate flavored product. White Chocolate Pretzel is here to stay.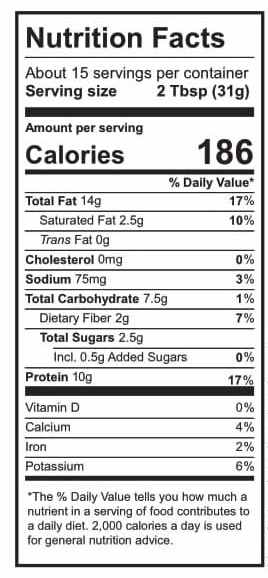 INGREDIENTS: PEANUTS, PROTEIN POWDER (WHEY PROTEIN CONCENTRATE, WHEY PROTEIN ISOLATE, NATURAL AND ARTIFICAL FLAVOR, XANTHAN GUM, SUCRALOSE), STEVIA (REBAUDIOSIDE A, MALTODEXTRIN), PRETZEL 1 OZ: ENRICHED WHEAT FLOUR, YOGURT, CONFECTIONARY SUGAR COATING WHEY POWDER, NON-FAT YOGURT (MILK), SOY LECITHIN, REDUCED IRON, THAIMINE MONOHYDRATE, RIBOFLAVIN,FOLIC ACID, MALT, SALT, SOYBEAN AND/OR CANOLA OIL, YEAST), SALT, FLAX SEEDS.
CONTAINS: PEANUTS, MILK, SOY, WHEAT.