Kaged Muscle PRE-KAGED Krisp Apple - 20 Servings
Item #: KM028
UPC: 852253007004
YOUR PRE-WORKOUT PRIMER IS HERE
Pre-Kaged is the ultimate Pre-workout drink! The top rated pre-workout comes with a combination of ingredients to provide the best focus, pump, and stamina in the gym!Discover the high-performance power of this revolutionary new formula from Kaged Muscle supplements. PRE-KAGED - there's absolutely nothing else like it on the sports supplement market. Nothing!
ONE PRODUCT TO DOMINATE THEM ALL
Around 7 years ago, when Kris Gethin began testing other brands for safety, purity, and performance, it quickly dawned on him that he would have to mix his own single fill ingredients in the doses he knew were effective to gain better performance and results that would only benefit his physique. Years later, we are lucky enough to have assembled multiple patented and fully tested ingredients in one supplement to create the most unbelievable pre-workout that's created some of the most unbelievable workouts.
WHY PRE-KAGED IS SENDING SHOCKWAVES THROUGH BODYBUILDING COMMUNITY
When you take PRE-KAGED something happens. You scoop… add water… shake or stir… drink… then 15 – 20 minutes later… it happens.
It will focus you and shock your muscles into overdrive to help you crush personal records and workout plateaus.
We have always considered the mind-to-muscle connection the secret weapon. When you can tap into intensity, focus, energy, and positive aggression, you're on the path to success. When you couple this with prolonged, physical intensity, you're able to achieve goals and destroy personal records.
REAL SCIENCE VS. BORROWED SCIENCE
At Kaged Muscle we test, we don't guess. Our feature genuine key ingredients supported by scientific studies, not simply re-applied science applied to generic ingredients.
Generic is just what it sounds like – a simple knockoff that claims to be the same, but has no evidence that the ingredient works exactly the same or delivers the same results.
Kaged Muscle has partnered with innovative ingredient manufacturers such as BetaPower, CarnoSyn, ProHydrolase, SPECTRA and PurCaf, that spend series dollars on research and testing to maximize your results in the gym.
It is our goal to give you the absolute best products with ingredients truly backed by science. We have tested every one of these products in the lab and the gym. Your bodybuilding efforts are too important to risk on unproven, generic, mystery ingredients, or through science that hasn't been validated. Kaged Muscle contains only the highest-quality key ingredients that are safe and backed by real science.
At Kaged Muscle, shortcuts are not taken. They're never even considered. When it comes to quality, there are no shortcuts. And when it comes to your physique, there shouldn't be.
Why does PRE-KAGED have 274 mg of caffeine and not 300 mg or 350 mg like some of the competitors' products?
Through vigorous sensory testing, the Kaged Muscle team discovered that when caffeine exceeds 275 mg, it may cause anxiety and can diminish the effect of nitric oxide production. Finding the perfect balance PurCaf Organic Caffeine in Kaged Muscle provides an excellent mixture of energy and focus while not diminishing the effects of your pump.
Our goal was to formulate the best performing pre-workout on the market, not give you another stimulant cocktail that keeps you jacked up long after the workout ends.
PRE-KAGED Neuro-Focus Matrix consists of PurCaf Organic Caffeine, plus two forms of L-Tyrosine, and Taurine along with B-vitamins. It helps you focus and stay in the game.
PRE-KAGED gets you in the zone, and then IN-KAGED keeps you in the zone. They are your two training partners that won't let you down.
The organic caffeine and key nitric oxide ingredient are timed perfectly between PRE-KAGED and IN-KAGED for full effect without losing performance.
Take PRE-KAGED 30 minutes prior to working out and start sipping IN-KAGED 40-45 minutes after consuming PRE-KAGED.
WHY PRE-KAGED VS. OTHER PRE-WORKOUT PRODUCTS?
The answer is simple – all our ingredients are third-party tested for purity and quality! In return for a premium price, Kaged Muscle vendors and manufacturers commit to strict ethical, quality, and testing standards, ensuring our ingredients are manufactured with care.
KEY INGREDIENTS IN PRE-KAGED
MICROPURE BCAAS
Micropure BCAAs in the 2:1:1 ratio. Micropure BCAAs are manufactured by vegetable fermentation and are microencapsulated by a patented technology that enhances solubility and mixability.
LEUCINE
Leucine works as a trigger, metabolized directly in muscle tissue to encourage a muscle building stimulus. Leucine can be used as an energy source for muscles, but more importantly, it slows the rate of protein breakdown in skeletal muscle tissue. Exclusive to Kaged Muscle, Micropure Leucine is fermented and ultra-soluble for maximum mixability.
PURE L-CITRULLINE
L-Citrulline delivers an ultra-pure form of nitric oxide support. Not only is Kaged Muscle L-Citrulline ultra-pure, but it is manufactured using a patented vegetable fermentation process. PRE-KAGED has a powerful 6.5 g punch of Pure L-Citrulline vs. 4 g in the leading pre-workout per serving.
CARNOSYN BETA-ALANINE
CarnoSyn beta-alanine delivers a premium quality form of beta-alanine, a naturally occurring beta amino acid essential for the synthesis of muscle carnosine.*
PATENTED CREATINE HCI:
Highly pure creatine hydrochloride (HCI)
Eliminates the need for a loading phase or cycling off
Gluten-free and vegan
Complies with strict cGMP standards (as is required of all Dietary Supplements)
Patented Creatine HCI is the original patented Creatine HCl that is manufactured by Vireo Systems and protected by the following patents:
8,962,685
8,354,450
8,026,385
7,608,641
If your Creatine HCl product does not say Patented Creatine HCl, it's not the real deal!
FLAVONOIDS & ANTIOXIDANTS
SPECTRA is a new dawn in our understanding of how fruits, vegetables, and herbs positively interact and influence physiological functions in the human body.
NEXT GENERATION ANTIOXIDANT BLEND
A unique combination of fruit, vegetable, and herb extracts and concentrates
Gluten free
Non-GMO
Tender Coconut Water Powder is one of nature's superfoods. Our coconut water powder is carefully manufactured and freeze-dried exclusively for Kaged Muscle.
Taurine is an amino acid that serves many functions but isn't involved in protein formation. It has been shown to help endurance athletes and can also volumize muscle size by drawing more fluid into the muscle cells.
L-Tyrosine is an amino acid your body uses to produce muscle tissue, protein, and enzymes. It's also a precursor to neurotransmitters such as norepinephrine and dopamine.
Vitamin B-12 supports energy metabolism, including the conversion of protein, fats, and carbohydrates into usable energy.
PurCaf is a premium, organic certified, 90% pure caffeine extract derived from water extracted green coffee beans for naturally sourced energy. Time to kick synthetic caffeine to the curb and make the switch to "green energy." PurCaf is manufactured by a solvent-free process.
THE DIFFERENCE IS CLEAR
Why PRE-KAGED can never be duplicated.
What really sets PRE-KAGED apart from the competition is the attention to detail that goes into sourcing the world's best ingredients.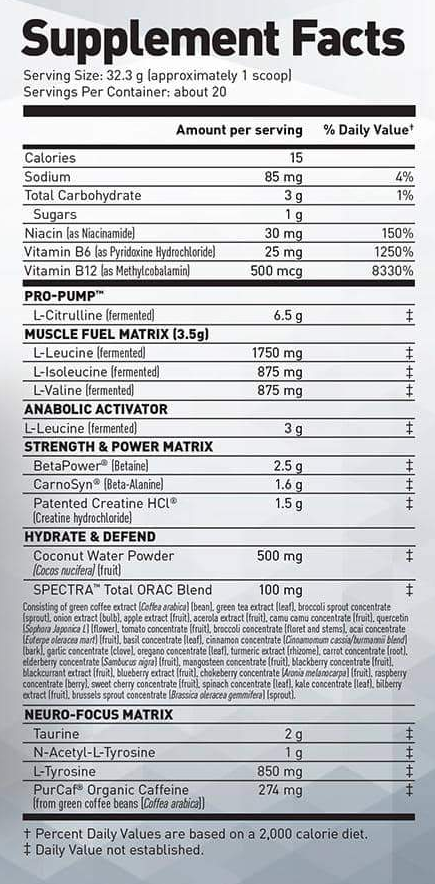 Patented ingredients exclusive to Kaged Muscle
Exclusive natural flavor technology
Proprietary manufacturing processes
*These statements have not been evaluated by the Food and Drug Administration. This product is not intended to diagnose, treat, cure, or prevent any disease.