Hi Tech Pharmaceuticals Haladrol - 30 Tablets
Item #: HT161
UPC: 811836023008
Halodrol Maximal Muscle Myotropic Developer
Bodybuilding's Most Anabolically-Potent, Single-Dose Tablet!
Formulated with Anabolic Agents, Including Legal Pro Hormone Esters
Amino Acid Catalytic Converter and Promotes Protein Synthesis
Natural Steroidal Anabolic and Anti-Proteolytic Formulation
Boost Testosterone Levels and/or Enhance Athletic Performance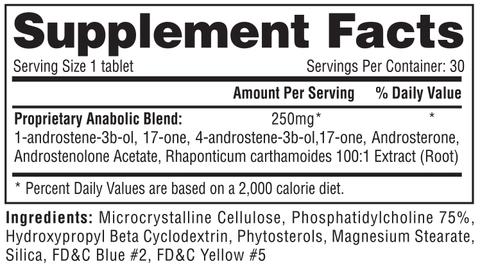 THESE STATEMENTS HAVE NOT BEEN EVALUATED BY THE FOOD AND DRUG ADMINISTRATION. THIS PRODUCT IS NOT INTENDED TO TREAT, CURE, DIAGNOSE, OR PREVENT ANY DISEASE.
THIS PRODUCT SHOULD NOT BE USED IN PLACE OF OR AS A SUBSTITUTE FOR RECOMMENDATIONS BY YOUR HEALTHCARE PROFESSIONAL.
NO CLINICAL STUDY HAS BEEN PERFORMED ON DIANABOL. THESE STATEMENTS ARE BASED ON THE ACTIVE INGREDIENTS: BELIZEAN MAN VINE, TRIBULUS TERRESTRIS, DHEA, PHYTOSTEROLS, RNA, 7-KETO-DHEA, AND VANADYL SULPHATE.
More items you might like
Loading...