Blackstone Labs EpiSmash - 60 Tablets *Paypal cannot be used to pay for this product
Item #: BLB143
UPC: 811836024630
Liposomal products are designed to achieve a 99% absorption rate, achieved through both a fat-soluble coating and water-soluble coating of the supplement to bypass the liver and be immediately shuttled into the bloodstream. Normally, oral supplements have to pass through the liver at least 3 times before actually entering the bloodstream; by the time that happens you're only utilizing 33% of the supplement.

Liposomal Delivery System

EpiSmash, containing 100mg of Laxogenin and 150mg of Epicatechin in a single liposomal tablet, is up to 25x more potent than other Laxogenin and Epicatechin products. EpiSmash is safe for both men and women to take. Anyone can use this product! Whether you're trying to stay completely natural, bridge between cycles, on post-cycle therapy and trying to maintain gains, EpiSmash is for you. EpiSmash is also great for women who are trying to cut OR bulk.
EpiSmash, utilizing liposomal technology, is the strongest natural anabolic that any athlete has ever taken.
5 Apha Hydroxy Laxogenin (100mg) is a natural planet based anabolic show to increase protein synthesis by 200%. Laxogenin does not affect testosterone production so it doesn't require post cycle therapy. Known for increasing strength, athletic performance, and body composition in as little as 2 weeks, Laxogenin has also been shown to decrease cortisol levels which leads to a better metabolism, faster recovery and muscle growth.
Acacia Catech Extract, standardized to 40% Epicatechin 150mg (375mg) is an extract isolated from dark chocolate and also known as a micronutrient that has been shown to decrease myostatin in the body which is a protein produced in our body that inhibits muscle growth. When the body gets decreased levels of myostatin in turn what happens is you get an increase in the speed of muscle growth and recovery, which increases follistatin(muscle growth), and fat loss. More muscle growth better your strength so just know you will be breaking your own PRs.
INSTRUCTIONS
Suitable for men and women. As a dietary supplement, women take one (1) tablet daily with a meal. Men take one (1) to three (3) tablets daily with a meal.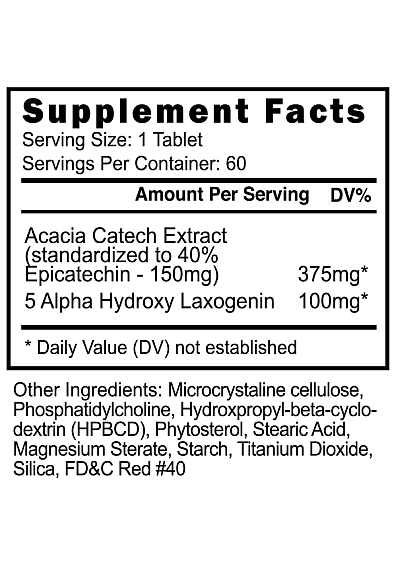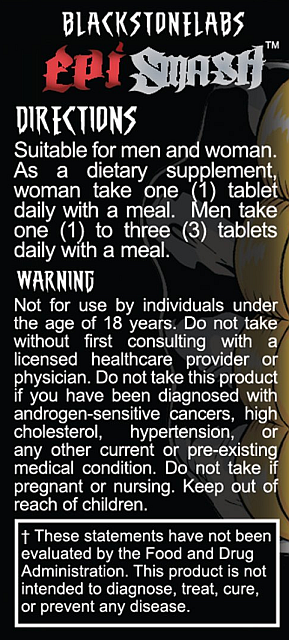 More items you might like
Loading...