MHP EAA Strong Blue Raspberry - 30 Servings
Item #: SE276
UPC: 666222009643
POWERFUL ESSENTIAL AMINO ACID SUPPLEMENT: EAA STRONG provides 7 grams of all nine essential amino acids, including 5g BCAA. These essential amino acids support muscle building and recovery and guard against muscle breakdown during training.*
ENHANCES MUSCLE REPAIR AND RECOVERY: potent 10:1:1 BCAA ratio (leucine: isoleucine: valine) EAA STRONG is packed with Leucine, the key amino acid needed for turning on muscle protein synthesis, which leads to muscle repair, recovery, and growth.*
OPTIMIZES HYDRATION: contains an advanced 473mg Electrolyte Blend featuring natural "super mineral" sources of Himalayan Pink Salt and Coconut Water to optimize hydration and refuel mineral stores as well as muscular energy and performance.
COMPLETE and CLEAN AMINO ACID SUPPLEMENT: Made from Vegan Fermented EAA's and contains no dyes. It mixes instantly and is easy and convenient to use. Use it on training days for pre-workout, intra or post-workout. Can also be used on non-training days to keep a steady supply of essential amino acids pumping into your muscles.*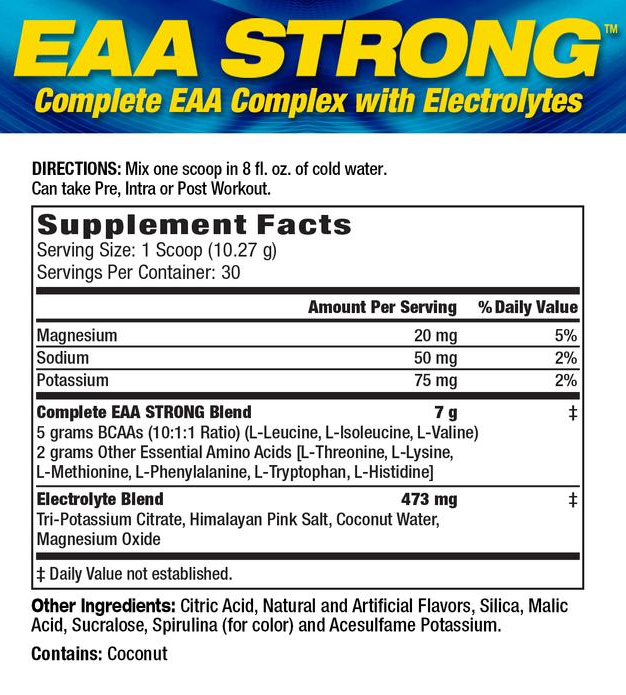 *These statements have not been evaluated by the Food & Drug Administration. This product is not intended to diagnose, treat, cure or prevent any disease.
More items you might like
Loading...