Hi Tech Pharmaceuticals Echinacea - 120 Tab
Item #: HT154
UPC: 811836024449
Echinacea has been traditionally used in herbal preparations to:
Help enhance healthy immune system function and fight colds
Support upper respiratory tract health
Help relieve temporary mild throat discomfort associated with hoarseness, dry throat and irritants*
Hi Tech Echinacea Extract is a tri-faceted approach to the benefits found in Echinacea purpurea (L.) Moench, is one of the most important and well-known medicinal plants in the world, belonging to the Asteraceae (Compositae) family. Purple coneflower (Echinacea purpurea and Echinacea angustifolia) preparations are widely used herbal medicines for the treatment of the common cold. It is generally believed that Echinacea affords its benefits through interactions with the immune system. Echinacea plants are loaded with plant compounds that function as antioxidants. Antioxidants are molecules that help defend your cells against oxidative stress.
The first Echinacea purpurea extract is standardized to Chicoric acid and polyphenols that are not very soluble in water and it isn't easily absorbed by the body. In order to effectively utilize ­echinacea products, Hi-Tech realized that our proprietary Cyclosome® delivery system would dramatically improve bioavailability in order not to have to consume grams of Echinacea in order to achieve results. Chicoric acid makes our immune cells more efficient in attacking intruders. In vivo en vitro studies have shown that chicoric acid promotes phagocytosis. This is the process whereby white blood cells and lymphocytes attack and destroy pathogens. Chicoric acid increases the production of interferon, immunoglobulin and other chemicals important for the immune system. Studies have indicated that chicoric acid can inhibit the penetration of viruses in cells. Most Echinacea do not contain much of this amazing compound.
The second Echinacea purpurea extract is a CO2 extract standardized to alkylamides. This new class of substances called alkamides, which can further enhance antioxidant activity. Alkamides can renew worn-out antioxidants and help antioxidants better reach molecules that are prone to oxidative stress. A number of studies revealed that alkamides are involved in the immunomodulatory properties of Echinacea extracts. This immune active alkamides are rapidly destroyed by the liver. However, with the Cyclosome® delivery system they are able to survive the "first pass" through the liver that destroys most Echinacea products rich in alkamides. This will enable your body to strengthen its immune system to fight off colds. In fact, a review of 14 studies found that taking echinacea may lower the risk of developing colds by more than 50% and shorten the duration of colds by one and a half days!
The last Echinacea purpurea extract is standardized to Echinacosides. Echinacoside, a natural phenylethanoid glycoside, was found to possess numerous pharmacologically beneficial activities for human health, especially the neuroprotective, immune and cardiovascular effects. These included the identification of active metabolites as having poor bioavailability in its natural form. Hi tech's utilization of our Cyclosome® delivery have reversed the poor pharmacokinetics and increased its therapeutic uses. Hi-Tech's Echinacea extract is a hi-potency and unique formulation that combines, echinacea angustifolia root, and Echinacea purpurea. This formula is the only product on the market utilizing cutting-edge Cyclosome® Technology to ensure that all the active ingredients are utilized in an efficient manner to support your immune system and help with the common cold.
These statements have not been evaluated by the Food and Drug Administration. This product is not intended to treat, cure, diagnose, or prevent any disease. This product should not be used in place of or as a substitute for recommendations by your healthcare professional.
SUPPLEMENT FACTS
Echinacea Supplement Facts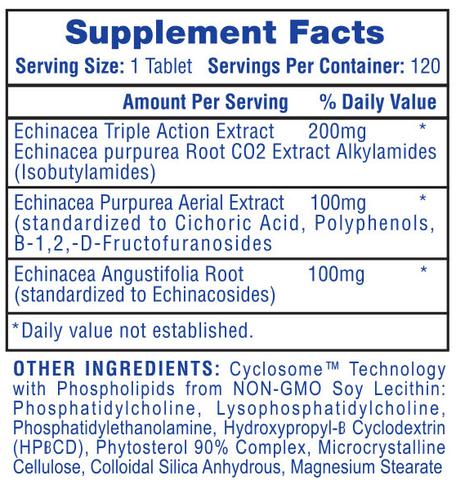 SUGGESTED USE
As a dietary supplement, take one (1) tablet 1-4 times daily as needed
More items you might like
Loading...