ALRI Humapro Powder Passion Fruit - 45 Servings
Item #: AR068
UPC: 811836023879
No Other Protein Compares to HumaPro:
Economical: Costs less per serving than other proteins†
Super Concentrated: *1 serving of HumaPro = a Whole Food Protein Equivalent of 25g averaged, with only 0.02 calories per serving†
1 serving of HumaPro: 0.02 Calories, *25g Protein, 0g Carbs & 0g Fats.
4 oz. of Chicken Breast: 130 Calories, 24.20g Protein, 0g Carbs & 23.95g Fats.
5 oz. Lean Beef: 361 Calories, 24.38g Protein, 0g Carbs & 28.40g Fats.
By replacing meat in just 2 meals per day, you can save roughly 500 calories!
HumaPro powder is also Vegan Friendly, and contains NO: Gluten, Soy, Sugar, Lactose or Heavy Metals.
HumaPro – Bioavailability and Bio-utility of Essential Protein.
It has been said that whey protein is 100% bioavailable and is therefore 100% absorbed into the body. Bioavailability is how much of what you are ingesting is absorbed by the body yet it says nothing to how much is actually "utilized" by the body. Those statements are correct about the 100% bioavailability, yet the problem with this statement, and to your detriment, is that it is absorbed, processed through the kidneys and then expelled as bodily waste.
Unlike whey protein supplements, HumaPro is designed to be fully absorbed and utilized by the human body. How can HumaPro do this and other proteins cannot?
Fundamentally, outside of taste, there isn't much difference between the whey protein supplements that are on the market. The reason is the "ratios" of Essential Amino Acids are still going to be the same in all the variations of whey protein. The problem with this is the ratios are not formulated specifically for the human body, but rather that of a cow.
HumaPro is formulated with all of the essential amino acids in the exact ratio and sequenced delivery for what the human body requires to fully utilize them. Furthermore, the unique delivery system of HumaPro is designed to have all of the essential Amino Acids arrive at the muscle tissue, at the same time. While other proteins are only in the incorrect ratios, but they also arrive at different times. This is something to think about when you see other products on the market that may seem to copy HumaPro. Years of science has been put into the unique delivery system behind HumaPro and the exact amino sequence. Don't fall for a copy-cat product – make sure you are using the original!
Understanding the Numbers Game. Reduce Your Intake. Increase the Benefits.
One gram of protein = 4 calories.
One gram of HumaPro = 0.004 calories
One serving of HumaPro = 0.02 calories
A Net Nitrogen Utilization study has determined the percentage of Anabolized Amino Acids (UAA), also known as Net Nitrogen Utilization (NNU) and of Catabolized Amino Acids (UCA) in HumaPro provides a 99:1 NNU:UCA ratio so caloric value, based upon a clinical study, is believed to be 0.004 calories per gram, thus 0.02 calories per 5 gm serving.
The prescribing conversion ratio for HumaPro to averaged whole food proteins (WFP…like meat, fish, poultry, whey and soy proteins etc.) is:
1g HumaPro = 5g WFP
A 5g HumaPro serving (1 scoop/5 tabs) therefore = Whole Protein Equivalent of 25g averaged, at less than 1 calorie (0.02 to be exact)!
Why? Because HumaPro is nearly fully utilized as protein should be (as the source for a positive nitrogen balance resulting in greater protein synthesis rather than as raw materials the body makes into glucose). It quickly reaches lean tissue to be used at the cellular level, without interruption for digestive processes.
How? Say you are currently having 4 scoops of a whey protein supplement per day and each scoop has 25g of whey protein in it. That would be 100g of whey protein or 400-600 calories (depending on brand, flavor, etc.). To match this you would need just 4 scoops of HumaPro (the equivalent of 100g whole protein). At just 0.02 calories per serving, the 4 scoops of HumaPro would yield less than ONE calorie.
That is a difference of up to approximately 599 calories. Putting yourself in a 599 calorie deficit, all the while getting all the valuable muscle building nutrition you need that sets you up for losing body fat!
FAQ
Q: Is HumaPro just Branch Chain Amino Acids (BCAAs)?
A: Though the BCAAs are Essential Amino Acids (EAAs) they are not a complete protein matrix…the other 5 EAAs are missing from BCAA formulas. So, no. HumaPro is a complete protein EAA matrix specific to the human body needs without the waste or significant conversion to blood sugar other proteins create.
Q: What is HumaPro made from?
A: HumaPro is produced in an FDA inspected cGMP certified facility utilizing USP pharmaceutical grade Ajinomoto Amino Acids. HumaPro does not contain any dairy or animal products, sodium, gluten, sugar or preservatives. Ajinomoto amino acids are 100% vegetable origin enzyme assimilated and purified without any synthetic ingredients, reagents or harmful chemicals. HumaPro is heavy metal, viral, and contaminant free as well as hypoallergenic.
Q: What is protein/amino acid waste?
A: When protein is digested it is broken down into amino acids. The amino acids that are converted to blood sugar leave behind waste in the form of ammonia, uric acid and urea. Naturally ammonia build-up would be deadly and does occur. Uric acid and ammonia both are highly toxic to kidneys. Urea is the major metabolic fate of these waste compounds and it excreted from the body in urine. Normal urea excretion in a 24 hour period is 6-17 grams. Many high protein diets can push urea waste into the 40 gram range but has not been shown to have an adverse effect upon the kidneys during the common periods high protein diets are maintained. HumaPro is 100% predigested providing the corrected EAA and Semi-Essential ratios for only 1% waste as compared to most proteins being 68-84% waste.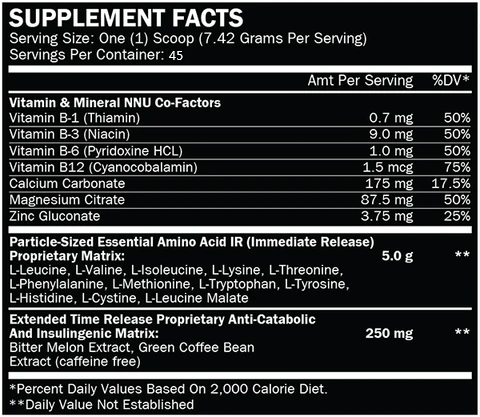 †These statements have not been evaluated by the FDA. This product is not intended to diagnose, treat, cure or prevent any disease.
NOT FOR USE BY INDIVIDUALS UNDER THE AGE OF 21. DO NOT USE IF PREGNANT OR NURSING. This product is intended for use by healthy individuals only. Do not use if you have a medical condition or are taking any prescription medication. Consult a physician prior to using this product if you have any pre-existing medical condition including diabetes or hypoglycemia or if you take any glucose-lowering agents or other drugs or supplements that affect blood sugar. Do not exceed recommended dosage.

More items you might like
Loading...