Hi Tech Pharmaceuticals PlasmaGen - 80 Cap
Item #: HT147
UPC: 811836023800
PLASMAGEN
NITRIC OXIDE MAXIMIZER
GROWTH KIT SPECS
• INSANE MUSCLE PUMPS†
• HUGE GAINS IN LEAN MUSCLE MASS, STAMINA, & STRENGTH†
• STIMULATES GLYCOGEN BUILDING IN SKELETAL MUSCLES†
• INCREASES VASCULARITY†
• POST-CYCLE THERAPY POWERHOUSE†
• MAXIMUM VASODILATION†
• INCREASED UPTAKE OF AMINO ACIDS & ADDITIONAL NUTRIENTS†

Adenosine 5'-Triphosphate
Adenosine 5'-Triphosphate (ATP) is a unique muscular energy source that it is able to be utilized during both aerobic andanaerobic activity. ATP is responsible for each and every metabolic process that occurs within the body. It regulates all of our physiological activity through specific interactions with cellular receptors. In addition to being the primary fuel source in our muscle cells, ATP exhibits some unique Nitric Oxide increasing properties. ATP works to increase vasodilation by stimulating endogenous NO synthesis in striated muscle, and enhances the delivery of oxygen, glucose, and vital nutrients to skeletal muscles to immediately increase anabolism. In addition to NO synthesis enhancement, ATP also increase NO independent prostacyclin dilation and EDHF synthesis. This allows you to experience the massive pumps you desire, and huge muscle gains you demand. Clinical studies show that just a small amount of ATP in the blood can cause up to an 8% increase in blood vessel diameter, and a 17% increase in overall blood flow.†
Benifits of ATP
• ATP stimulates glycogen building in skeletal muscles†
• ATP increases vasodilation†
• ATP increases oxygen flow & L-Arginine uptake†
• ATP increases bioavailability of key nutrients†
The fact of the matter is that ATP accomplishes all of these muscle building benefits and more without any adverse effects on your blood pressure or heart health. ATP is not a stimulant, and no side effects have ever been experienced when studied in clinical settings.†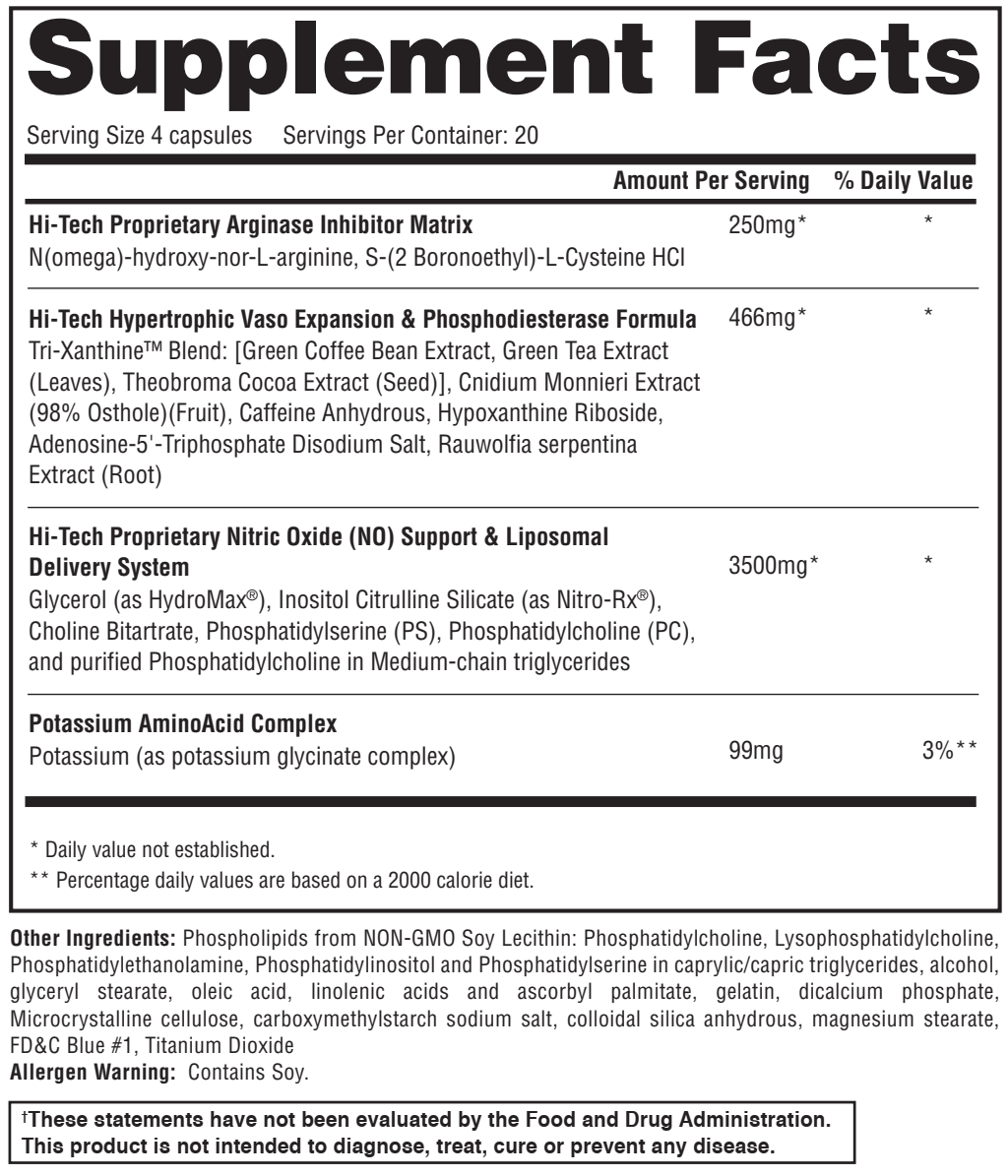 Directions: Each box contains EXACTLY 20 (TWENTY) 4 capsule servings (30 day supply). As a dietary supplement, take 4 capsules 30-60 minutes prior to weight training with at least 12-24oz of water or juice. Take PlasmaGen® ONLY on the days you actively work out. Most individuals notice the initial vaso-expansion effects within 15-45 minutes after ingestion. Again, these effects tend to become substantially more visible every few minutes thereafter. PlasmaGen® induces its maximum vaso-expansion/strength inducing effects within 60-90 minutes after ingestion and will taper down to a baseline 6-12 hours after ingestion.
DO NOT EXCEED FIVE (5) SERVINGS PER WEEK AND DO NOT USE MORE THAN ONE SERVING PER DAY.
Warnings: WARNING: NOT FOR USE BY INDIVIDUALS UNDER THE AGE OF 18 YEARS. DO NOT USE IF YOU ARE PREGNANT OR NURSING. THIS PRODUCT CAN RAISE BLOOD PRESSURE AND INTERFERE WITH OTHER DRUGS YOU MAY BE TAKING. TALK TO YOUR DOCTOR ABOUT THIS PRODUCT. INDIVIDUALS WHO CONSUME CAFFEINE WITH THIS PRODUCT MAY EXPERIENCE SERIOUS ADVERSE HEALTH EFFECTS. INDIVIDUALS WHO ARE SENSITIVE TO THE EFFECTS OF CAFFEINE SHOULD CONSULT A LICENSED HEALTH CARE PROFESSIONAL BEFORE CONSUMING THIS PRODUCT. DO NOT CONSUME SYNEPHRINE OR CAFFEINE FROM OTHER SOURCES, INCLUDING BUT NOT LIMITED TO: COFFEE, TEA, SODA OR OTHER DIETARY PRODUCTS OR MEDICATIONS CONTAINING CAFFEINE OR PHENYLEPHRINE. DO NOT USE FOR MORE THAN 8 WEEKS. CONSULT WITH YOUR PHYSICIAN PRIOR TO USE IF YOU ARE TAKING MEDICATION, INCLUDING BUT NOT LIMITED TO: MAOI INHIBITORS, ASPIRIN, ANTIDEPRESSANTS, NONSTEROIDAL ANTI-INFLAMMATORY DRUGS OR PRODUCTS CONTAINING PHYLEPHRINE, EPHEDRINE, PSEUDOEPHEDRINE, OR OTHER STIMULANTS. CONSULT YOUR PHYSICIAN PRIOR TO USE IF YOU HAVE A MEDICAL CONDITION, INCLUDING BUT NOT LIMITED TO, HEART, LIVER, KIDNEY, OR THYROID DISEASE, PSYCHIATRIC OR EPILEPTIC DISORDERS, DIFFICULTY URINATING, DIABETES, HIGH BLOOD PRESSURE, CARDIAC ARRHYTHMIA, RECURRENT HEADACHES, ENLARGED PROSTATE OR GLAUCOMA. DISCONTINUE 2 WEEKS PRIOR TO SURGERY OR IF YOU EXPERIENCE RAPID HEART BEAT, DIZZINESS, SEVERE HEADACHE OR SHORTNESS OF BREATH. IN CASE OF ACCIDENTAL OVERDOSE, SEEK PROFESSIONAL ASSISTANCE OR CONTACT A POISON CONTROL CENTER IMMEDIATELY. AVOID ALCOHOL WHILE TAKING THIS PRODUCT. EXCEEDING RECOMMENDED SERVING MAY CAUSE SERIOUS ADVERSE HEALTH EFFECTS, INCLUDING HEART ATTACK AND STROKE. IMPROPER USE OF THIS PRODUCT MAY BE HAZARDOUS TO A PERSON'S HEALTH. To report adverse effects, call FDA's MedWatch at 1-800-332-1088
More items you might like
Loading...