GCode Nutrition VICE Preworkout Fruit Punch - 30 Servings
Item #: GCN12
UPC: 855816007220
20% Off w/code DPS10
Out of Stock
Get your favorite of six mouth-watering new flavors of the cleanest and most-effective preworkout in the game in a traditional, affordable container, holding 30 scalable scoops. Containing a fully transparent formula of only proven performance actives, mega-dosed B Vitamins, focus factors, clean energy substrates and natural elements to enhance pumps and blood flow to the working muscle, in absolutely incredible flavors, VICE stands out as a trailblazing original in an often stale and redundant industry. Join the movement. Get VICE in Your Veins. Crush your workout.
Taste Amazing

30 Servings Per Container

Delicious Mouthwatering Flavor

Formulated for Flex-Dosing (bodyweight & stimulant tolerance)

Clean, Transparent Formula

Clean Energy
Insane Pumps
Power & Endurance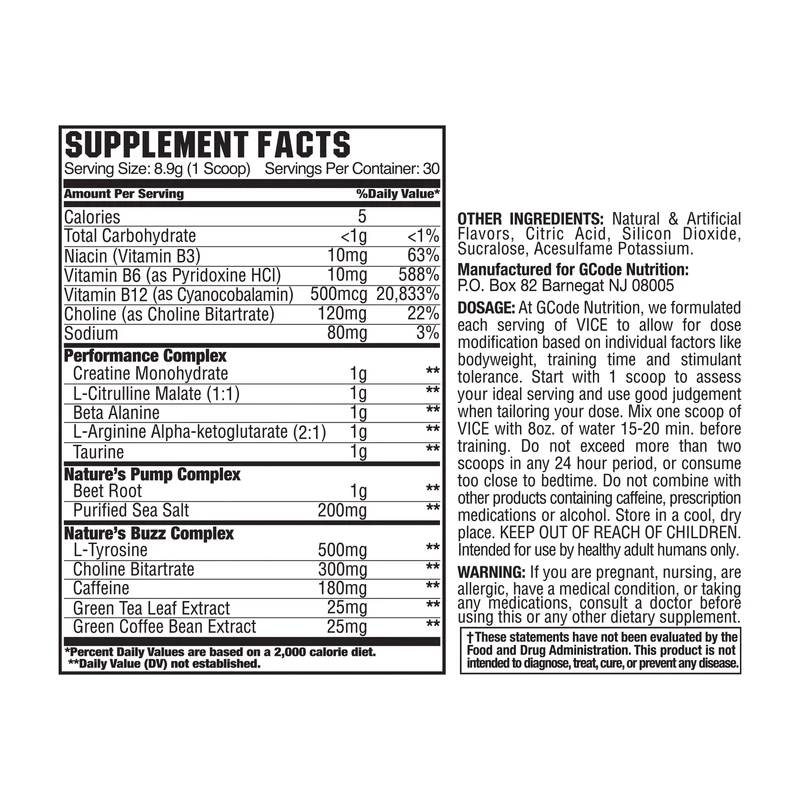 More items you might like
Loading...