5% Nutrition Real Carbs + Protein Banana Nut Bread Whole Food Based Meal Replacement - 20 Servings
Item #: 5P018
UPC: 850024898707
When it came to protein powders Rich Piana was adamant about one thing – he didn't like them. Rich downright hated everything about them!
Instead, he believed in the idea of whole food complete meals and that kind of thinking guided him in his quest to create exceptional supplements that offered more.
When the time came for 5% to create a premium product, high in available protein, we knew that we had to stay true to his primary beliefs. Anything that 5% Nutrition created had to be a complete whole food meal.
We didn't merely create a protein powder or just another meal replacement powder – that would have been too easy. We did it the 5% way by creating a complete whole food meal, Real Carbs + Protein®! We're talking about 20 grams of whole food proteins combined with 30 grams of whole food carbohydrates. The perfect bodybuilding meal. Talk about the ultimate meal replacement!
A true bodybuilding protein blend must be able to keep you in an anabolic environment to support lean muscle growth, and that's exactly what we did with Real Carbs + Protein®.(1) Protein has been sourced from an innovative complex: Beef Protein Isolate, Whole Egg Powder, Chickpea Protein, and Organic Chicken Powder. This combination creates a protein blend with variable digestion speeds that's extremely high in quality, purity, nitrogen retention, and bioavailability.
5% Nutrition Protein Blend – 20 Grams
Beef Protein Isolate – This is a whole food protein created by using a special infusion process that preserves all the key amino acids, peptides, nucleotide fractions, vitamins, and minerals that are naturally found in beef. Beef isolate digests slower than whey and has a BV (Biological Value) score that's comparable to whey. It's 97% protein with a high BCAA content and low fat, cholesterol, and sodium content. Beef isolate promotes the ideal anabolic environment for your muscles so you can experience the results you've been training for.
Whole Egg Powder – Eggs are a premium quality protein source with a medium digestion speed and an excellent bioavailability score of 100, making them an ideal addition to Real Carbs + Protein®. We use Whole Egg Powder that's sourced from real, whole eggs.
Chickpea Protein – This is an excellent source of protein with a medium-fast digestion speed that's high in fiber, vitamins, and minerals.(2)
Organic Chicken Powder – This is a high-quality slow-digesting protein source that's also high in important B vitamins as well as minerals such as selenium.
This unique complex of whole food proteins creates a sustained anabolic response which is exactly what you want from a whole food meal. Taken after a workout, at the start of your day, or anytime during the day, Real Carbs + Protein® will keep you in an anabolic state for hours which is exactly what you want if you want to keep those gains coming or preserve your hard-earned muscle if you're cutting.
Total Carbohydrates – 30 Grams
The carbohydrate source in Real Carbs + Protein® comes from:
Whole Grain Oats – A low glycemic, low sugar carbohydrate that will avoid insulin spikes yet provide the carbs your body needs for glycogen replenishment and muscular energy. Oats are a bodybuilding mainstay and fit in well with the proteins in Real Carbs + Protein®.(3)
Sweet Potato – Sweet potatoes are a staple in the diets of many bodybuilders due to their nutrient profile, delicious flavor, and the fact that they are considered a low glycemic carbohydrate. Sweet Potatoes taste delicious and contain high amounts of calcium, potassium, phosphorus, B Vitamins, Vitamin A, as well as Vitamin C.(4)
Rice – Rice is another cornerstone carbohydrate source for many bodybuilders. Usually, it's brown rice because brown rice is nutritionally complete and is a low glycemic carb.(5)
We can confidently say that Rich would be proud of Real Carbs + Protein® because he believed, above all else, that real whole food was the principal element for bodybuilding success! With an innovative source of whole food proteins, paired with the right carbohydrates, we have created a unique meal replacement product for the market.
Below is the label for Blueberry cobbler. Other flavors may vary slightly.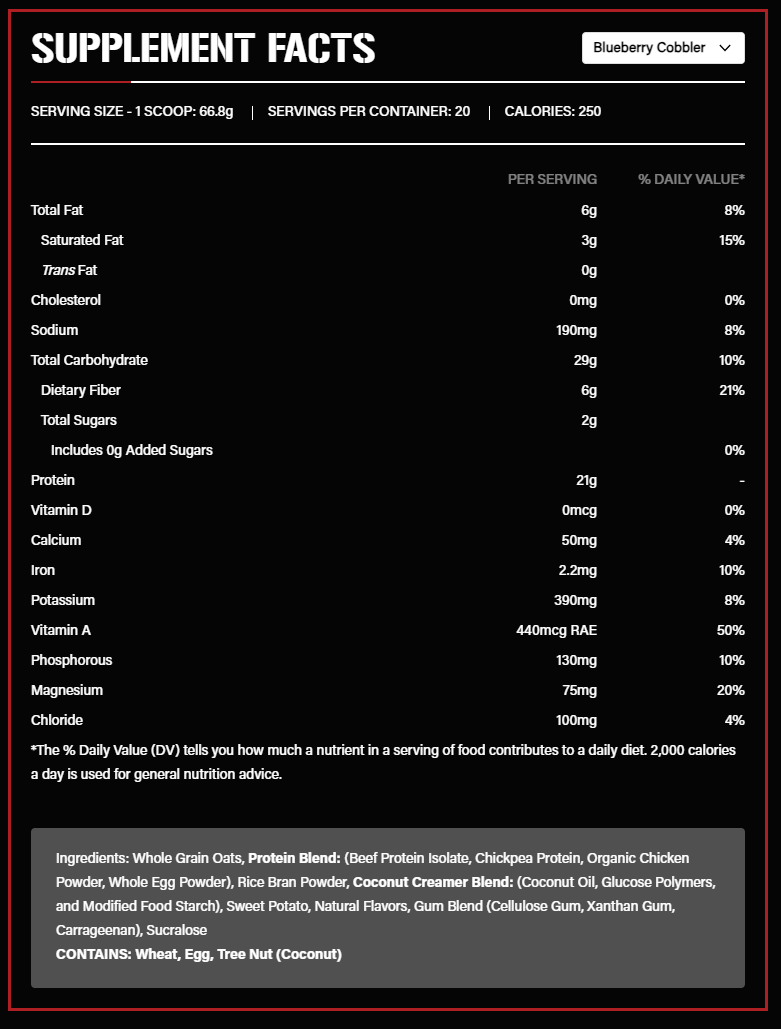 More items you might like
Loading...