Labrada Elasti-Joint Fruit Punch - 30 Servings
Item #: LB107
UPC: 710779361010
20% Off Special Offer
Out of Stock
Amazing Taste and Better Mixibility

Provides all the support you need in just one daily dose

Helps protect and maintain healthy joints and connective tissues

Assists in post-workout joint and connective tissue recovery

Provides the building blocks for tendons and ligaments
Product Details
Sports, exercise, and the natural aging process can all wreak havoc on your joints, leading to joint stress and stiffness. Relief comes with ElastiJoint® Joint Support Formula — a natural, high-potency nutritional supplement designed to strengthen and maintain healthy joints.
You no longer need to take a handful of pills. ElastiJoint® provides all the ingredients you need in efficacious amounts — in one daily scoop. ElastiJoint® contains hydrolized gelatin, glucosamine sulfate, and chondroitin sulfate as well as nutrients such as Vitamin C and metnylsulfonylmethane.
Perfect for after a workout, ElastiJoint® assists in post-exercise joint and connective tissue recovery. With ElastiJoint®, you'll experience improved joint function, elasticity, and flexibility to live life to the fullest.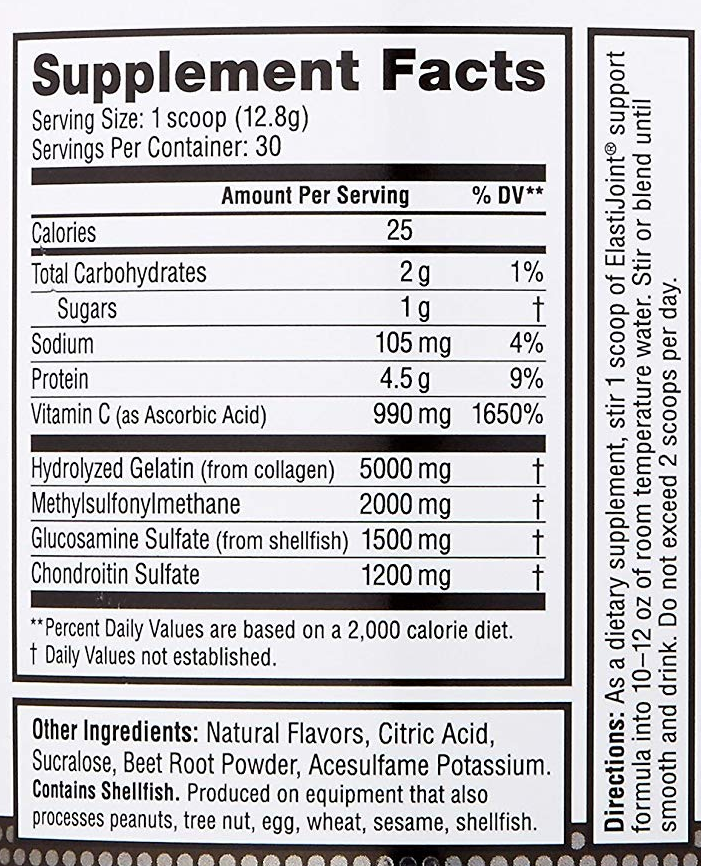 Other Ingredients: Natural Flavors, Citric Acid, Sucralose, Beet Root Powder, Acesulfame Potassium.
Contains Shellfish. Produced on equipment that also processes peanuts, tree nut, egg, wheat, sesame, shellfish.
Recommended Use: As a dietary supplement, stir 1 scoop of ElastiJoint® support formula into 10-12 oz of room temperature water. Stir or blend until smooth and drink. Do not exceed 2 scoops per day.
Before beginning any program of weight loss, consult your health care practitioner. These statements have not been evaluated by the FDA. This product is not intended to diagnose, treat, cure or prevent any disease.
More items you might like
Loading...