Gaspari Nutrition Proven EAA Blueberry Acai - 30 Servings
Item #: GP329
UPC: 646511026599
20% Off Special Offer
Out of Stock

PROVEN EAAs | WITH 9 ESSENTIAL AMINO ACIDS
6g VEGAN FERMENTED BCAAs | 9g TOTAL ESSENTIAL AMINO ACIDS
Full Spectrum of 9 Essential Amino Acids
Leucine Heavy Ratio of Branched Chain Amino Acids (4:1:1)
Electrolyte Matrix of Himalayan Pink Salt Delivering Sodium, Potassium, Magnesium, & Calcium
There are nine essential amino acids that must be present in sufficient amounts for the body to grow and repair muscle tissue. It is proven that these proteins are termed "essential' because the body does not produce them and, must get them from dietary sources. Without them, your body's ability to support anabolic activity may be compromised. †
Gaspari's Proven EAAs provide 9 grams of the full spectrum of all essential amino acids, including 6 grams of vegan fermented BCAAs in a scientifically supported Leucine heavy ratio of 4:1 :1, to maximize muscle growth and recovery. Each serving is loaded with Vegan-friendly EAAs in an electrolyte matrix powered by pink Himalayan salt making Gaspari's Proven EAAs ideal for muscle blasting pre, intra or post workout supplementation.†
SUGGESTED USE:
As a dietary supplement, take 1 scoop of PROVEN EAAs™ before workout with 10oz. of water or juice or as directed by a practitioner.
As with any dietary supplement, consult your healthcare practitioner before using this product, especially if you are pregnant nursing or otherwise under medical supervision.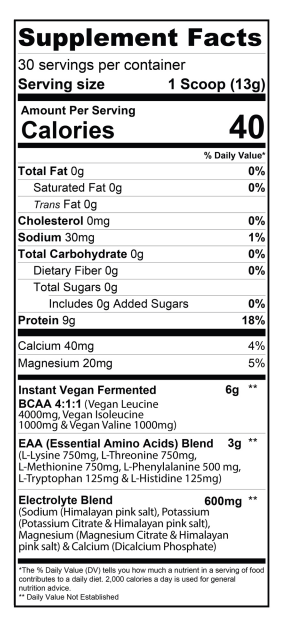 More items you might like
Loading...