5% Nutrition Liver & Organ Defender - 270 Cap
Item #: 5P008
UPC: 866629000094
Liver & Organ Defender 270 Caps
Rich Piana 5% Nutrition Liver & Organ Defender is a complete vital organ support formula that is effectively dosed to promote optimal health of the liver, heart, prostate, kidneys, and skin.
The aggressive supplement and nutrition choices that many bodybuilders and athletes choose to follow can heavily strain your liver and other internal organs. Liver & Organ Defender was designed to support your vital organs despite the extreme lifestyle habits of bodybuilders and athletes. Taking care of your health makes a lot of sense and with Liver & Organ Defender you can cover your needs whether you are on a cycle, post cycle or simply looking for daily overall health support.
Liver Support
The liver is about the same size as a football yet it's actually the largest vital organ in the human body. Weighing in at just over 3lbs. it's responsible for literally hundreds of chemical actions. Bodybuilders tend to put a lot of stress on their liver; much more than the average person. With a higher than normal protein intake and all the aggressive supplements bodybuilders typically use, the liver winds up working overtime to filter everything. If you want to live the bodybuilding lifestyle maintaining a healthy liver is critical to your success.
N-Acetyl Cysteine – 1,000 mg
NAC is the amino acid Cysteine with an acetyl group attached, which makes it more stable as well as more absorbable. So what does it do? NAC metabolizes into glutathione once it's been digested by the body. Glutathione is a potent antioxidant, effectively scavenging free radicals and acting as a liver detoxifier that is very effective in promoting liver health by weakening the harmful effects of toxins and helping to remove heavy metals such as lead and mercury.(1)
Milk Thistle Powder – 600 mg
Milk Thistle is one of the most effective liver support ingredients on the market and has an extended history of use in traditional medicine as a treatment for liver disorders. The active ingredient in Milk Thistle is known as Silymarin which has antiviral, anti-inflammatory and antioxidant benefits.(2,3)
Twin Tiger– L-Glutathione – 30 mg
Glutathione is a powerful antioxidant that consists of the amino acids glutamine, glycine, and cysteine that binds and detoxifies toxins both in the liver and the body as a whole.(4) The combination of Milk Thistle and Glutathione is one of the things that sets Liver & Organ Defender apart from the competition because most products do not contain both.
Heart Support
The importance of a healthy heart goes without saying. After all, your heart is vitally responsible for pretty much everything that keeps your body alive -- ranging from oxygen transport to the proper function of your immune system. High cholesterol levels can be a side effect of the bodybuilding lifestyle while high blood pressure can be the result of rapid weight gain from the use of aggressive supplements. Taking steps to lower cholesterol as well as blood pressure in order to improve heart health leads to longevity in the sport and healthier, longer life.
Hawthorn Berry Powder 1,100 mg
Hawthorn Berry has a long history of use in traditional medicine as a natural heart remedy. Recent research is demonstrating an ability to treat arrhythmias and congestive heart failure. The medicinal benefits of Hawthorn Berries are due to phytonutrients such as tannins, flavonoids, proanthocyanidins, and phenolic acids.(5,6)
Alpha-Lipoic Acid – 400 mg
ALA is an organic compound that's made by the body mainly in the mitochondria. ALA is a potent antioxidant that can reduce oxidative stress which is related to heart disease. (7) Additionally, ALA can help lower cholesterol.
Garlic Extract – 300 mg
While very popular in recipes of all types Garlic has a long medicinal history as well. While many people may think of Garlic as a solution to the common cold it can also help lower high blood pressure and reduce levels of LDL (bad) cholesterol.(8,9)
Dimagnesium Malate – 250 mg
Magnesium is an essential mineral that's involved in literally hundreds of functions, some of which tie in directly to bodybuilders and athletes. Beyond being involved in calcium absorption and bone health, Magnesium is also involved in nerve transmission and muscular health (which includes the heart) as well as contraction. That should be enough to make any bodybuilder want to go grab a bottle or two! This version combines Magnesium with Malic Acid, which is involved in the ATP system of energy.
CoQ10 – 25 mg
Like Alpha Lipoic Acid, Coenzyme Q10 is found in the mitochondria and is involved in energy metabolism. It also helps improve cardiac function, enhance blood flow, and increase levels of HDL (good) cholesterol.(10) Coenzyme Q10 (CoQ10) is a substance that's found naturally in the body, mainly in the mitochondria where it's a component of the ATP energy process. As much as 95% of the energy required by the body is generated by the ATP system and the heart is no exception. In fact, the heart, liver, and kidneys all have high energy needs and naturally contain high concentrations of Co-Q 10. Approved to treat heart failure in Japan since 1974, Co-Q 10 acts as an anti-oxidant that reduces high blood pressure and promotes a healthy heart.
Prostate Support
The prostate gland is male-specific and is part of the male reproductive system. It is primarily responsible for helping to make semen. The primary health risk associated with the prostate is that it can enlarge which can indicate prostate cancer.
Saw Palmetto – 1,000 mg
Saw Palmetto is a plant that originates in the southeastern United States and been used since the early 1900s to treat urinary tract problems. Today, Saw Palmetto is commonly used to support the health and function of the prostate gland.(11)
Kidney Support
The kidneys are one of the most important organs in the body and are primarily involved in filtering as well as the elimination of waste products from the blood. Additionally, the kidneys are involved in blood pressure regulation. The bodybuilding lifestyle tends to put extra stress on the kidneys so it makes sense to provide extra support.
Cordyceps Sinensis – 500 mg
Cordyceps is a mushroom with a long use in traditional Chinese medicine as a general tonic. Mushrooms are in fact a fungus; as such Cordyceps is a fungus that lives on caterpillars in the high mountain regions of China. In recent years it has been used to help delay fatigue, fight stress and support kidney health.(12)
Skin Support
Everyone wants clear, healthy skin. Often viewed as evidence of good health, a good complexion sets a good visual example and helps enhance the image of bodybuilding as a healthy lifestyle. Additionally, hormones have a large part in problems with acne which is certainly an unpleasant skin condition at best. Liver and Organ Defender helps promote healthy skin and reduce the problems associated with acne.
Zinc Bisglycinate Chelate – 300 mg
Zinc is an essential mineral that supports immune system health, plays a role in testosterone production and is involved in protein metabolism. Zinc performs many more functions including fighting acne and other skin conditions.(13)
Selenium Glycinate Chelate – 70 mcg
Selenium is an essential trace mineral that can help decrease scars caused by acne, increase skin elasticity and help protect the skin from the effects of oxidative stress.(14)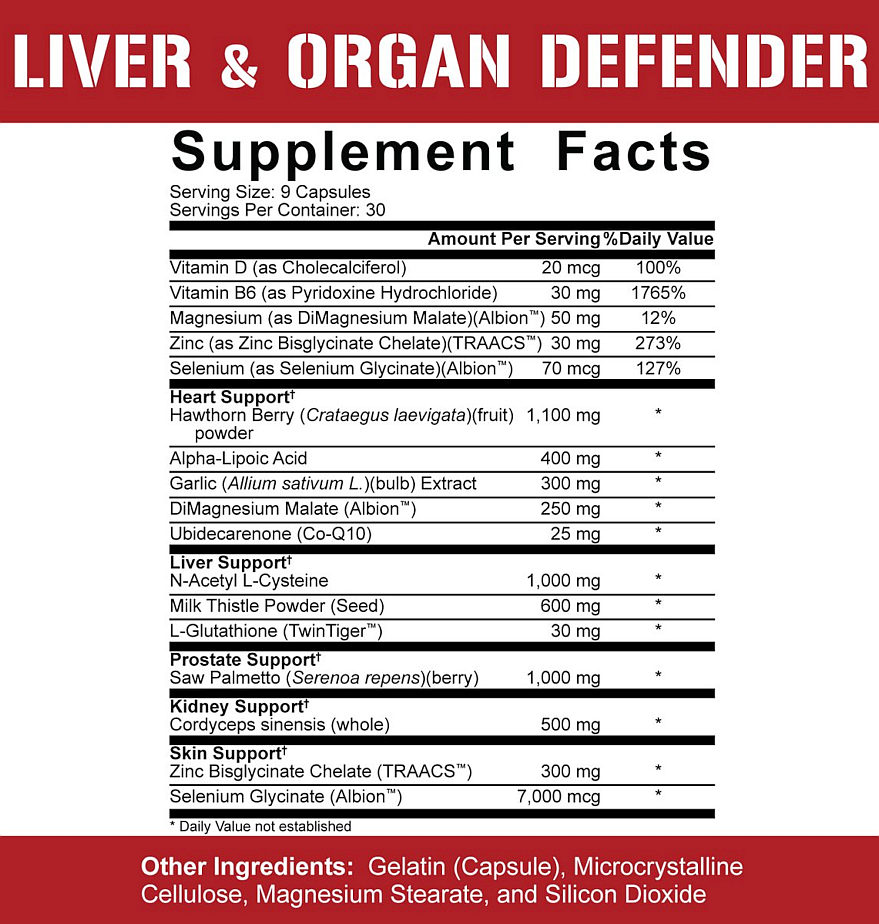 REFERENCES
Twin Tiger ™L-Glutathione - Twin Tiger is a supplement ingredient supplier that offers superior raw materials that are manufactured using the highest quality standards.
N-Acetylcysteine Improves Liver Function in Patients with ... (n.d.). Retrieved from https://www.ncbi.nlm.nih.gov/pmc/articles/PMC3270338/
Randomized controlled trial of silymarin treatment in patients with cirrhosis of the liver. (2005, April 14). Retrieved from https://www.sciencedirect.com/science/article/pii/0168827889900834
Effect of silymarin plus vitamin E in patients with non-alcoholic fatty liver disease. A randomized clinical pilot study. (2015, September 15). Retrieved from https://www.europeanreview.org/article/9374
https://pubchem.ncbi.nlm.nih.gov/compound/glutathione#section=Top
Degenring, F. H., Suter, A., Weber, M., & Saller, R. (n.d.). A randomised double blind placebo controlled clinical trial of a standardised extract of fresh Crataegus berries (Crataegisan) in the treatment of patients with congestive heart failure NYHA II. Retrieved from https://www.ncbi.nlm.nih.gov/pubmed/12833999
Pittler, M. H., Guo, R., & Ernst, E. (2008, January 23). Hawthorn extract for treating chronic heart failure. Retrieved from https://www.ncbi.nlm.nih.gov/pubmed/18254076
Skibska, B., & Goraca, A. (n.d.). The protective effect of lipoic acid on selected cardiovascular diseases caused by age-related oxidative stress. Retrieved from https://www.ncbi.nlm.nih.gov/pubmed/25949771
Ried, K., Frank, O. R., & Stocks, N. P. (2010, October). Aged garlic extract lowers blood pressure in patients with treated but uncontrolled hypertension: A randomised controlled trial. Retrieved from https://www.ncbi.nlm.nih.gov/pubmed/20594781
Silagy, C., & Neil, A. (n.d.). Garlic as a lipid lowering agent--a meta-analysis. Retrieved from https://www.ncbi.nlm.nih.gov/pubmed/8169881
Mortensen, S. A., Rosenfeldt, F., Kumar, A., Dolliner, P., Filipiak, K. J., Pella, D., . . . Q-SYMBIO, I. N. (2014, December). The effect of coenzyme Q10 on morbidity and mortality in chronic heart failure: Results from Q-SYMBIO: A randomized double-blind trial. Retrieved from https://www.ncbi.nlm.nih.gov/pubmed/25282031
Bertaccini, A., Giampaoli, M., Cividini, R., Gattoni, G. L., Sanseverino, R., Realfonso, T., . . . Martorana, G. (2012, September). Observational database serenoa repens (DOSSER): Overview, analysis and results. A multicentric SIUrO (Italian Society of Oncological Urology) project. Retrieved from https://www.ncbi.nlm.nih.gov/pubmed/23210402
Figure 2f from: Irimia R, Gottschling M (2016) Taxonomic revision of Rochefortia Sw. (Ehretiaceae, Boraginales). Biodiversity Data Journal 4: E7720. https://doi.org/10.3897/BDJ.4.e7720. (n.d.). doi:10.3897/bdj.4.e7720.figure2f
Figure 2f from: Irimia R, Gottschling M (2016) Taxonomic revision of Rochefortia Sw. (Ehretiaceae, Boraginales). Biodiversity Data Journal 4: E7720. https://doi.org/10.3897/BDJ.4.e7720. (n.d.). doi:10.3897/bdj.4.e7720.figure2f
Figure 2f from: Irimia R, Gottschling M (2016) Taxonomic revision of Rochefortia Sw. (Ehretiaceae, Boraginales). Biodiversity Data Journal 4: E7720. https://doi.org/10.3897/BDJ.4.e7720. (n.d.). doi:10.3897/bdj.4.e7720.figure2f
PRODUCT WARNINGS
These statements have not been evaluated by the Food and Drug Administration. This product is not intended to diagnose, treat, cure, or prevent any disease.

More items you might like
Loading...