Redcon1 MRE Powder Fudge Brownie - 7.15 Lb (25 Servings)
Item #: RDC163
UPC: 078928266372
30% Off Special Offer
Out of Stock
MRE

New flavor of Redcon1's best selling meal replacement is available now.

- 525 calories per serving
- 75g of carbohydrates
- 47g of protein
- 4g of fat
*No Whey Protein used
**Mixes without a blender

Fuel your body with MRE, commonly known in the Military as Meals Ready-to-Eat. M.R.E. are rations given to the soldiers to provide them with nutrients to keep running strong while out in the field.
The most important fuel you can give your body is real food, especially whole foods. MRE is made from natural ingredients and a real protein blend. Our formula contains absolutely no whey!
With MRE, we have given you the nutrients you need to repair and recover muscle tissue from the best possible whole foods sources. Stop reaching for fast foods and reach for whole foods with M.R.E.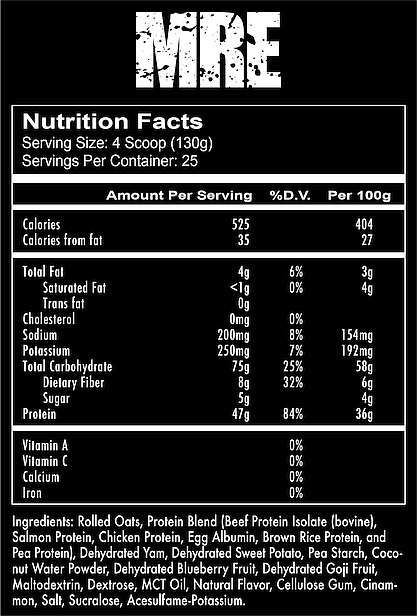 Contains: Milk, Eggs, Fish (Salmon), Coconut
Warning: manufactured on shared equipment which processes products containing milk, egg, soybean, wheat, shellfish, fish, tree nut flavor and peanut flavor
More items you might like
Loading...