Now Foods Phosphatidyl Serine Extra Strength 300 Mg - 50 Softgels
Item #: NO676
UPC: 733739023926
20% Off +5-10% Off Special Offer
Phosphatidyl Serine 300 mg, Extra Strength
COGNITIVE HEALTH*
Supports Memory and Brain Function*
Promotes Intercellular Communication*
NOW® Phosphatidyl Serine is a phospholipid compound derived from soy lecithin that plays an essential role in cell membrane composition and intercellular communication.* Phosphatidyl Serine is a major structural component of neural membranes where it assists in the conduction of electrical impulses and facilitates the activity of neurotransmitters involved in learning, memory, and mood.* These properties make NOW® Phosphatidyl Serine an ideal supplement for the support of cognitive function.*
This extra strength product has three times the Phosphatidyl Serine (300 mg per softgel) than our regular strength product (100 mg per softgel).
Natural color variation may occur in this product.
Take 1 softgel daily with a meal.
Store in a cool, dry place after opening.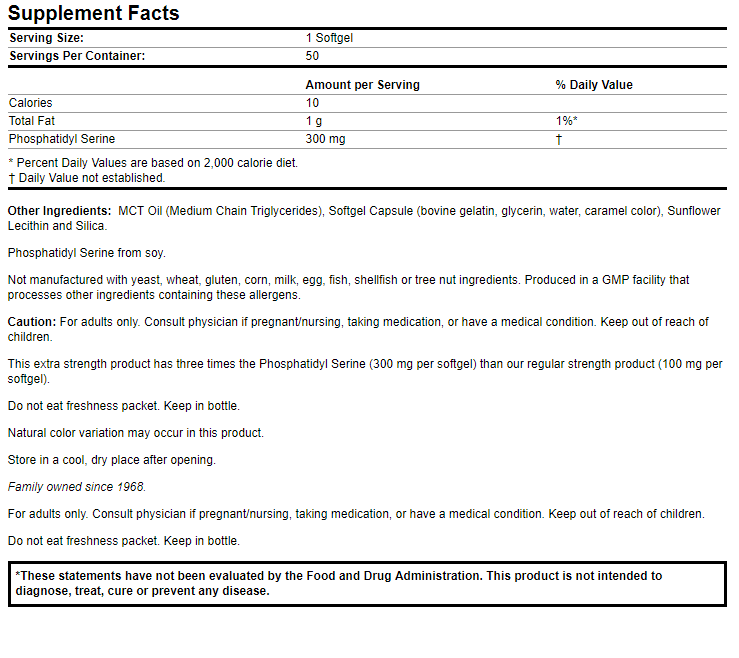 More items you might like
Loading...