Fit Crunch Bars Peanut Butter & Jelly - 12 Bars
Item #: FC009
UPC: 817719021017
"My Goal Is Simple; I Want To Empower People Through Food And Fitness, To Thrive Each Day," –Chef Robert Irvine. 30g Protein. 6g Sugar. Gluten Free. Whey Protein Baked Bar. The Only 6-Layer Baked Bar. Best Tasting. Satisfying. Chef Created. Baked, Soft Cookie Center.
WORLD'S FIRST 6-LAYER BAKED BAR
The award-winning FITCRUNCH® Baked Bar is arguably the best protein bar ever made. Created by co-founder and celebrity chef, Robert Irvine, to provide quality nutrition and an unmatched taste that you'd expect from a world-renown chef. FITCRUNCH® makes getting your protein more enjoyable than ever before. Sold world-wide, enjoyed by athletes, fitness enthusiasts and families.
Highlights and Accolades:
Protein Bar of The Year Award – Convenience Store News
Named "#1 Top Ten Best-Tasting Protein Bars" by Bodybuilding.com
World's Only 6-Layer Baked Bar
WARNINGS
Contains Milk, Soy, Almond, And Peanut Products. Manufactured In A Plant That Processes Milk, Soy, Wheat Tree Nut, Peanut And Egg Products.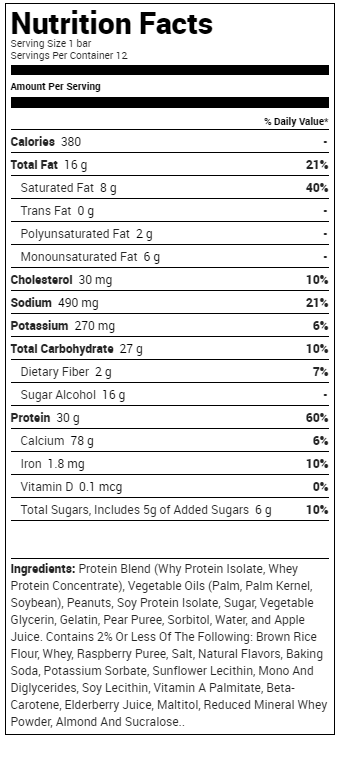 More items you might like
Loading...