ProMera Sports Con-Cret Powder Raspberry - 64 Servings
Item #: CC064
UPC: 682676702640
25% Off Special Offer
Out of Stock
PATENTED CREATINE HCI
CON-CRET IS THE ONLY CREATINE WITH MICRO-DOSING
FOR INCREASED STRENGTH, ENDURANCE AND RECOVERY
100% Creatine Hydrochloride (C-HCl) *

No loading or cycling *

No water retention or cramping *

Superior solubility and uptake *

Increased functional muscle energy *
MICRO-DOING: LESS IS MORE.
For the first time in Creatine supplementation, our patented MICRO-DOSING® specifically allows athletes and fitness enthusiasts of all ages* to dose our award-winning CON-CRET based on their body weight and work-out intensity. No other Creatine supplement has this superior dosing protocol.
IT'S NOT MAGIC. IT'S SCIENCE.
THE MYTH OF CREATINE MONOHYDRATE
The benefits of creatine are well documented. To get results using Creatine Monohydrate (CM), you may have to load at a higher rate. That is why we have developed Creatine Hydrochloride (C-HCl) – a form of creatine so superior it was awarded five patents. We call it CON-CRET.
With CON-CRET, you only need 750mg per 100 pounds to increase your workout intensity and maximize your gains*.
CON-CRET Creatine HCl (C-HCl) is sixty-four times more soluble and has 70% more plasma uptake than CM. CM is an inefficient ingredient that does not dissolve easily in water or in your body. When CM fails to absorb into your bloodstream, it is not only wasted on your workout, but it can also cause water retention and cramping as well.
What does all of this information mean? It means you can use a lot less CON-CRET to do a LOT more, all while avoiding the drawbacks typically associated with CM.
CON-CRET Patented Creatine HCl revolutionized the sports nutrition category. Because it is more stable, soluble and concentrated, CON-CRET provides all the benefits of creatine at a significantly lower dose and without negative side effects*. With CON-CRET,® there is no cycling and no cramping, bloating, or water retention. CON-CRET allows Micro-Dosing based on your body weight and workout intensity.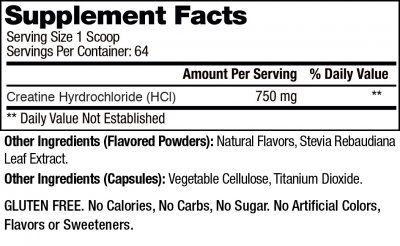 More items you might like
Loading...