Alpha Gainz Alpha Andro TD - 30 ml
Item #: AG103
UPC: 600209661448
20% Off Special Offer
Out of Stock
ALPHA GAINZ BRINGS YOU ALPHA-STANO
Alpha-Stano is a supplement that contains cyclodextrin-complexed epiandrosterone.
Epiandrosterone is a biological precursor to DHT.

Although DHT is an androgen receptor agonist, it's believed that some of its effects may be non-genomic. A 2009 study on mouse muscle fibers found that DHT enhanced force production in fast twitch skeletal muscle fibres through a non-genomic pathway. Their results suggest that DHT activates the epidermal growth factor receptor (EGFR), which leads to increased phosphorylation of MAPK/ERK1/2.
Since the bioavailability of epiandrosterone is low, Alpha-Stano is complexed with cyclodextrins.

Alpha-Stano is not suitable for tested athletes.
Alpha-Stano Supplement FactsServing Size: 1 capsuleServings per Container: 90Amount Per Serving % Daily Value
Epiandrosterone(3a/B-Hydroxy-5a-androstan-17-one, as 500 mg epiandrosterone/cyclodextrin complex) 150 mg **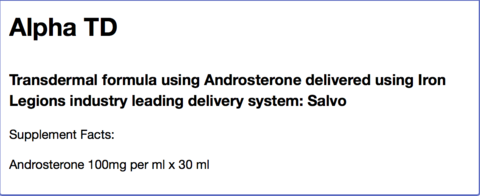 More items you might like
Loading...