Redcon1 MRE Powder Oatmeal Chocolate Chip - 7 Lb (25 Servings)
Item #: RDC93
UPC: 601754191701
30% Off Special Offer
Out of Stock
MRE MEAL REPLACEMENT, WHOLE FOOD PROTEIN (7 LB)

Whole Food Protein, No Whey. 47g Protein, 75g Carb Blend
FEATURES
47G PROTEIN, 75G QUICK & COMPLEX CARBOHYDRATES IN EACH SERVING OF OUR MEAL REPLACEMENT PROTEIN POWDER.
FORMULATED WITH 5 WHOLE FOOD PROTEIN SOURCES - CHICKEN, BEEF, EGG, SALMON, AND EGG PROTEIN.
MRE IS OUR BEST ANIMAL BASED PROTEIN POWDER YET, MADE WITH REAL INGREDIENTS TO HELP BUILD MUSCLE.
NO WHEY PROTEIN. EASY TO DIGEST. NO BLOATING.
MULTIPLE AMINO ACID PROFILES TO SUPPORT METABOLISM, RECOVERY AND GROWTH.
CREAMY MILKSHAKE TASTE AND TEXTURE. MIXES EASILY AND TASTES DELICIOUS.
THE DETAILS
The MRE protein line is all about real ingredients for your body. With a whopping 47g of protein per serving and a blend of multiple carbs and amino acids, MRE is the perfect meal replacement protein powder for your intense workouts. Each amino acid has a specific role to play, helping you achieve a well-balanced diet. And without any whey protein, MRE is easy on your stomach, so you won't experience the bloating commonly associated with other protein powders.
To maximize your performance, you need fast-acting and complex carbs to fuel your workouts. MRE delivers both, making it the ultimate PRE and POST workout animal based protein powder. Unlike other protein powders, MRE has a thicker, milkshake-like texture that mixes easily and tastes amazing. Try it now and feel the difference!
WHAT'S INSIDE
TRANSPARENT LABELING. WE PIONEERED THIS MOVEMENT SHOWING YOU EVERY INGREDIENT IN EVERY PRODUCT.
Whole Food Protein Blend
Beef protein blend, salmon protein, chicken protein, egg protein, brown rice protein and pea protein
Carbohydrate Blend
Rolled oats, yams and sweet potato
MCT Oil
Commonly extracted from coconut oil, MCT (medium chain triglyceride) oil is a source of fats that the body can efficiently use as a source of energy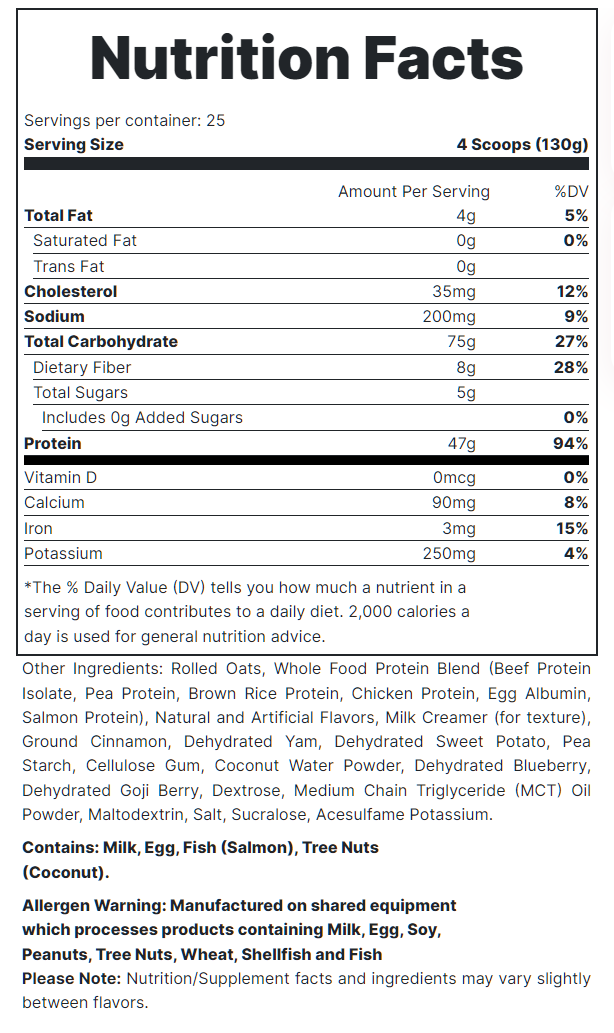 More items you might like
Loading...