Redcon1 MRE Lite Banana Nut Bread - 30 Servings
Item #: RDC60
UPC: 601754191763
30% Off Special Offer
Out of Stock
MRE LITE WHOLE FOOD PROTEIN
Whole Food Protein, No Whey. 24g Protein, 4g Carbs.
24G OF WHOLE FOOD PROTEIN IN EACH SERVING FORMULATED WITH 5 WHOLE FOOD PROTEIN
SOURCES - CHICKEN, BEEF, SALMON, AND EGG PROTEIN.
NO WHEY PROTEIN. EASY TO DIGEST. NO BLOATING.
MACRONUTRIENT PROFILE SUPPORTS RECOVERY AND MUSCLE BUILDING.
CREAMY MILKSHAKE TASTE AND TEXTURE. MIXES EASILY, AND TASTES DELICIOUS.
THE DETAILS
The MRE protein line is built off the premise that 'real food protein is the most important fuel you can give your body.' Compared to the original MRE, MRE LITE is a low carb meal replacement shake and is a delicious way to up your protein intake without the added calories or carbohydrates.
Formulated without whey protein, MRE LITE has 24g protein per serving and a macronutrient profile ideal for post workout or any time of day when you need extra protein.And unlike whey alternatives, MRE LITE has a thicker, more milkshake-like texture that mixes easily and mixes perfectly.Plus, with no whey protein, the formula is incredibly gentle on your stomach, easy to digest, and does not result in bloating commonly associated with whey protein.
FREQUENTLY ASKED QUESTIONS

What is Whole Food Protein Powder?
Whole Food Protein Powder is a type of protein supplement made from real food sources, such as chicken, beef, eggs, and salmon. It provides a complete protein profile and is intended to support muscle recovery and growth.
How is Whole Food Protein Powder different from other protein supplements?
Unlike many other protein supplements, which are often made from whey protein or other isolated sources, Whole Food Protein Powder is made from real food sources. This can make it easier to digest and less likely to cause bloating or digestive discomfort.
How does the combination of different protein sources in MRE LITE benefit muscle growth and recovery?
Each protein source in MRE LITE contains different amino acid profiles, which work together to support muscle growth and recovery. By combining these different sources, you are providing your body with a complete and balanced protein source, which can help improve muscle protein synthesis.
Can MRE LITE be used as a meal replacement?
While MRE LITE can provide a good source of protein, it should not be used as a complete meal replacement. It is important to consume a balanced diet with a variety of foods to ensure you are getting all the essential nutrients your body needs.
Label below is for Vanilla. Other flavors may vary slightly.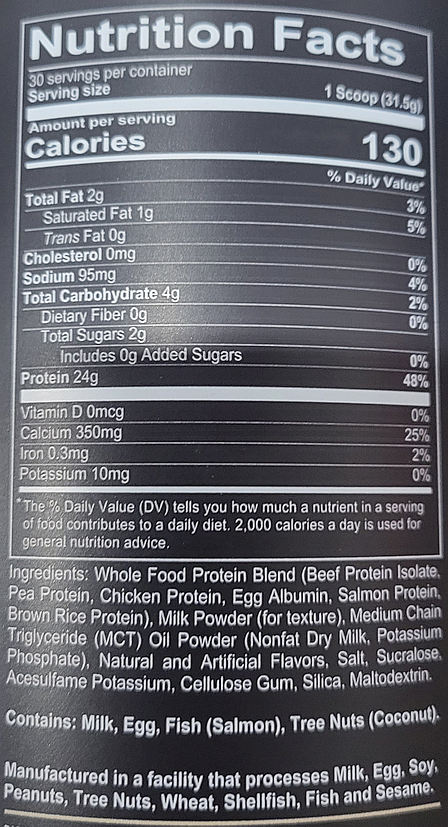 More items you might like
Loading...