Hi Tech Pharmaceuticals Somatomax Snow Cone - 20 Servings
Item #: HT117
UPC: 811836023206
20% Off Special Offer
Out of Stock
The King of Feel-Good Supplements!

Promotes Deep, Restful, and Rejuvenating Sleep

Promotes an Enhanced Sexual Experience

Benefits Bodybuilders and Athletes Through Enhanced Multi-Pathway GABA Activity

The marketing used by supplement companies to promote their supplements to the public (particularly the more aggressive types of dietary supplements) is usually packed with all kinds of hype about their products being "novel," "revolutionary," "ground-breaking," "cutting-edge," "earth-shattering," ...whatever. Unfortunately, and at the expense of an often naive, emotionally-charged, consuming public that wants to believe when it comes to products that are supposed to radically change the way they look and feel (self esteem boosters), very seldom does a product come along that deserves such accolades. In reality, the vast majority of these types of products are just some sort of attempt to reinvent the wheel or, more accurately described (especially when it comes to sports nutrition supplements), a floundering attempt to reinvent a broken wheel.
*These statements have not been evaluated by the FDA. This product is not intended to diagnose, treat, cure, or prevent disease. *Exercise and proper diet are necessary to maintain results. Results are not guaranteed and vary depending upon starting point, goals, and effort.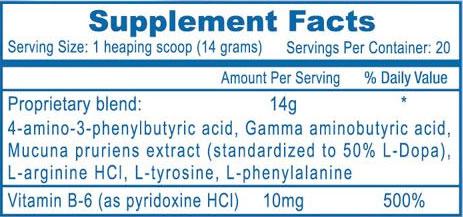 More items you might like
Loading...