AllMax Nutrition IsoFlex Whey Protein Isolate Cookies & Cream - 5 Lb
Item #: AMX57
UPC: 665553225234
20% Off Special Offer
Out of Stock
IsoFlex 5 Lb
ISOFLEX combines four proprietary delivery systems. The ingredients in each system work synergistically to provide a high quality and great tasting protein powder that's been designed to help you reach your goals.
ISOFLEX protein powder has an excellent macronutrient profile:
27 grams of active whey protein isolate

High concentration of BCAAs and glutamine

Fast-absorbing with 4 advanced delivery systems

Advanced cold temperature process microfiltration

Only 1 gram of carbohydrate

Completely aspartame-free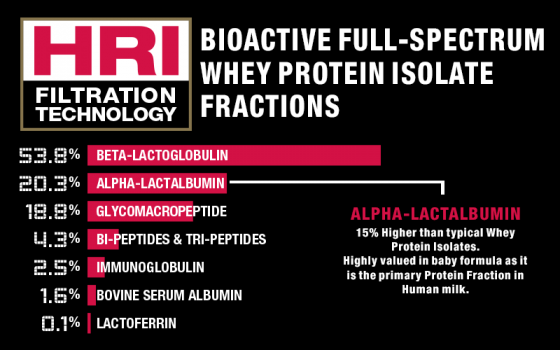 With 7 critical cofactors in 4 proprietary complexes, ISOFLEX not only provides an ultra pure, highly bioavailable whey protein isolate but a potent delivery system to ensure powerful nutrient assimilation you can feel.
In terms of the flavoring, what really makes ISOFLEX stand out are the actual chocolate chips in the chocolate flavor that provide a nice consistency and the real pieces of strawberry in the strawberry flavour. If you mix the chocolate peanut butter flavor with ice, it tastes a lot like Reese's Pieces and you can't get much better than that!
What is whey and why is it so valued as the core foundation of every serious performance nutrition program?
Whey is a thin, watery portion of milk chockfull of high-grade protein that's separated during cheese production. It is extracted through a two-step process. The type of extraction conducted to separate whey from milk is what really determines the quality of whey protein. It's this exact process that also sets ISOFLEX protein powder apart from others on the market.
How is IsoFlex made?
ISOFLEX is extracted through CTP (Cold Temperature Process) microfiltration. This is a cross-flow microfiltration (CFM) process that removes the larger, less absorbable protein molecules while filtering out fat, lactose and ash that are normally present in whey concentrates and other lower quality protein powders. This is similar to the way reverse osmosis in water purification works.
The Low Temperature Microfiltration Provides Undenatured Protein with many Bioactive Whey Protein Fractions
CFM is one of the best methods for extracting protein on the market today. The whole process takes place at a chilly 4 degrees Celsius, or 39 degrees Fahrenheit and leaves almost 100% of the protein and peptides intact. It also yields the highest amount of undenatured (bio-active) protein available.
Our whey protein isolates are manufactured by chilling or low temperature microfiltration process and dried by indirect heat. The low temperature microfiltration process allows the whey protein isolates to provide undenatured protein with a full balance of bioactive whey protein fractions, including high levels of naturally occurring immunoglobulin, lactoferrin and glycomacropeptides (GMP).
The filtration ceramic membranes used for the CFM process are extraordinarily fine and have the ability to remove even more lactose, ash and fat than the process of ultra-filtration, which is used for lower quality whey protein products. Using this sophisticated process, ALLMAX is able to produce ISOFLEX, a superior ultra pure protein that maintains an optimal macronutrutient ratio, yielding 27 grams of protein, 1 gram of carbohydrate and 0 grams of fat.
Other whey processing technologies use higher temperatures that cause irreversible unfolding of the protein fractions that can drastically reduce the biological activity of the protein. Based on solubility at a pH of 4.6, ISOFLEX has a mere 3% denatured proteins, which is approximately 10% less than ion-exchange whey protein isolates and typically less than other microfiltration whey protein isolates. ISOFLEX also contains up to 12 times more native GMP than ion-exchange whey protein isolates.
How is Whey Protein Isolate produced?
To produce whey isolate the protein goes through the following steps:
Fresh milk is tested by quality assurance experts.
The curd portion of the milk fat is separated out for cheese.
The watery liquid portion that is chockfull of high-grade protein is filtered through a microfiltration process to remove lactose and ash.
The concentrated liquid goes through the CFM process, which eliminates the need for harsh chemicals used in other processes.
The water is removed and the whey is dried.
Ultra pure whey protein isolate is packaged and ready for our ALLMAX customer.

All of these steps are performed at a cGMP licensed manufacturing facility to ensure quality and integrity. Every ingredient and every lot produced is independently lab tested for purity and quality to ensure consistent quality every time.
ISOFLEX is manufactured in the US with US Dairy Cows. ALLMAX protein products contain absolutely zero protein sourced from China.
Every lot of ALLMAX proteins are tested for heavy metals. No lot is ever released if it does not pass these tests.
The 4 advanced delivery systems of IsoFlex:
1. WPI Complex (WPI Fortified™): CTP™ (cold temperature process), cross- flow microfiltered whey protein isolate, WPI (97% whey protein isolate). This high quality whey protein isolate complex can help you reach your body-shaping goals.
2. NOS Complex (Ultra-Flow Delivery™): contains arginine, taurine and folic acid. Designed to increase blood flow and increase nitrogen and whey peptide delivery. It can also boost nitric oxide levels, thereby speeding up recovery and protein delivery to muscle tissues.
3. Glutamine Complex (GLUTASURE TECHNOLOGY): naturally occurring glutamine peptides – 100% fermented source. Designed to improve recovery and provide immune support.
4. IS Complex (Rapid Absorption): Alpha Lipoic Acid (ALA), d-Pinitol and 4-Hydroxylsoleucine. Designed to increase protein uptake and support insulin.
High concentration of BCAA`s!
ISOFLEX protein powder contains optimal levels of BCAAs (23%) and essential amino acids (46%) to provide the nutrition you need to reach your goals. ISOFLEX contains 19 amino acids, including 8 essential amino acids and 3 branched chain amino acids:
a) Leucine – helps with the regulation of blood sugar levels and promotes the growth of muscle tissue. ISOFLEX includes leucine for its ability to accelerate protein synthesis and promotion of efficient recovery after intense training sessions.
b) Isoleucine – helps with blood clot formation. ISOFLEX includes isoleucine for its ability to promote muscle recovery after workouts.
c) Valine – is needed for muscle metabolism, repair and growth of muscle tissue. ISOFLEX includes valine for its ability to accelerate recovery after intense workouts.
Supplement Facts

ISOFLEX

Serving Size:
1 scoop (30g‡)
Servings Per Container:
~ 75
Amount Per Serving
% Daily Value*
Calories
120
Calories from Fat
0
Total Fat
0 g
0%
Saturated Fat
0 g
0%
Trans Fat
0 g
†
Cholesterol
10 mg
0%
Total Carbohydrates
2 g
<1%
Dietary Fiber
0 g
0%
Sugars
1 g
†
Protein
27 g
54%
Calcium
64 mg
6%
Iron
1 mg
8%
Sodium
125 mg
5%
Potassium
75 mg
5%

INGREDIENTS: HYBRID-RATIO ION-FILTERED WHEY PROTEIN ISOLATE(Cross-Flow, Ultra-Filtered Whey Protein Isolate, Ion Charged Particle-Filtered Whey Protein Isolate, Alpha-Lactalbumin-Rich Whey Protein Isolate),PROTEIN ENZYME BLEND (Protease, Bromelain)

OTHER INGREDIENTS: Cocoa Powder, Natural and Artificial Flavors, Guar Gum, Lecithin(Sunflower), Acesulfame Potassium, Sucralose.

ALLERGEN INFORMATION:Contains Milk (Whey). Produced in a facility that also handles soy, egg, peanut, tree nut, fish, crustacean and shellfish products.

* Percent daily values are based on a 2000 calorie diet

† Daily Value not established

‡ Due to natural variations in product density, resulting from settling and/or humidity, the values are approximate. Shake product before use. Product is sold by weight and serving size is on an "as dry" basis.

Supplement facts vary based on size and flavor.
More items you might like
Loading...