Now Foods HMB Powder - 90 Grams
Item #: NO611
UPC: 733739020574
20% Off +5-10% Off Special Offer
HMB (ß-Hydroxy ß-Methylbutyrate) is a clinically researched, naturally occurring metabolite of the branched-chain amino acid leucine. HMB normally plays a role in the regulation of protein breakdown in the body, helping to preserve lean muscle tissue.* HMB therefore can help to maintain muscle strength and mass when combined with regular exercise and a healthy diet.* In addition, it may help to enhance recovery from intense exercise.*
Natural color variatioin may occur in this product.
This product is sold by weight not volume.
Take 1/4 level teaspoon 2 to 3 times daily. Mix into water or your favorite beverage. For best results, use in conjunction with an exercise program.
Store in a cool, dry, dark place after opening.

CAUTION
For adults only. Consult physician if pregnant/nursing, taking medication, or have a medical condition. Keep out of reach of children.
Do Not Eat Freshness Packet Enclosed.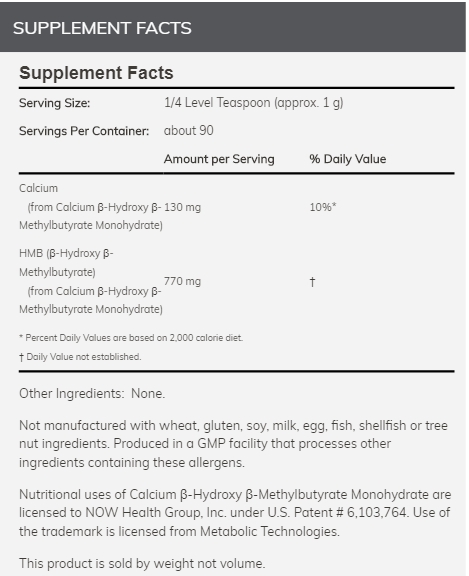 More items you might like
Loading...