APS Mesomorph Tropical Fruit - 25 Servings
Item #: HA031
UPC: 649241883401
Mesomorph Competition Series PreWorkout Supplement
Supercharged Energy Formula with Geranium Extract
Ultimate Preworkout Complex with Creatine Nitrate
Unleash Your True Genetic Potential
Muscle Gains and Enhanced Athletic Performance
Strength, Stamina and Energy are they keys for any quality preworkout. APS Nutrition's Mesomorph® does this and so much more. With its extreme energy igniting, vein blasting, and fatigue fighting power formula, Mesomorph® is the new King of concentrated preworkout performance supplements. Want more? Mesomorph® uses focus and energy boosters to ensure that your workout and training reaches its maximum performance potential. This complete preworkout energy matrix is the only product on the market to deliver full clinical doses of its state of the art ingredients.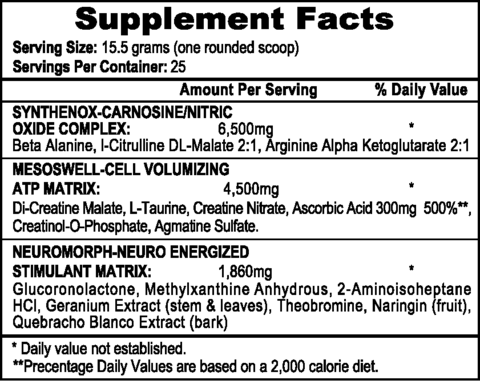 †These statements have not been evaluated by the Food and Drug Administration. This product is not intended to diagnose, treat, cure, or prevent any disease.
Warnings & Side Effects
As with any supplement, check with your Physician prior to use. Do not use this product if you have any current or previous medical condition of any kind. Such conditions may include but are not limited to high or low Blood Pressure, Stroke, Arrhythmias or Palpitations. Any Heart, Thyroid, or Liver condition. Seizures, Anxiety or Depression, Prostate Enlargement or inflammation. Do not use if you are nursing or pregnant. Do not use if you are taking an MAOI. If any adverse symptoms occur discontinue use immediately and consult a Physician. Keep out of reach of children. Do not take for more than 8-10 weeks without an 8-10 week off period. Before beginning any program of weight loss, consult your Healthcare Practitioner.
More items you might like
Loading...