AllMax Nutrition Casein FX Vanilla - 2 Lb
Item #: AMX35
UPC: 665553202167
100% MICELLAR CASEIN PROTEIN
ULTRA-SLOW RELEASE PROTEIN
Get ready for the ultimate slow release protein from ALLMAX! We revamped our "tried and true" CASEIN-FX and made it better. CASEIN-FX looks sharper than ever in our new patent pending SCOOP-LOCK system with ERGO-LID packaging!
25 G Slow-Release Protein per Serving

Next Level Night Time Supplementation
CASEIN-FX is a revolutionary approach to keeping your system fueled with a constant flow of muscle-building protein.
Micellar Casein is unique in that digestion causes it to dramatically slow down, providing a trickle-feeding effect over a sustained 8 – 10 hour period of release.
All proteins are made up of Amino Acids. Your body cannot absorb protein until it breaks it down into smaller sub-units; Amino Acids. This is where CASEIN-FX takes night time supplementation to the next level.
The most neglected time to gain muscle is when you sleep! The 8 to 10 hours of sleep you need is the longest period of time you will go without protein. During this time, you're missing an opportunity to keep building muscle, but just as important, preventing your body from breaking your muscle down!
Research shows getting 20g to 40g of slow-digesting protein before sleep stimulates muscle protein synthesis and limits muscle breakdown. Micellar Casein digests slowly creating a 'trickle-feeding' effect over a long period of time.


CASEIN-FX is the ultimate in slow-release protein technology. Consuming CASEIN-FX prior to sleeping (or any time you will be without a high protein meal for any significant length of time) will keep you from becoming catabolic (a state of muscle breakdown).
People who are frustrated by their persistence in the gym, but still fail to see gains are most often missing key protein feeding opportunities. Your body wants to breakdown muscle and return to a less muscular build since it is metabolically "easier" than building large amounts of lean muscle. Muscle breakdown is, most often, the number one reason aspiring bodybuilders fail to reach their goals.
MUSCLE BREAKDOWN IS, MOST OFTEN, THE NUMBER ONE REASON ASPIRING BODYBUILDERS FAIL TO REACH THEIR GOALS

CASEIN-FX is 100% free of any Non-Protein Amino Acids. This means that all of the protein you're getting comes from a complete whole protein source. CASEIN-FX is Gluten-Free, Kosher certified and Lab Tested to ensure the purity, quality and potency you have come to expect from ALLMAX®. At a nearly 80% protein yield, you're getting a low-carb, no sugar added meal that tips the balance of daily protein intake in your favor.
CASEIN-FX now features SCOOP-LOCK Technology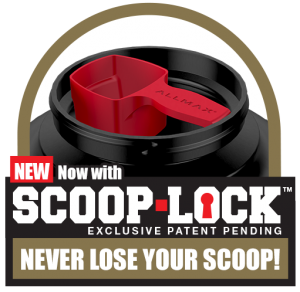 CASEIN-FX now features SCOOP-LOCK Technology. Together we can put an end to the scourge of Scoop Loss.
Gone are the days of digging through your protein to get your scoop. SCOOP-LOCK is ergonomically designed to lock your scoop into place the first time and every time! And it's right there at the top of your CASEIN-FX when you open it! Scoop-Lock is available on all ISOFLEX, ALLWHEY Gold, ALLWHEY Classic, HEXAPRO and CASEIN-FX products and it's only from ALLMAX.
Look for the rugged new Ergo-Lid on ALLMAX products with Scoop-Lock inside!
THICK AND DELICIOUS TASTE
CASEIN-FX is a thick and delicious protein containing pure Micellar Casein to provide 8 HOURS of protein delivery! You will notice that CASEIN-FX is thicker when you mix it up than other proteins. This helps you feel more full and helps to prevent you from late night snacking. CASEIN-FX provides a convenient, easy-to-mix and delicious way to keep your muscles fueled for hours.

UNSURPASSED: THE ALLMAX QUALITY GUARANTEE
Every ingredient added and every lot produced is laboratory-tested for purity and potency to ensure consistent product quality and integrity every time, guaranteed. CASEIN-FX goes through the exclusive ALLMAX 5-Stage Quality Testing protocol. In fact, we're so confident in the quality of our product that it's completely guaranteed.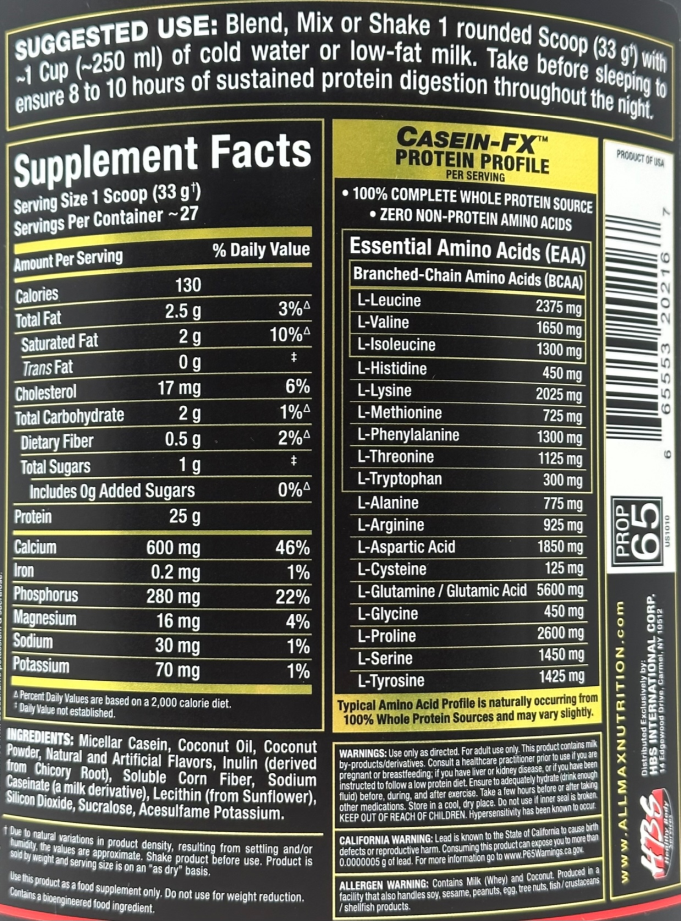 More items you might like
Loading...