Controlled Labs Orange Triad - 270 Tab (45 Servings)
Item #: CD151
UPC: 895328001408
20% Off Special Offer
Out of Stock
Orange TRIad : Multi, Joint, Digestion & Immune Aid

Orange TRIad Best Supplement for Serious Athletes

Designed for the serious athlete, ORANGE TRIAD delivers!
Serious athletes are unique in that they intentionally subject their bodies to incredible amounts of stress with training and cardio. Over time, the immune system can be compromised, and muscles, tendons, and ligaments take longer to recover which means you can't train them as often as you would like. A deficiency can mean that you aren't getting optimal results from your training.
ORANGE TRIAD, the Best Supplement for Serious Athletes combines the most proven and effective vitamins, minerals, and nutrients for supporting optimal DIGESTION, IMMUNE system, and JOINT HEALTH into one "twice daily" dietary supplement. The JOINT and FLEX complexes help lubricate joints and cartilage as well as increase the resiliency of connective tissue, while the DIGESTION and IMMUNE complex includes natural anti-inflammatories, digestive aids, and nutrient partitioning agents to take your performance to the next level.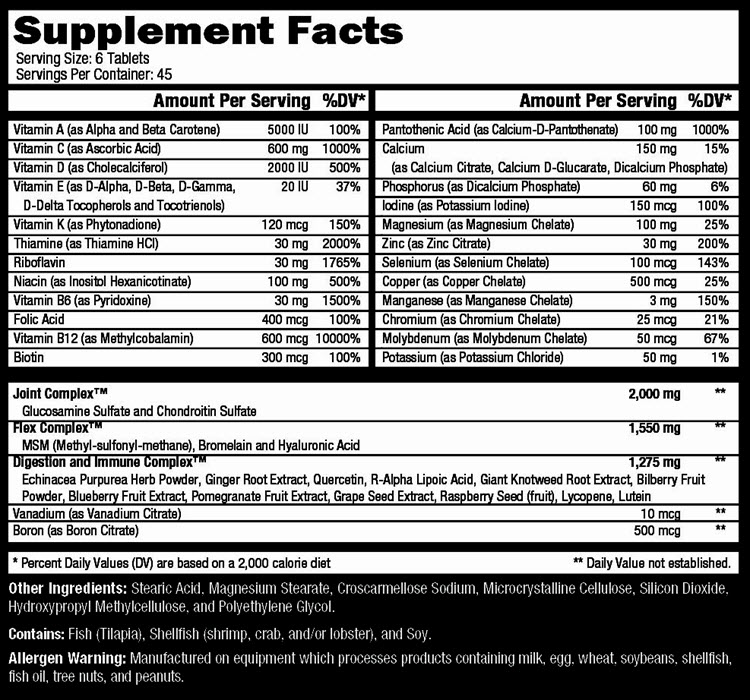 Directions: tart by taking 1 tablet to assess your individual tolerance. If you experience any unusual occurrence, stop and consult your doctor.Directions for Regular Use: Take 3 tablets TWICE per day with meals. Take this product daily. Consume at least 1 gallon of water per day.

Warnings: This product has shellfish and soy derived ingredients. Before ingesting this product you should consult your doctor if you are not aware of your current health status or if you have any medical condition including, but not limited to diabetes, high or low blood pressure, cardiac arrhythmias, stroke; diseases of the heart, kidneys, liver or thyroid gland; anxiety, history of seizures, depression, any psychiatric ailment, pernicious anemia or other blood disorders, prostate enlargement. This product contains chemicals known to the State of California to cause cancer, or birth defects or other reproductive harm. Do not take this product if you are pregnant or nursing. Do not consume with less than the recommended amount of water or if you are prone to dehydration or are subjected to extremely hot temperatures. Do not take this product with any drugs without permission from your prescribing doctor.Keep out of the reach of children and pets.ALLERGEN WARNING: Manufactured on equipment which processes products containing milk, egg, wheat, soybeans, shellfish, fish oil, tree nuts, and peanuts.
More items you might like
Loading...