Hi Tech Pharmaceuticals Estrogenex 2nd Generation - 90 Tab
Item #: HT086
UPC: 857084000484
Natural Testosterone Liberator and Estrogen Blocker
Promotes Optimal Endogenous Anabolic Hormone Levels for Bodybuilders and Athletes
The male hormone testosterone moves about the body in a free state (about 2% in normal men) or bound to one of two plasma proteins: sex hormone-binding globulin (SHBG) or albumin. Only when testosterone is in its free state can it interact with cellular receptors (e.g., trigger muscle-building activity). Testosterone has two metabolites that pose potential problems for aging males and also for bodybuilders and athletes. One is estradiol (testosterone is converted to estradiol by the enzyme aromatase) and the other is dihydrotestosterone (DHT) (testosterone is converted to DHT by the enzyme 5-alpha reductase). As men age, there is a dramatic decrease in testosterone production, but without a corresponding decrease in the production of estradiol and DHT. Even though testosterone levels have plummeted, the aromatization of testosterone to estradiol is maintained, or even accelerated, and more testosterone is also being aromatized in fatty tissues. This creates excess levels of estradiol and, as a consequence, a blood level ratio of testosterone to estradiol that continues to decline, tipping the scale in balance of an estradiol-dominant environment.
Whether a man's sex hormones are out of whack because of father time, or because of a self-inflicted blast of anabolic steroids, maintaining elevated levels of testosterone, while minimizing the production of estradiol and DHT, is one of the most important steps men can take to remain healthy, improve performance, and keep hard-earned muscle intact. Estrogenex® 2nd Generation (a new and improved Estrogenex® with even more state-of-the-art compounds) is a Hi-Tech Muscle & Strength and Healthcare supplement whose formulation incorporates 5a-androstan-3b-ol-17-one, chrysin 99%, indole-3-carbinol (IC3), Coumesterol(40%),Eurycoma longifolia, muira-puama, quercitin, 6,7 Dihydroxybergamottin, and Naringen. Any nutraceutical compound or nutraceutical product that has a positive influence on anabolic activity and muscle cell metabolism has both bodybuilding and anti-aging healthcare benefits. So whether you are an aging male looking for the most ideal anti-aging supplement available to restore healthy testosterone to estradiol ratios, or a bodybuilder looking for an estrogen-squashing, testosterone-unleashing, muscle-building supplement for the anabolic support required to achieve a hard, lean physique, Estrogenex® 2nd Generation is your solution!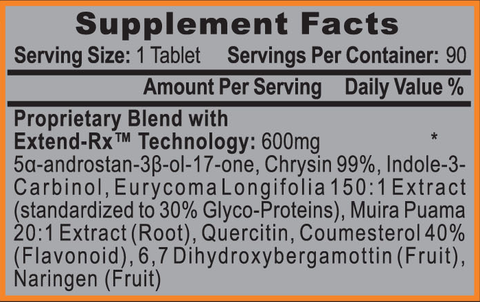 These statements have not been evaluated by the Food and Drug Administration. This product is not intended to treat, cure, diagnose, or prevent any disease. This product should not be used in place of or as a substitute for recommendations by your healthcare professional.
More items you might like
Loading...