AllMax Nutrition ACUTS Amino Cuts Amino Acid Energy Drink Pink Lemonade - 30 Servings
Item #: AMX08
UPC: 665553225357
SALE
20% Off Special Offer
4.2g

Amino Acid Energy
Sugar-Free and Only 5 Calories!
Green Coffee Extract & L-Carnitine.
Natural-Source Caffeine
Lab-Tested
Gluten-Free
THE POWER OF TAURINE
ACUTS provides you with energy to burn! Fortified with Natural-Source Caffeine, Green Coffee extract and L-Carnitine, ACUTS will supercharge your workout with the added benefit of focused fat loss. What's even better is the addition of 2000mg of Taurine, a non-essential amino acid, and one of the most abundant amino acids in the body that can be found in the central nervous system, white blood cells, the brain and skeletal muscles.
FORMULATED TO PROVIDE ENERGY, FOCUS AND DIET SUPPORT IN CONJUNCTION WITH A SENSIBLE DIET, EXERCISE AND/OR PHYSICAL ACTIVITY
Taurine aids in the metabolization of fat, and is also known to improve insulin sensitivity and boost your mood! It can help improve exercise performance and body composition.
FORTIFIED WITH 500 mg of L-Carnitine
L-Carnitine is essential for transporting long-chain fats into the cell (mitochondria). L-Carnitine taps into your fat supply and may provide support to burn it as fuel, resulting in increased energy. Without L-Carnitine, these fats cannot be burned for energy and are instead shunted to stored body fat.
L-Carnitine enhances performance by increasing the body's reliance on fat for energy; this reduces depletion of muscle glycogen. By reducing muscle tissue lactic acid build-up, performance athletes using L-Carnitine can extend duration of muscular exertion before fatigue.
How Do I Take A:Cuts?
Take 1-2 scoops with approximately 180 to 240mL of water per serving before physical activity, or anytime you need an energy and amino boost.
When is the best time to take ACUTS?
A:Cuts Amino Acid Energy Drink is perfect to take pre-workout or anytime throughout the day when you need an energy boost. This versatile diet drink is a delicious easy-to-mix additive to flavor plain water, and a great alternative in the morning to caffeinated beverages, which can dehydrate you and leave you feeling burned out later in the day.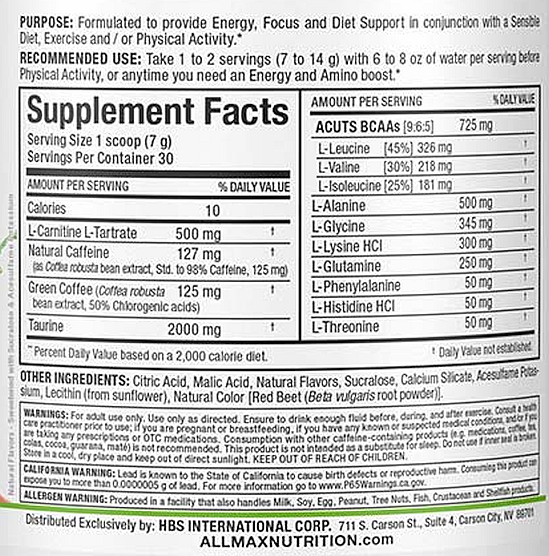 More items you might like
Loading...