Kaged Muscle C-HCl (Creatine HCL) - 75 Capsules
Item #: KM014
UPC: 614458999795
THE ORIGINAL PATENTED CREATINE HCI IS BACK
If you have followed me on my socials, attended my seminars, gone through my published articles, purchased my transformation books or watched my Video Trainers on Bodybuilding.com, you will know that I have recommended patented Creatine HCl over Creatine Monohydrate for several years. To me it's a no-brainer.
Patented Creatine HCI Pros
Can help avoid gastrointestinal issues commonly associated with Creatine such as bloating, diarrhea, gas, and cramping
No Water Retention
No Loading Phase
Concentrated Requiring Only Micro-Dosing
Solubility
Vireo Systems originally synthesized Creatine HCl in 2003, and after years of extensive testing, it was made commercially available in 2007. The advantages of Creatine HCl include better solubility, bioavailability, increased plasma uptake, and NO bloating or cramping. You can take a small micro-dose of Creatine HCl versus taking a massive dose of 3–5 grams of Creatine Monohydrate. The buzz around Creatine HCl quickly spread throughout the bodybuilding and athletic communities.
Fast forward to 2015—eight years after Creatine HCl was introduced to sports nutrition. It is now the preferred creatine choice for elite athletes and bodybuilders. This new form of creatine eliminates the previous GI issues that I experienced with Creatine Monohydrate.
WITH SUCCESS COMES COPYCATS
As Creatine HCl quickly and rightfully gained market share, many copycat versions hit the market. Several companies started selling cheap, low-grade, generic Creatine HCl. These companies use borrowed science to support a product that is generic and not backed by studies or patents. In fact, several batches of generic Creatine HCl that were tested were not as potent and contained impurities.
The top brand, the original distributor of Patented Creatine HCl, was my preferred choice until recently. I noticed something was different and ultimately discovered they had switched from the patented form of Creatine HCl to a generic material. Within days my R & D team was in contact with the patent holder for Creatine HCl. We met to discuss selling the REAL DEAL patented material with a brand built on ethics, not profits—KAGED MUSCLE.
BREAKING NEWS
The Most Popular and Effective Creatine Molecule Will Now be Sold Under a New Name: Patented C-HCl.
On September 5, 2015, Vireo Systems, inventor and patent holder of Creatine HCl, granted KAGED MUSCLE exclusive rights to sell C-HCl worldwide as a single ingredient (unflavored & flavored powder or capsules).
Here's Why I Switched to Patented C-HCl.

ALL CREATINE HCI IS NOT CREATED EQUAL
The patented form of Creatine HCl costs three times more than the GENERIC material, and is why all the TOP brands use GENERIC versus Patented to increase their profits.
NOT KAGED MUSCLE—I will never sell out due to profit. Safety and Results are my top priorities!
If you're obsessed with quality like we are, then there is no need to take chances when you can take Patented C-HCl. KAGED MUSCLE refuses to compromise quality for profit and won't have anything to do with the low-quality, generic Creatine HCl used by several top brands. Instead, we purchase proven and patented C-HCl from Vireo Systems, the inventor and patent owner of Creatine HCl. THIS PREMIUM MATERIAL IS PROVEN, SAFE, EFFECTIVE, AND CAREFULLY MANUFACTURED HERE IN THE USA.
HOW TO MAKE SURE YOU ARE GETTING REAL "PATENTED" CREATINE HCI
It's important to make sure the Creatine HCl you buy is the REAL DEAL. If you are buying Creatine HCl as a single ingredient (unflavored & flavored powder or capsules), on the label it will say Patented C-HCl, Vireo Systems Inc. and include PATENT #8, 962, 685/#8, 354, 450/#8, 026, 385/#7, 608, 641.
Only a SELECT FEW brands were granted rights to use Patented C-HCl in their PRE- and POST-Workout formulas.
If Vireo Systems Inc. and the patent numbers listed above are NOT on your label…you have generic Creatine HCl and NOT THE REAL DEAL!
I was able to bring the REAL DEAL back and at a BETTER VALUE!
TAKE NO CHANCES FUEL YOUR MUSCLES WITH THE ABSOLUTE BEST!


* These statements have not been evaluated by the Food and Drug Administration. This product is not intended to diagnose, treat, cure, or prevent any disease.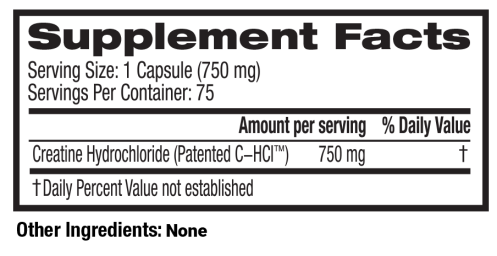 Other Ingredients: None
Directions for C-HCl Capsules: As a dietary supplement, take 30-60 minutes prior to training. Patented Creatine HCl can be taken on an empty stomach, with food or mixed with your favorite KAGED MUSCLE products. On training days consume 1 serving per 100 pounds of body weight. Post workout and non-training days, consume 1 serving per 100 pounds of body weight to assist in muscle recovery.*
Warnings: Not intended for use by individuals under the age of 18. Consult a physician or healthcare provider before using any dietary supplement or starting any exercise program. Consult a physician before use if you have or suspect that you have any medical condition and/or are taking any prescribed/OTC medication. Do not exceed recommended dose. Maintain adequate hydration when using. Exposure to moisture and humidity may cause clumping but will not affect the product. Do not use if seal under cap is broken. KEEP OUT OF REACH OF CHILDREN. DO NOT USE IF PREGNANT OR NURSING. Store in a cool, dry place.
More items you might like
Loading...