Bsn Syntha-6 Edge Vanilla - 48 Servings
Item #: BS266
UPC: 834266005703
20% Off Special Offer
Out of Stock
SYNTHA-6 EDGE
SYNTHASIS OF PREMIUM PROTEINS
24g Protein Matrix
Fewer Calories, Carbs, and Fat*
Real Milkshake Like Taste & Texture
Supports Muscle Growth
Supports Muscle Protein Synthesis
Helps Kick-start The Recovery Process
Use Anytime Day or Night
Push Your Performance To The EDGE
MORE PROTEIN. LESS CARBS. LESS CALORIES.* AMAZING SYNTHA-6 TASTE

Don't sacrifice taste for quality – get it all with SYNTHA-6 EDGE. Try each of these amazing flavors and help fuel your muscles and reward your taste buds with the amazing taste and leaner macros of SYNTHA-6 EDGE
Protein Supplementation

Daily adequate protein intake is important with any regular exercise regimen. Protein is needed to help repair muscle broken down during exercise and build new muscle. Using a quality protein powder will help supplement the daily amount of protein required by your body and help you to reap the benefits from every training session. Whether you are new to working out or you are a competitive athlete, a quality protein is essential in your diet regimen. BSN has a number of protein powders to help push your performance.
Suggested Use: For healthy adults, consume enough protein to meet your daily protein requirement with a combination of high protein foods and protein supplements throughout the day as part of a balanced diet and exercise program.
DIRECTIONS: Mix 1 scoop with 4-5 fl oz of cold water or your favorite beverage. To increase your protein intake per serving and achieve an even more amazing milkshake experience, use non-fat or low-fat milk.

Facts below are for Chocolate. Other flavors may vary slightly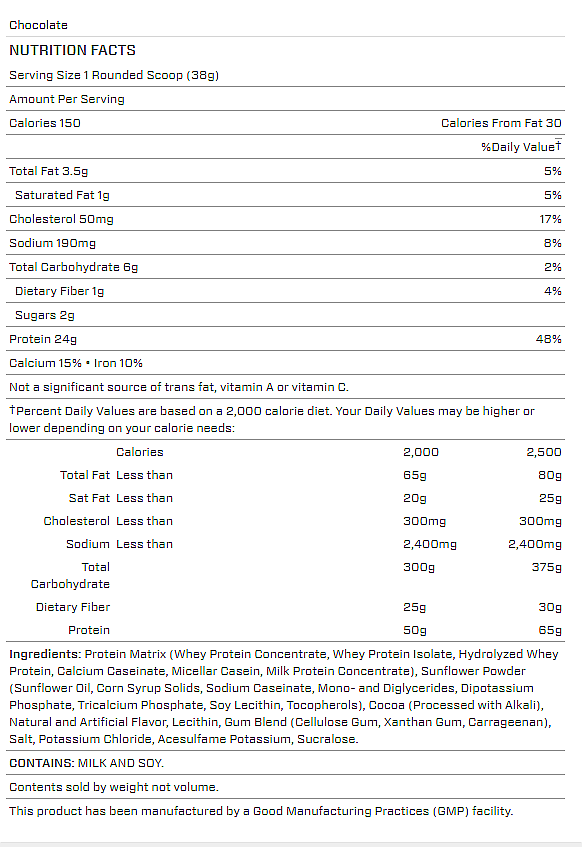 More items you might like
Loading...