GAT Liver Cleanse - 60 Cap
Item #: GA104
UPC: 859613220028
25% Off +5-10% Off Special Offer
Promotes Healthy Liver Function
Liver Cleanse assists your liver's vital filtering function to help detoxify your body.* Milk Thistle Seed Extract has been shown to protect and promote liver health.*
This formula also provides Vitamin C, E and Selenium - powerful antioxidants that assist with decreasing oxidative stress.*
Contains Betaine Anhydrous, a nutrient found to help protect liver cells from toxins.*
Size: 60 Capsules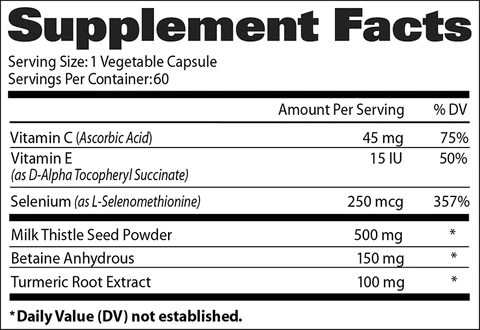 Suggested Use:
As a dietary supplement take one (1) capsule 1-3 times daily.
WARNING: This product can expose you to lead, which is known to the State of California to cause birth defects or other reproductive harm. For more information go to www.P65Warnings.ca.gov .
* Statements on this website have not been evaluated by the Food and Drug Administration. Products are not intended to diagnose, treat, cure, or prevent any disease.
More items you might like
Loading...