Optimum Nutrition Serious Mass Chocolate - 6 Lb
Item #: ON814
UPC: 748927822991
SUPPORTS MUSCLE BUILDING & WEIGHT GAIN GOALS
Serious Mass is the ultimate in weight gain formulas. With 1,250 calories per serving and 50 grams of protein for muscle recovery support, this instantized powder makes the ideal post-workout and between meals shake for sizing up your goals. Serious Mass provides you with the tools you need to pack on the pounds and help you develop the physique you've always wanted.
Adding Calories Has Never Been This Easy or Tasted So Good
1,250 Calories
50 Grams of Blended Protein
Over 250 Grams of Carbohydrates with NO ADDED SUGAR
Creatine, Glutamine and Glutamic Acid
25 Vitamins and Essential Minerals
INGREDIENT AMOUNT HELPS SUPPORT
CALORIES 1,250 BOOSTING CALORIE INTAKE
PROTEIN 50G BUILDING & MAINTAINING MUSCLE
CARBS OVER 250G FUELING INTENSE WORKOUTS
HOW TO USE
2 scoops in 24 fluid ounces of cold water, milk, or beverage of choice makes one serving of SERIOUS MASS. New users may find it beneficial to begin with 1/2 of a serving daily for the first week and then gradually increase to 1 serving a day. SERIOUS MASS is designed to have serious calories, protein and carbohydrates – making this a convenient way to get extra calories throughout your day.
Serving Size: 2 Heaping Scoops
Servings Per Container: 8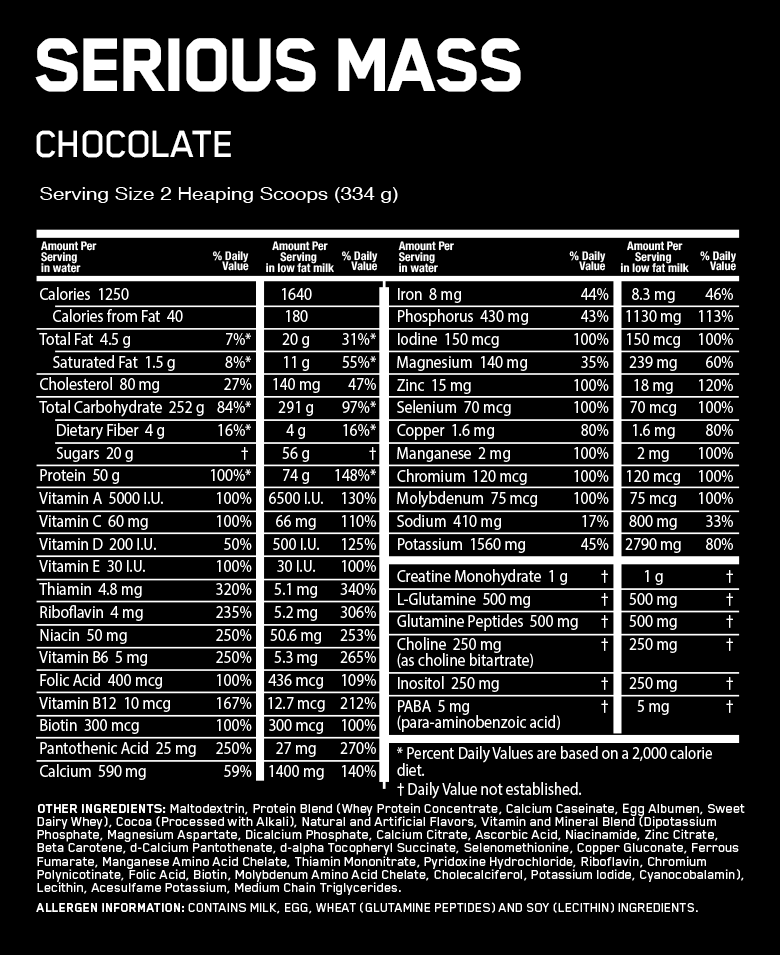 More items you might like
Loading...