Gaspari Nutrition Anavite - 180 Tab
Item #: GP145
UPC: 646511006980
SPORTS MULTI-VITAMIN & AMINO ACID COMPLEX

RECOVERY* | POTENCY* | PERFORMANCE* | ENDURANCE*
•ENHANCES POST EXERCISE MUSCLE RECOVERY*
•SUPPORTS HEALTHY & STRONG BONES*
•MAXIMIZES SPORTS PERFORMANCE*
•SUPPORTS CARDIOVASCULAR SYSTEM HEALTH*
•FORMULATED WITH CERTIFIED CHELATED MINERALS*
While your body is fueled by macronutrients like protein, carbohydrates, and fats, ANAVITE will support their optimal use with its highly potent array of vitamins and minerals. Ever better, ANAVITE will help you recover faster and make working out easier through its clinically validated doses of key amino acids. No other formulation contains this research driven and winning combination of vitamins, minerals, and amino acids. Don't settle for anything less.*
ANAVITE's revolutionary and high potency research fueled formulations deliver fast results backed by numerous clinical research studies. From bone health to cardiovascular support, to recovery, to endurance, Anavite has you covered with the most cutting-edge formula available in the world. Available tablets or an easy to mix great tasting powder. Every ingredient was handpicked with a purpose to deliver results to help your body look and perform its best. Formulated with nutritional expertise and proven science, Anavite will accelerate your healthy lifestyle to the fullest.*
FREQUENTLY ASKED QUESTIONS
Q: Does Anavite have clinical research to support its claims?
Yes. Many of the ingredients used in ANAVITE such as MenaQ7, Albion Gold Standard Mineral Chelates, and Carnosyn have numerous research studies which clearly demonstrate that they are effective. Gaspari Nutrition made a commitment to formulate a high potency multivitamin for anyone with a hardworking fitness lifestyle and the quality of ANAVITE'S formulation is a testament to that.*
Q: What makes ANAVITE'S Gold Medallion Certified chelated minerals better than other chelated minerals on the market?
Many companies use complexed mixtures of minerals and filler proteins not fitting into the definition of true amino acid chelates but sell them as chelates. These lose integrity during digestion, becoming unstable and compromising absorption. Only Albion mineral chelates are proven to be true chelates that mimic the natural chelation structure that occurs in the body that is verified by validated methods*
Q: How long does a bottle of ANAVITE last?
ANAVITE contains a 60 day supply when using a single serving per day and a 30 day supply when using two servings per day. Your nutritional needs and goals should determine the need for one or two servings…*
Q: Does ANAVITE cause a "prickling" (aka parathesia) sensation like other beta-alanine products?
Because of its advanced tableting technology, the amount of parathesia caused by ANAVITE is minimal if there is any at all. If you do feel any just split the doses into two pills taken with breakfast, lunch, and dinner.*
Q: Why did Gaspari include Beta-Alanine (as Carnosyn) and Carnitine-Tartrate in a multivitamin formula?
ANAVITE is actually a 3 in 1 supplement. Since multivitamins and beta-alanine can be taken multiple times a day it made sense to stack them in the same product. We did not add ten or twenty additional under-dosed compounds in a "complex" which don't have doses proven to do much of anything. We went with two proven ingredients in validated doses to provide what your body can use to perform and recover optimally as a commitment to our formulation excellence.*
SUGGESTED USE-TABLETS:
As a dietary supplement for men consume 1 serving (3 tablets) up to twice daily with food.*
ALLERGEN WARNING: Contains soy. Made in a facility that processes milk, egg, fish and wheat ingredients.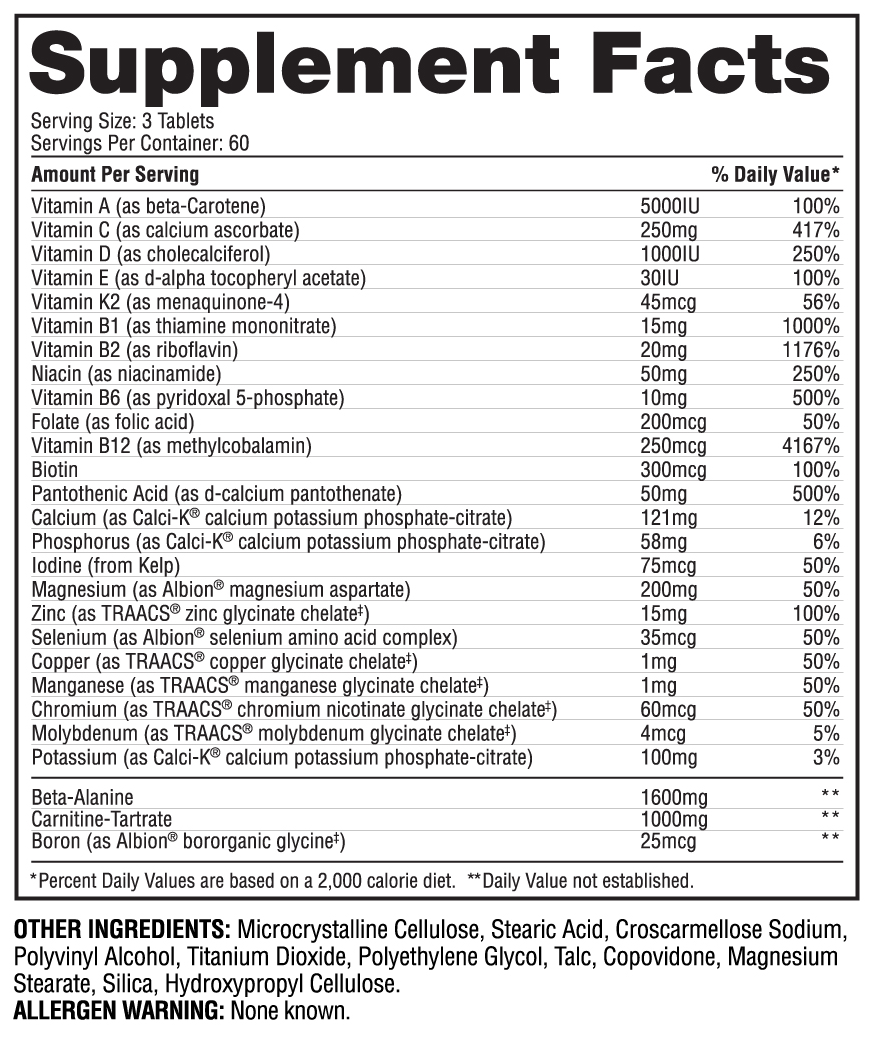 THE ULTIMATE PERFORMANCE ENHANCING MULTI-VITAMIN
Anavite is a cutting edge, high technology, high potency, sport specific, MULTI-VITAMIN, Mineral & AMINO ACID COMPLEX, designed to enhance physical performance, recovery and muscle growth, as well as offer support for strong healthy bones and cardiovascular health, backed by numerous published clinical research studies.
Why do you even need a strong multi-vitamin, mineral and amino acid complex?
Hard training athletes need a wide spectrum of vitamins, minerals and amino acids to carry out the myriad of complex functions that result in the growth and repair of muscle tissue. Ideally, the athlete's goal is to maintain an adequate supply of vitamins, minerals, and amino acids to support the growth and repair process that occurs when we damage muscle fibers during intense workouts. Due to the nature of modern food production and processing, typically Western food sources tend to be deficient in certain vitamins, minerals and muscle building amino acids. Numerous clinical findings demonstrate that a large portion of the US population is subject to a diet that falls far short of the recommended dietary allowance (RDA) for numerous key vitamins, minerals, and amino acids. While athletes tend to eat a much "cleaner" diet than most Americans, the amount of energy they expend, along with the modern means of producing even the most basic food items, could lead to deficiencies in key muscle building nutrients.
For decades, we have been conditioned to believe that taking a supplement can fill any potential nutritional deficiency in our diets, as well as provide support for our most strenuous training routines, not to mention promote strong bones, provide cardiovascular support and good overall health. At the very least that's why any athlete would choose to use a multivitamin – hopefully with the right combination of vitamins, minerals, and amino acids, in doses that are healthy and effective. This would certainly ensure your body is getting the adequate micronutrients it needs to extend your physical performance envelope.
But, we didn't just want to add another multivitamin to the market. We wanted to rock the boat.
There are numerous substances that have clinically demonstrated support for strong healthy bones, a strong immune system, cardiovascular health, and improved overall health and performance. An effective multivitamin/ mineral complex should include not only a complete cache of these ingredients, fortified with other performance-enhancing nutrients, but also provide them in clinically proven effective dosages.
Unfortunately, not all supplement companies think you should have a formulation of these substances. Instead, they want to spend as little as possible on the actual product, they manufacture or exaggerate label claims, all in an attempt to pocket more of your hard-earned money. What they don't want is you taking too concerted a look at their ingredient profiles.
This is why multivitamin/mineral supplements get a bad rep…
It's not out of the ordinary, particularly for a new, or poorly ranked, supplement company to try and put together the shiniest package, for the least amount of money. In the vast international world of the supplement raw material business, foreign suppliers often offer up deals that are too good for them to pass up. At which point, formulation, and potency are based on the best deal, not what's best for you. This can account for ineffective doses of some vitamins, incomplete mineral profiles, super-doses of various micronutrients with poor bioavailability, and worse. These shoddy formulations will not only not amount to any kind of ergogenic effect, but can also cause you problems. The literature is rife with adverse event reports featuring miss dosed vitamins and minerals ravaging livers, kidneys, and of course potential intestinal episodes that will have you clear out a crowded room if even just a cubic centimeter of that noxious gas squeaks out.
Perhaps the most egregious affront to the consumer is the supplement company that manufactures its products in machines that have not been properly cleaned between manufacturing runs. This is what causes cross-contamination from one production run to another. If your supplement manufacturer also manufactures a product that is on a banned list, and you are an athlete playing by those rules, you could actually fail a drug test because your supplement was tainted due to poor manufacturing processes. It's already happened more than once.
These unscrupulous operators have made it incumbent upon any name brand to frequently test their products not only for purity and potency but also for contamination. Gaspari tests every single batch of Anavite for banned substances and other contaminants. This makes Anavite the multivitamin any competing athlete can take with confidence.
Another stunning example of the unmitigated gall espoused by some brands is that they believe the consumer is almost hypnotized when they hear the term "vitamin/ mineral." Such a thing can't possibly be any less than it says it is. Unlike fat burners and recovery drinks that have to go through rigorous nutrient analysis, effective marketing and lots of "likes" on social media, people just kind of trust a vitamin. I mean, kids take them. How could they not be what they seem to be? Even worse are the vitamin/ mineral supplements that have a ton of other nutrients heaped into the mix that promise added results with little to no science to back up the claim. Or, having the research, but underdosing the product with the effective ingredients. It's all a game to get your money.
The reality is that if you consistently eat a well-balanced diet that includes plenty of lean meats and fish, fresh veggies, whole grains and some fruit every day, you're probably getting all the vitamins and minerals you need. That's for your average person though. You're an athlete, you're different. Your needs transcend the basic human vitamin/mineral deficiencies to include bone and joint health, muscle repair and growth, even cardiovascular support. You need a vitamin/ mineral supplement designed to be epic, not economic.
This is Anavite – the sports world's first, technologically advanced, performance-enhancing multi-vitamin/ mineral amino acid complex.
ENHANCES POST EXERCISE MUSCLE RECOVERY*
SUPPORTS HEALTHY & STRONG BONES*
MAXIMIZES SPORTS PERFORMANCE*
SUPPORTS CARDIOVASCULAR SYSTEM HEALTH*

The basic macronutrients – protein, carbohydrates, and fats – are the building blocks of a bigger, stronger physique, and the fuel that makes it move faster. Anavite will support the optimal use of these macros with its highly potent array of vitamins and minerals. Taking it to another level, Anavite will help you recover faster and generate more power during your workouts because it contains clinically validated doses of key amino acids. No other formulation on earth contains this research-driven, potent combination of vitamins, minerals, and amino acids.
Another reason you need Anavite is that a run of the mill multivitamin is many times made up of cheap and inferior forms of active ingredients to help cut costs and raise margins. Apart from suffering the effects mentioned above, the real downside is the low bioavailability of these cheap ingredients. A multivitamin is pretty much useless if your body can't absorb the ingredients.
Anavite has changed the multivitamin world forever by including the most bioavailable and absorbable vitamins and minerals through patented chelation technology. These modified forms of vitamin and mineral compounds make it easier for the body to utilize them, allowing you to maximize their benefits. This not only gives you every performance edge possible, but also the most bang for your buck.
But, why stop there?
In true Gaspari fashion, simply making the "best" wasn't enough, so instead of stopping with the best vitamin and mineral formula ever developed, additional performance enhancing ingredients were added, in their clinically studied and proven doses, to make sure each athlete who uses Anavite truly has the edge on their competition.
In addition to the groundbreaking chelated vitamin and mineral formula in Anavite, Each daily dose also provides:
3,200mg of Beta-Alanine for increased endurance, stamina, and athletic performance, regardless of how strenuous your day or workout can be.
2,000mg of L-Carnitine and L-Tartrate for enhanced recovery reduced muscle breakdown during exercise and less soreness after hard workouts.
What's all this mean to you?
Simply put, Anavite It's the ultimate multivitamin/ mineral supplement for athletes who demand the most from their workouts. Not only does Anavite include superior ingredients, superior technology and clinically effective dosages, but Gaspari goes the extra mile by providing proven performance enhancing amino acids, and each lot is rigorously tested for the presence of contaminated and banned substances.
Every component of Anavite is based on published scientific research, not volume discounts to realize obscene profits. Every component was hand picked by company founder, Rich Gaspari, himself. He wanted the most effective muscle building vitamin/ mineral supplement on the market, built with the latest technology to ensure the highest bioavailability and the greatest positive effect on your training, mass and condition, with an emphasis on health, wellbeing and the asurity of a clean, contaminant-free product. Anavite is not some idea scribbled on the back of a napkin. It is the brainchild of a world class, highly decorated, hall of fame athlete with over 25 years of providing the sports world with innovative, cutting edge, effective products, at a fair price, with his name on them.
At this point, we'd be telling you to compare the formulation of Anavite to any other multivitamin/ mineral product on the market, but we can't. Nothing comparable exists. The evidence is clear. If you want to counter nutritional shortcomings in your diet, as well as provide the exact, scientifically proven, nutrients your body needs to grow, repair and protect itself, with the asurity and confidence of a tested, banned substance free, multi-vitamin, built by an athlete for athletes….. then you want to try Anavite right now.
*THESE STATEMENTS HAVE NOT BEEN EVALUATED BY THE FOOD AND DRUG ADMINISTRATION. THIS PRODUCT IS NOT INTENDED TO DIAGNOSE, TREAT, CURE OR PREVENT ANY DISEASE.
More items you might like
Loading...