Optimum Nutrition ZMA Zinc Magnesium Aspartate - 90 Cap
Item #: ON279
UPC: 748927024821
ZINC MAGNESIUM ASPARTATE
Vitamin & Mineral Support for Active Adults

Zinc Magnesium Aspartate is a combination of zinc, magnesium and Vitamin B6. Optimum Nutrition Zinc Magnesium Aspartate is designed to fill gaps in micronutrient intake, particularly for those with active lifestyles. Optimum Nutrition Zinc Magnesium Aspartate supports the breakdown and transport of nutrients, and helps convert food into cellular energy. Additionally, zinc provides immune support.
BENEFITS
Blend of Zinc, Magnesium & Vitamin B6
3 Capsule Serving Size
SUGGESTED USE
Men – take 3 capsules before bed. Women – take 2 capsules before bed. Intended for use in healthy adults as part of a healthy, balanced diet and exercise program.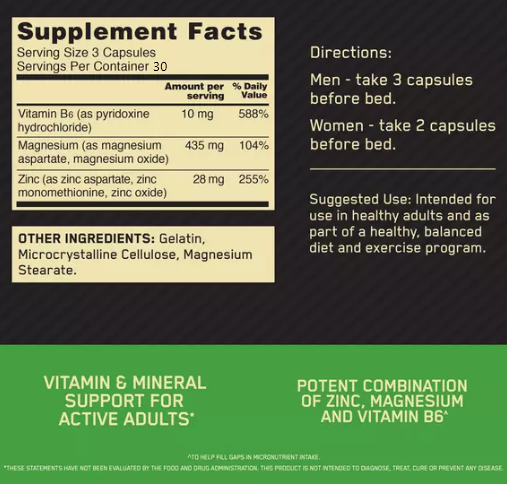 More items you might like
Loading...