Cellucor C4 Ripped Fruit Punch - 30 Servings
Item #: CE188
UPC: 810390025282
Crash dieting doesn't work. When you want to lose fat without stripping away muscle, the trifecta is a clean diet, proper training and the right supplementation.
CUT FAT, NOT MUSCLE*
C4 Ripped is a pre-workout supplement that combines the explosive energy of C4 with ingredients specific to fat loss. This formula helps you train harder while supporting your body's ability to burn fat.*
C4 WITHOUT THE CREATINE
Creatine is essential when you want to put on size. It provides energy for training and helps add mass to your physique. But when you want to cut down, it isn't always ideal.
If you have been on the hunt for a Creatine-free pre-workout, C4 Ripped is your formula. Our proprietary formulated Ripped Blend is designed to enhance fat loss by harnessing the power of L-Carnitine, Green Coffee Bean Extract, Capsimax® Cayenne Fruit Extract and Coleus Forskohlii Root Extract.*
FIRE UP YOUR FAT LOSS: C4 RIPPED BLEND*
L-Carnitine is an amino acid that plays an important role in transporting fatty acids for energy.*
Green Coffee Bean Extract supports your body's metabolism of fat.*
Capsimax Cayenne fruit extract helps promote lipolysis, and helps supports the mobilization of fat for energy production.*
Coleus forskohlii root extract enhances the body's ability to break down fat.*
ENERGY FOR YOUR TRAINING: C4 ENERGY BLEND*
C4 Ripped contains a similar energy blend as the classic C4, with key ingredients for energy to help you push through your toughest workouts.*
Contains CarnoSyn Beta Alanine, an amino acid, which converts to a compound in your body called carnosine. It is the only patented and clinically studied form of beta-alanine that has been shown to support muscular endurance.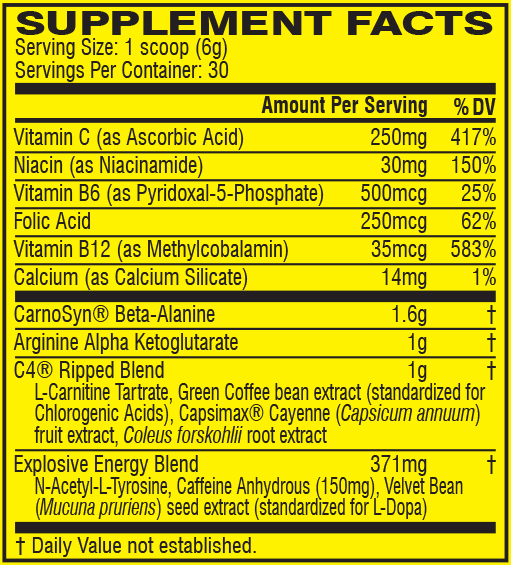 THIS PRODUCT IS ONLY INTENDED TO BE CONSUMED BY HEALTHY ADULTS, 18 YEARS OF AGE OR OLDER. Do not use this product if you are pregnant or nursing. Before using this product, consult a licensed, qualified, health care professional, including but not limited to, if: you are taking antidepressants such as a MAOI (Monoamine Oxidase Inhibitor) or SSRI, blood thinners, nonsteroidal anti-inflammatory drugs, pseudoephedrine, or you are taking any other dietary supplement, prescription drug or over-the-counter medication; or if, you suspect you have or have been treated for, diagnosed with or have a family history of, any medical condition, including but not limited to: high or low blood pressure, diabetes, glaucoma, anxiety, cardiovascular, psychiatric or seizure disorders, cardiac arrhythmia, stroke, heart, liver, kidney or thyroid disease, or difficulty urinating due to prostate enlargement. This product contains caffeine and should not be used by individuals wishing to eliminate caffeine from their diet or in combination with caffeine or stimulants from other sources, including but not limited to, coffee, tea, soda, or other dietary supplements and medications. Discontinue use 2 weeks prior to surgery. Immediately discontinue use and contact a medical doctor if you experience any adverse reaction to this product. Do not use if safety seal is broken or missing. Store in a cool dry place. KEEP OUT OF REACH OF CHILDREN.
More items you might like
Loading...