Now Foods Adrenal Stress Support with Relora - 90 Cap
Item #: NO288
UPC: 733739033444
Formerly:
NOW FOODS SUPER CORTISOL SUPPORT WITH RELORA
For Typical Everyday Stress*
Appetite Management*
NOW Adrenal Stress Support is a botanical and nutritional blend formulated to support a healthy adrenal stress response.* The adrenal glands help the body respond and adjust to physical, mental, and emotional stressors through the production of cortisol.* When stress becomes a part of everyday life, cortisol and blood sugar, and consequently appetite and body weight, may become difficult to manage.* NOW® Adrenal Stress Support combines nutritional factors such as vitamin C, pantothenic acid, and chromium with Relora™, a proprietary herbal combination, to support healthy adrenal function, relieve stress, and promote healthy eating patterns.*
Relora & logo are trademarks of Lonza or its affiliates.
TRAACS is a trademark of Albion Laboratories, Inc.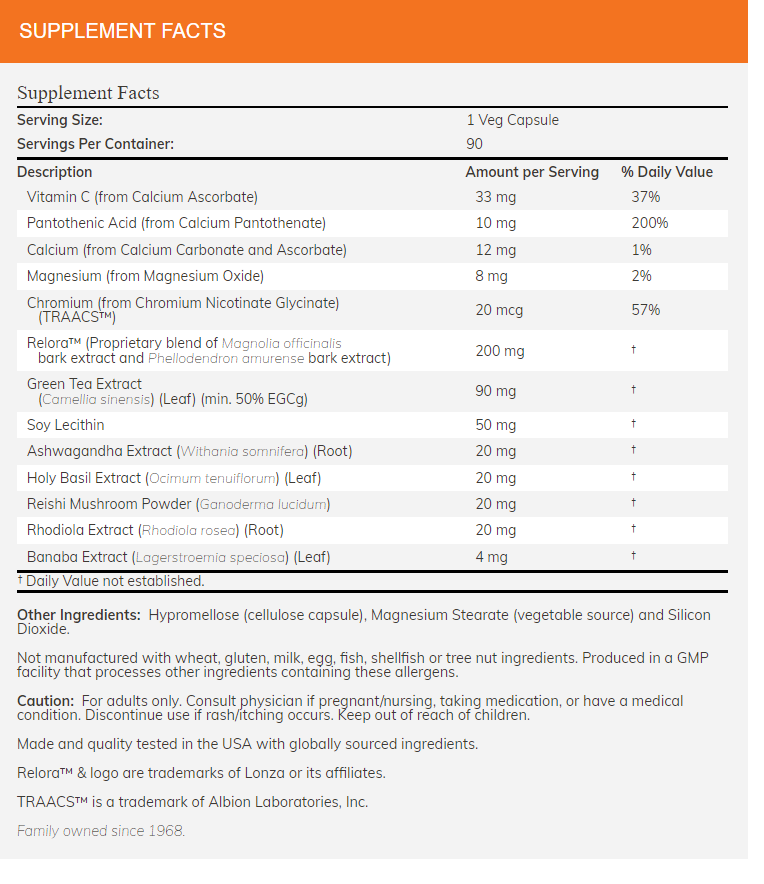 CAUTION
For adults only. Consult physician if pregnant/nursing, taking medication, or have a medical condition. Discontinue use if rash/itching occurs. Keep out of reach of children.
*These statements have not been evaluated by the Food and Drug Administration. This product is not intended to diagnose, treat, cure or prevent any disease.
More items you might like
Loading...